Patriots
The Patriots were 'right around' being a joyless bore in 2022
You don't enjoy two decades of excellence and expect the end to sink in well. But when you're bad and uninteresting to boot, it's time to sound the code red.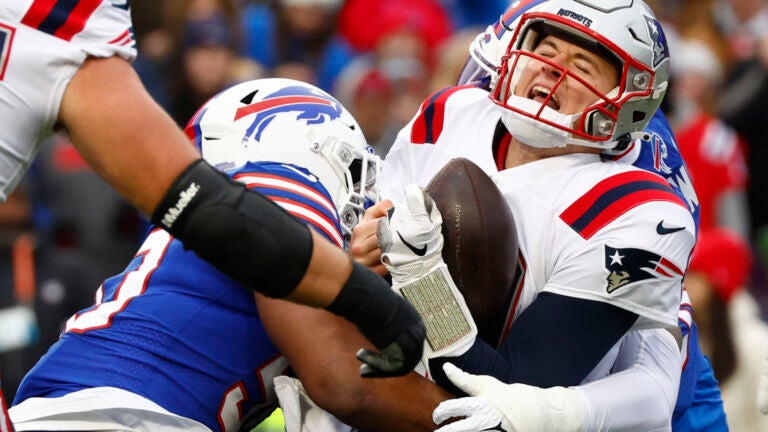 Commentary:
My son turned 12 last summer. For his birthday gift, I gave him carte blanche on the Patriots' upcoming schedule at Gillette Stadium, figuring he'd choose tickets to see the likes of the Bengals or Bills. Just, no Monday night, I told him, already dreading the midnight congestion on Route One. But the Bears seemed like a lesser draw in any case.
So, there we were, for Monday Night Football for a game that also would mark Patriots quarterback Mac Jones' return from a high ankle sprain. As you know, it didn't go well. The not-so-fleet-footed Jones wound up rushing for more yards (24) than he completed with passes (13), helping to gift the Bears one of their three wins this season.
But for two drives, after the Patriots yanked Jones for a return to backup Bailey Zappe, the Patriots had life. They had an energy we hadn't seen in Foxborough for quite some time. Two drives.
And then…splat.
Who would have thought that such a short span, during a late-October game against the Chicago Bears would have wound up being the most-exciting moments of the 2022 New England Patriots season? When there's nothing better than that to top the year's highlight reel, you know your season was a dud.
So ends the joyless 2022 season; with an 8-9 campaign that a man who resembles Bill Belichick said on Monday, is a record "right around .500, which is kind of what it's been all year."
If you want to use that line of thinking, then the Patriots finished "right around" the playoffs, despite having "right around" 45 percent of a competent coaching staff, and "right around" the worst special teams ever witnessed under the Belichick umbrella. Give or take.
On Sunday, the Patriots were "right around" 12-point losers to the Buffalo Bills in the season finale in Orchard Park, N.Y. Still, Mac Jones and the offense looked like they were working toward something over the course of the afternoon, which would have been great to see somewhere around ever this season. In the final show of the season, the offensive renaissance seemed more like emptying the play book in order to save jobs rather than any sort of tangible evidence that Belichick's coaching staff was really starting to put it together.
During his Monday morning press conference, Belichick said that the process of making evaluations on this staff would begin immediately. He didn't sound married to the idea of Jones as his QB moving forward, and also seemed to hint to team owners Bob and Jonathan Kraft that the wallet has to open a little more frequently.
Which all puts the Krafts with the upper hand. "Show us a staff with real credentials and the money will follow, Bill."
Belichick scoffed at the idea of hanging it up and calling it a Patriots career, which sort of suggests that consistency will remain at One Patriot Place. But even with Bill still hanging around, this can't be your typically banal Patriots offseason. Three years after Brady left and the fan base is starting to wane. In 2020, there was angst, but patience. In 2021, hope quickly returned. After 2022? There's a reason why Kraft announced "critical evaluations" of this team's football operations in a letter to season ticket holders the day after the season ended. The Patriots are teetering on the cliff of relevancy in the NFL, and the season ticket waiting list isn't what it used to be.
Which is to be expected to some degree. You don't enjoy two decades of excellence and expect the end to sink in well. But when you're bad and uninteresting to boot, it's time to sound the code red.
Matt Patricia and Joe Judge might one day be known as offensive geniuses for all we know, but their play-calling was like being on the losing end of every game of tic-tac-toe. Even when you weren't gifting the opposition with the Dumbest Play in Football History, circa December, 2022 in Las Vegas, the opposition was laughing at the Patriots' offensive mindset. Defenses seemingly always knew what was coming. And the Patriots did nothing to solve that minor problem.
Mac Jones may or may not be The Guy, but I'd be willing to see if the sophomore slump will turn him into a more-polished product in Year Three. This, rather than the petulant, 80's high school movie villain he turned into during his second season in the NFL.
As for Belichick, we have to ask if this has really come to the point where the Krafts feel generational change is needed now, rather than to let it play out the way Bill wants it. At this point, the way the Krafts see the immediate future should have nothing to do with the way their coach does. If that means he stays, fine. If not, then you have to be OK with that being the end of the relationship, regardless of the bore Belichick produced in what would end up being his final season here.
Zappe Fever aside, there was little hope and much dysfunction with the 2022 Patriots. They became a laughingstock both inside and outside of NFL circles. Stock in the franchise is as low as it has been since the days of Victor Kiam. The Patriots were a bust on the field, but their identity is now, also, in danger.
Except those two drives were kind of cool.
Sign up for Patriots updates🏈
Get breaking news and analysis delivered to your inbox during football season.
Newsletter Signup
Stay up to date on all the latest news from Boston.com