Patriots
Bill Belichick reportedly set to shake up Patriots offensive coaching staff after meeting with Robert Kraft
The Patriots will have no shortage of options if they look outside the organization for offensive coaches.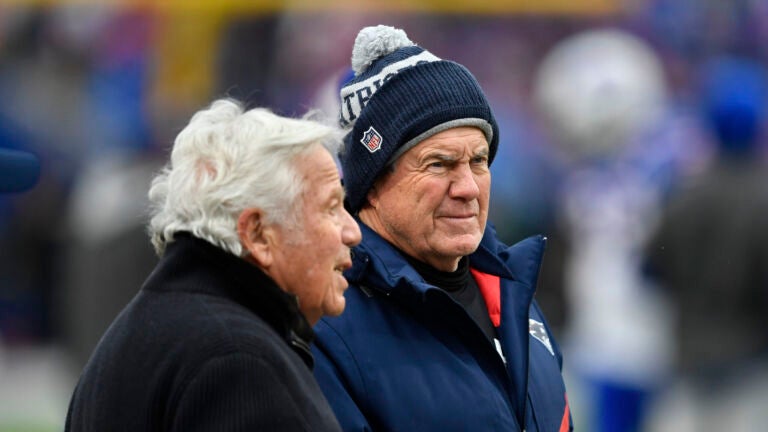 The Patriots are reportedly going back to the drawing board with their coaching staff.
After speaking with owner Robert Kraft in his annual post-season meeting, Bill Belichick is expected to make changes to the Patriots' personnel on offense, according to NBC Sports Boston's Tom E. Curran.
"My understanding is reassignments are going to happen, and several offensive coaches are under consideration for the Patriots' 2023 staff," Curran reported.
The collective decision by both Kraft and Belichick to augment the offense is far from a surprise, especially following an 8-9 season where Mac Jones and the Patriots' offensive execution regressed across the board.
After longtime offensive coordinator Josh McDaniels left New England to coach the Las Vegas Raiders, Belichick drew plenty of criticism with subsequent appointments to his coaching group.
Rather than stick with coaches and assistants well-versed in orchestrating effective drives down the field, Belichick tapped Matt Patricia — a career defensive coach — to both call plays and oversee the offensive line.
As for Jones, Belichick handed the task of developing the promising young quarterback to Joe Judge, whose field of expertise primarily revolves around special teams.
With both Patricia and Judge steering the ship on offense, New England ranked 26th in the NFL in total offense with just 314 yards per game.
Even with Rhamondre Stevenson in the backfield, the Patriots were 24th in the league in rushing yards per game (106.6). They ranked 29th in third-down percentage (38.4 percent) and dead last in red zone touchdown percentage (42.2).
Speaking on Monday, Belichick acknowledged that mistakes were made in the months leading up to the 2022 season.
"Whatever we did in the past in any area — whether it's play-calls, coaches, players, whatever — at that time was what we thought was best," he said. "We looked at our options and thought we picked the best one. Some worked out, some didn't. Some were good decisions, some were in retrospect maybe not good decisions.
"But at the time, they were always what we thought was the best in every area. That's the way it'll always be and going forward we'll always do what we feel is best for the team. That's what I'll do. That's my commitment. I'll always do what I feel is best for the team. So have I made mistakes? Yeah, sure. Plenty of them."
The Patriots have no shortage of options if they look outside the organization for coaching changes.
Former Patriots offensive coordinator Bill O'Brien has been mentioned as a potential candidate, although The MMQB's Albert Breer reported Wednesday that it has been "all quiet" between New England and the current University of Alabama coordinator.
Other potential candidates to help retool New England's offense include recently fired Arizona Cardinals head coach Kliff Kingsbury, as well as former Patriots wide receivers coach Chad O'Shea.
Newsletter Signup
Stay up to date on all the latest news from Boston.com