Patriots
The 2023 Patriots need a spark on offense. A DeAndre Hopkins trade would light the fuse.
"I'm glad we only have to play you every four years."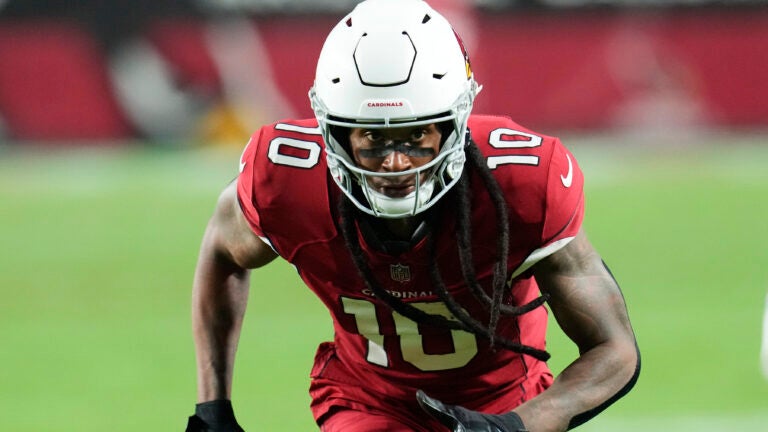 COMMENTARY
If the Patriots want to revive a regressing offensive unit, overhauling an ill-equipped and inexperienced coaching staff is a proper first step.
But beyond a change in coaching personnel, New England needs an injection of talent in its receiver corps. Namely, a boundary wideout capable of orchestrating big plays and putting secondary units on their heels.
The Patriots may not have to look very far for outside help, given that one of the premier receivers in the NFL could be switching teams in the near future.
According to The Score's Jordan Schultz, the Cardinals are planning to try and trade All-Pro receiver DeAndre Hopkins this offseason, with Arizona looking to clear house after firing both head coach Kliff Kingsbury and general manager Steve Keim.
Moving on from Hopkins is a logical move for a Cardinals team bracing for a rebuild. Hopkins, who will be 31 at the start of next season, doesn't figure to be part of Arizona's long-term plans, especially with his two-year, $54.5 million extension set to kick in this year.
Beyond the fact that multiple teams will be clamoring for the chance to add Hopkins' skill to their roster, his cap situation clears up significantly if he's traded. If Hopkins waives his no-trade clause and opts to leave Arizona, his cap hit would drop down to $19.45 million in 2023 and $14.9 million in 2024.
Hopkins further fueled speculation about his impending exit from Arizona with a cryptic post on Instagram Wednesday afternoon.
Schultz added in his initial report that Hopkins will likely "seek a new deal" with whichever team trades for him, which could further lower that cap hit if it's spread out over a longer period.
That's where the Patriots come in.
New England already has an abundance of cap space ($54 million) in order to accommodate a player like Hopkins. And with Jakobi Meyers set to earn a sizable raise as one of the top free agents on the market, the Patriots might have a major vacancy at the top of their depth chart.
Injuries and a six-game suspension for performance-enhancing drugs limited Hopkins to just nine games in 2022. But the five-time Pro Bowler still carved up opposing defenses, reeling in 64 catches for 717 yards and three touchdowns.
Hopkins finished his third season in Arizona with 79.7 yards per game, the 10th-highest mark among all NFL wide receivers in 2022. Meyers, the top Patriots receiving threat in 2022, ranked 32nd in that same field at 57.4 yards per game.
Hopkins already has a fan in Bill Belichick.
The Patriots' head coach praised Hopkins' ability ahead of New England's matchup against the Cardinals last month, comparing him to an NFL Hall of Famer.
"He's got tremendous ball skills," Belichick said of Hopkins. "He catches everything. Has great hands. He's long so he's never covered, even if he's covered there's a place where the ball can be that he can get it and still make the catch. Great coordination on the sidelines. And he doesn't really look it, but he's a strong kid. You see him break tackles. He's a strong kid in terms of creating separation on routes, yards after contact, tough yards like around the goal line or that extra yard for a first down type of thing.
"He's a smart football player. Very savvy. I'd say his ball skills are at the very elite level of guys that I've seen in this league. He's up there with whoever the top guys are. The Cris Carters of the world. Guys like that. I think he's every bit as good as anybody I've ever coached against."
Belichick continued to heap praise on Hopkins during their on-field meeting before that Week 14 showdown out in Glendale, Arizona.
"I'm glad we only have to play you every four years, man," Belichick said to Hopkins. "What a career you're having. You missed half the season, you're still going to lead the league in receiving."
Belichick's admiration for Hopkins has caught the attention of Vegas oddsmakers. According to Bookies.com, the Patriots hold the second-highest odds of trading for Hopkins at +325, with the Kansas City Chiefs leading the pack at +300.
A few tweaks to the coaching staff will not be the lone conduit that sparks a resurgence for the Patriots' offense in 2023.
If Mac Jones wants to build off the promise he showcased in 2021 — and the Patriots want to move the chains with some regularity — this team desperately needs a high-volume, impact option on the outside.
Hopkins fits that bill — and then some.
Sign up for Patriots updates🏈
Get breaking news and analysis delivered to your inbox during football season.