Patriots
Bill Belichick still deserves the benefit of the doubt, but he must fix this Patriots team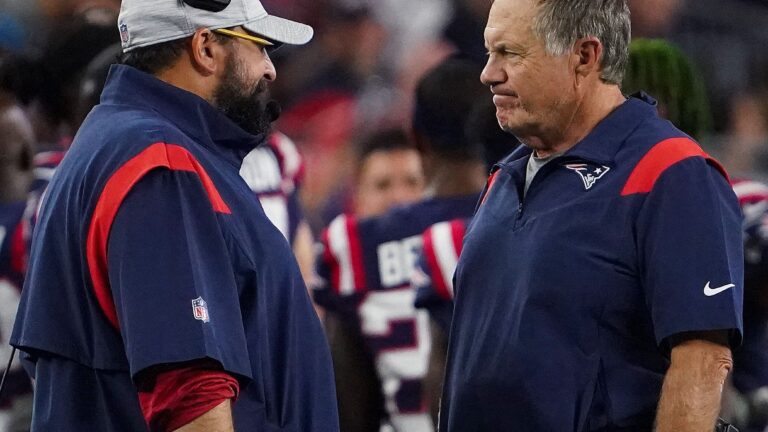 It turns out that the theme of this weird, warped Patriots season and the question of the day as the franchise commences a critical offseason is one and the same:
Uh, Bill, what are you doing?
Now, before we get into some of Bill Belichick's detrimental decisions that undermined his team this season and situate it at an important crossroads before the next one begins, let's first make something clear, since this apparently is necessary now after a fourth straight season without a playoff win.
Anyone who has even a flickering thought that owner Robert Kraft should find another head coach needs to grab a pen, open up a thesaurus, and write in their own name as a synonym for "moron."
There are people, some if not many in the media, with short memories or long grudges who would love to manifest the end of Belichick's 23-year run with the Patriots. Some are tired of his obfuscation and have daydreamed of his comeuppance for years. Some root for one of the 31 other NFL franchises. Some just relish chaos.
But attempts to diminish his achievements are disingenuous at best. Yes, yes, I know Belichick has a losing record without Tom Brady. It looks like it belongs on Jeff Fisher's pro-football-reference page: 79-87. It's also completely devoid of context. He was building something promising during his 1991-95 run in Cleveland, going 11-5 and beating mentor Bill Parcells's Patriots in the wild-card round in '94.
That all crumbled in '95 when Cleveland was staggered by the news that owner Art Modell planned to move the franchise to Baltimore. Belichick, in the most hopeless of hopeless situations, was fired after going 5-11.
Belichick's first Patriots team in 2000 was loaded with bloated contracts and devoid of any depth after a string of poor drafts. Players named Rob Holmberg, Curtis Jackson, and Shockmain Davis started games that season. That team also went 5-11 as Belichick reset the financials and the culture. The next season was better.
The "without Brady" cherry-picking also ignores Belichick's savvy adjustments in the Dynasty Era when Brady was out for one reason or another. The Patriots went 11-5 with untested Matt Cassel at quarterback in 2008 after the Chiefs' Bernard Pollard wiped out Brady's knee in the opener. When Brady was suspended four games for Deflategate in 2016, the Patriots went 3-1 with Jimmy Garoppolo and Jacoby Brissett at quarterback.
Belichick and Brady are, individually, the greatest coach and quarterback in NFL history, and no collaboration will ever match their shared success. It's OK to leave it at that.
I really don't want to spend the brunt of this column citing examples of Belichick's specific genius, which often ran counter to conventional wisdom. (Raise your hand if you wanted Daunte Culpepper signed in '08. Not you? Oh, Chris Simms was your guy?) Rewatching the dynasty-bookending Super Bowl victories over the Rams should suffice as confirmation, should you require the reminder, you [checks thesaurus] ignoramus-halfwit-blockhead you.
Belichick deserves more benefit of the doubt than anyone else who has ever coached an NFL game.
Got that? Good. Now we can acknowledge another truth:
He burned off some of that benefit this season. Not all of it. Not even close. But some.
And if he has one more season that mirrors this one, it will be fair to wonder in which direction this franchise is headed, and whether at this phase of his career and life he's the right person to guide it.
He cannot resist the obvious: Matt Patricia must go as the de facto offensive coordinator. The offense was a mess during training camp in July, and it wasn't a whole lot better when Mac Jones's tipped pass was picked off by Bills linebacker Tremaine Edmunds with 2:42 remaining last Sunday, the Patriots' final offensive play of the season.
Belichick clearly thinks highly of Patricia, and that faith probably has been validated more than we know during their 16 seasons (2004-17, 2021-22) working together. But Patricia was woefully overmatched running an offense, to the point that this was in some ways an entire waste of a season.
Putting Patricia in this role, where he minimized the offensive talent and set back Jones so drastically that it's hard to tell whether he's part of the solution or the problem, is the biggest mistake of Belichick's Patriots career that doesn't involve benching Malcolm Butler.
Belichick's to-do list really isn't that difficult. He needs to pry the offensive playbook (it may actually be a pamphlet) out of Patricia's hands and reassign him. Special teams coach Cam Achord cannot be in charge of that punch line of a unit anymore. Belichick should promote Jerod Mayo to defensive coordinator before another team steals the highest-upside coach on his staff. And he needs to bring in an offensive coordinator from the outside, whether it's Bill O'Brien, Kliff Kingsbury, or someone else with experience, creativity, and competence on that side of the line of scrimmage.
As frustrating as this season was, I think there's hope here. Several young players — Rhamondre Stevenson, Kyle Dugger, Josh Uche, Marcus Jones, and others — showed genuine promise and even potential star power. The defense, led by Matthew Judon, was fun to watch. The offense actually has diverse talent, and perhaps competent coaching by a new coordinator can maximize their skills next year. Another strong draft is essential. Please, no more guards in the first round.
The Patriots had what for them is a lost season. That does not mean they will be a lost cause in 2023. Among teams for whom the offseason has already begun, they're kind of fortunate in that regard. Their most important fix — getting Patricia away from the offense — is easy and obvious and should have been done yesterday.
If Belichick doesn't make that move and we're still left to wonder what he's doing, well, that is when the benefits of having him run the franchise should yield to doubt.
Sign up for Patriots updates🏈
Get breaking news and analysis delivered to your inbox during football season.