Patriots
Watch: Rob Gronkowski, Adam Vinatieri train for live Super Bowl field-goal attempt
Gronkowski will attempt to kick a field goal during a live Super Bowl ad for FanDuel on Feb. 12.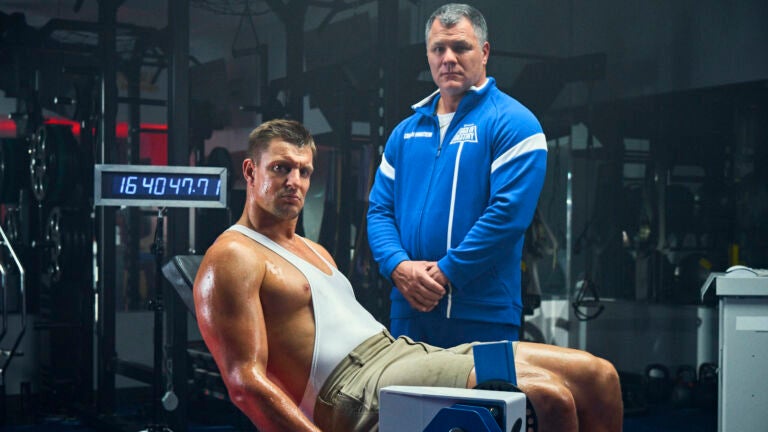 Rob Gronkowski will be feeling the pressure on Super Bowl Sunday, as the retired tight end attempts to make a field goal in Arizona during a live ad for FanDuel.
Based on the latest commercial featuring the former Patriot, he's going to need all of the help he can get.
In the latest segment of FanDuel's "Kick of Destiny" ad campaign, Gronkowski enlists the help of fellow Patriot legend Adam Vinatieri to prepare for the consequential kick.
In the 60-second spot — featuring a montage straight out of a 1980s sports flick — Gronkowski benches, squats, and sweats under the watchful eye of Vinatieri as John Farnham's "Break the Ice" punctuates the prep work.
If Gronkowski succeeds, any customer who places a Super Bowl bet on FanDuel will have a chance to win a share of $10 million in free bets.
Vinatieri, who holds the NFL record for most career field goals (599), is at the center of some of the most dramatic plays in league history.
Along with a pair of last-second kicks in Super Bowl XXXVI and Super Bowl XXXVIII, Vinatieri booted both the game-tying and winning field goals amid blizzard conditions in the infamous "Tuck Rule Game" against the Raiders in 2002.
Super Bowl LVII is set for Feb. 12, with kickoff expected at 6:30 p.m.
Newsletter Signup
Stay up to date on all the latest news from Boston.com