Patriots
Could Tom Brady return to AFC in free agency? Here's what the current Vegas odds say.
If Brady wants to return for a 24th NFL season, he should have no shortage of options.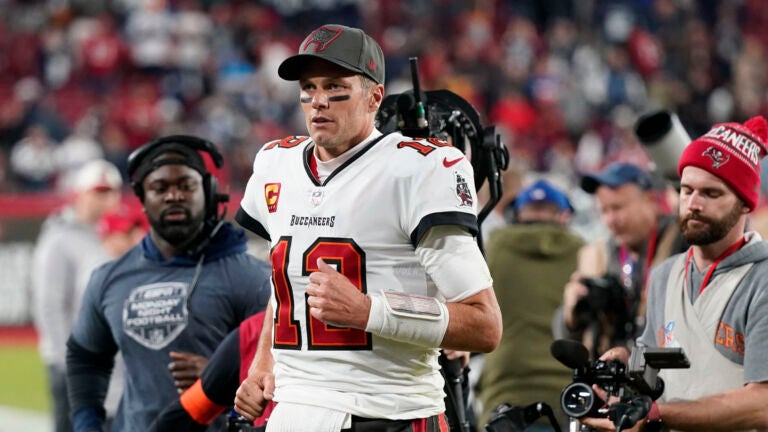 Tom Brady will be 46 years old at the start of the 2023 NFL season. But if the legendary quarterback isn't ready to hang up his cleats, he'll be a hot commodity on the free-agent market this spring.
Brady, whose contract with the Buccaneers expires in March, remained noncommittal about his future after Tampa Bay was steamrolled by the Cowboys 31-14 on Monday night in the NFC Wild Card Round.
But if Brady wants to field offers as the top signal-caller on the market, Vegas oddsmakers have a number of teams in the mix for the future Hall of Famer.
DraftKings Sportsbook released its next-team odds for Brady on Tuesday, with Tampa Bay standing as the early favorite. But after the Bucs, five of the next six teams in a potential Brady sweepstakes reside in the AFC, including the Patriots.
Here is DraftKings' full list of next-team odds for Brady in 2023:
Tampa Bay Buccaneers +200
Las Vegas Raiders +250
San Francisco 49ers +350
Miami Dolphins +750
New England Patriots +750
New York Giants +900
New York Jets +900
Tennessee Titans +1200
Seattle Seahawks +1800
Pittsburgh Steelers +2000
Washington Commanders +2000
Indianapolis Colts +2500
Carolina Panthers +3000
Baltimore Ravens +4000
Houston Texans +5000
Los Angeles Rams +5000
Green Bay Packers +5000
New Orleans Saints +5000
Atlanta Falcons +6000
Minnesota Vikings +7500
Detroit Lions +7500
Chicago Bears +15000
Philadelphia Eagles +15000
Dallas Cowboys +15000
Arizona Cardinals +15000
Denver Broncos +15000
Los Angeles Chargers +20000
Jacksonville Jaguars +20000
Buffalo Bills +20000
Cincinnati Bengals +20000
Kansas City Chiefs +20000
Cleveland Browns +20000
Brady's familiarity with the Buccaneers and their coaching staff might put them as the frontrunners, but multiple NFL insiders have pushed back on the notion that a return to Tampa is in the cards.
"Brady is going to be a free agent, and folks around the league don't see him staying in Tampa," CBS Sports' Jonathan Jones said on Sunday.
A reunion with Josh McDaniels out in Vegas is a trendy pick for Brady's next stop. The Raiders can offer Brady a trusted collaborator in McDaniels, a stacked supporting cast on offense, and top-flight facilities out in the desert.
"The Raiders are going to trade or release Derek Carr by mid-February," Jones added. "The Raiders think Brady is a 'program-changer' just like he was in Tampa when he arrived."
The 49ers hold the third-highest odds to bring the San Mateo native back to the Bay Area.
San Francisco has arguably the most talented roster in the NFL, especially with weapons like Christian McCaffrey and Deebo Samuel added to Brady's arsenal. But with Brock Purdy's emergence (coupled with Trey Lance's potential), the Niners might opt to stand pat with their current QB corps.
Brady and Miami is a partnership that almost came to fruition last season. But Dolphins head coach Mike McDaniel seems committed to current QB Tua Tagovailoa, even with his history of concussions.
"You guys know how I feel about Tua, and that hasn't changed at all," McDaniel told reporters on Sunday. "I think we all see him as the leader of this team when it's appropriate for him to lead the team and will jump on that opportunity. He's a great player with only improvement in front of him, as well."
The Patriots are tied with Maimi for the fourth-best odds of adding Brady in 2023, a tempting scenario that former teammate Rob Gronkowski didn't rule out last month.
"I mean, if Tom really wanted to, I'm sure that it would be all open arms to go back to New England. I would just have to say all parties would need to want it," Gronkowski told Fox News. "He has the opportunity to go wherever he would love to go.
"It's Tom Brady. If he wanted to go back home to the San Francisco 49ers, I'm sure that would be open. If he wanted to go back home to the Patriots, I'm sure those doors would be open. If he 100% wants to stay in Tampa Bay, those doors would be wide open. It's all on him."
Brady returning to Foxborough to cap off his legendary career would be a storybook ending. But given the circumstances surrounding his exit from New England, a fresh start seems the most likely outcome for Brady in 2023.
Newsletter Signup
Stay up to date on all the latest news from Boston.com