Patriots
Tom Brady's Buccaneers teammates reportedly believe the QB's played his last game in Tampa
A few other teams have already been linked to Brady.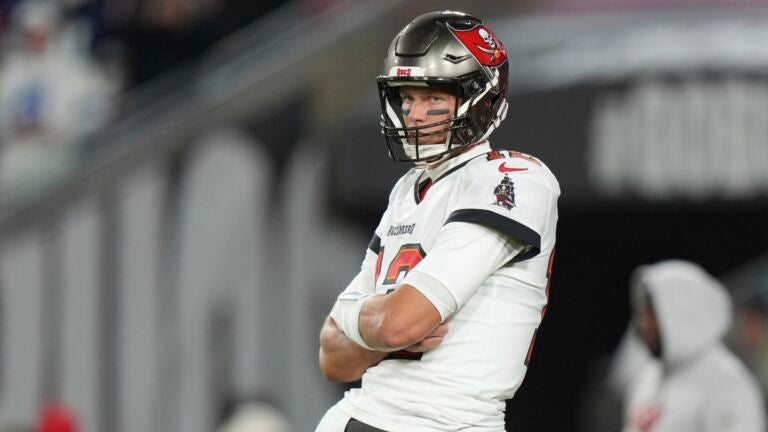 Tom Brady's future is uncertain, but some might be certain that he's finished in Tampa Bay.
Several Buccaneers players feel that Brady will leave Tampa Bay this offseason based "on their final interactions" with the quarterback this season, NFL Network's Ian Rapoport reported Saturday. Rapoport added that one player told him that he'd "be surprised if he's back," while another player said, "He sounded like a person saying goodbye for good."
Brady hasn't made any final decision though as to what he wants to do next and will "head into his few weeks of decision-making time with an open mind," according to Rapoport.
Brady's contract with the Buccaneers expires at season's end, making him a free agent for the second time in his career in March.
Multiple teams have already been linked to the seven-time Super Bowl winner. The Las Vegas Raiders reportedly have Brady as their top target to replace Derek Carr at quarterback this offseason. Las Vegas is seen as one of the favorites to land Brady considering his prior connection to coach Josh McDaniels, who was Brady's offensive coordinator in New England for 10 seasons. The Raiders also have some valuable offensive players in Davante Adams, Darren Waller, Hunter Renfrow, and Josh Jacobs (if they're able to re-sign him) that could entice Brady to join them.
The Tennessee Titans and San Francisco 49ers were also linked to Brady by NFL insiders – and Patriots safety Devin McCourty. After he joked that he'd want to see Brady return to New England, McCourty said that he could see his former teammate go to Tennessee because of Brady's relationship with former relationship Mike Vrabel, who coaches the Titans, and its proximity to the East Coast.
The 49ers might be in a bit of a quarterback controversy of their own already this offseason. Trey Lance, who they traded three first-round picks to draft with the No. 3 overall pick in 2021, was their starter to begin the season but he suffered a season-ending injury in Week 2. Jimmy Garoppolo regained the starting job and played well in Lance's place, winning the game he replaced Lance and went 6-3 as a starter before suffering a foot injury that might keep him out for the season. Seventh-round rookie Brock Purdy has helped the 49ers play even better though since Garoppolo's early December injury as he's gone undefeated to help lead them to the Divisional Round of the playoffs.
Brady seemed unsure about his playing future, even if he would play or not, following the Buccaneers' season-ending loss on Monday.
"I just want to say thank you guys for everything this year. I really appreciate all your efforts. And I know it's hard for you guys too," Brady said. "I love this organization. It's a great place to be. Thank you everybody for welcoming me. Just very grateful for the respect and I hope I gave it back to you guys."
Brady is sure though about one thing if he does continue to play. He's expected to play for a winning franchise if he returns in 2023, according to ESPN's Adam Schefter.
Sign up for Patriots updates🏈
Get breaking news and analysis delivered to your inbox during football season.