Patriots
Patriots among betting favorites for Aaron Rodgers' 2023 team, adding to interesting trend
New England is also among the betting favorites to land either Lamar Jackson or Tom Brady.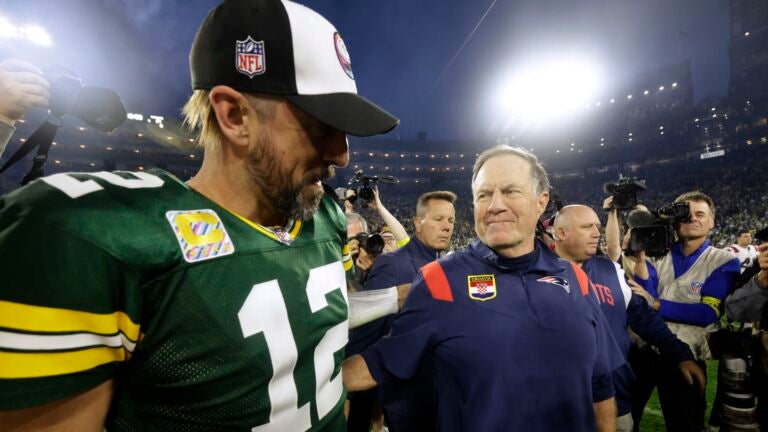 The quarterback carousel is about to get moving again as the NFL season winds down, and if the betting odds mean anything, they suggest that the Patriots might be a part of it.
New England was listed among the betting favorites for where Aaron Rodgers will play in 2023 after ESPN's Adam Schefter reported Saturday that there's a "real possibility" the Green Bay quarterback could get traded this offseason.
The Packers are still the favorite for where Rodgers will play in 2023, being listed at -125 odds on DraftKings Sportsbook. But the Patriots have the fourth-best odds among non-Packers teams, trailing the Raiders (+550), Jets (+750), and 49ers (+1000) at +1200 odds.
This is the third quarterback that the Patriots have been listed high on the betting odds to land. On Monday, the Patriots were listed as the betting favorite by Sportsbetting.ag to land Lamar Jackson if he were to leave the Ravens this offseason. While DraftKings Sportsbook doesn't have the Patriots as the betting favorite to land Jackson, they have them listed as a tie for the fifth-best odds at +900.
A potential reunion with Tom Brady is another possibility that oddsmakers have their sights on. The Patriots have the sixth-best odds (+1200) to land Brady this offseason, trailing the Buccaneers (+150), Raiders (+150), 49ers (+750), Dolphins (+900), and Jets (+1000), per DraftKings Sportsbook.
New England being relatively high on the betting odds to land any of the former MVP quarterbacks begs the question of whether the team is actually considering a move at quarterback. Bill Belichick certainly didn't slam the door shut during his end-of-the-season press conference when he said Mac Jones "has the ability to play quarterback in this league" but didn't give a definitive answer when asked if he'd be the team's quarterback in 2023.
Jones struggled in Year 2, throwing for 2,997 yards, 14 touchdowns, and 11 interceptions with an 84.8 passer rating. His three-game absence in October due to an ankle injury also saw rookie Bailey Zappe win two starts, leading to an awkward moment in Week 7 when Jones was booed by Patriots fans in his return from the injury before getting benched. Jones fully regained his spot atop the depth chart in the following week and remained there until the end of the season as the Patriots' offense continued to struggle.
All three of the quarterbacks that the Patriots are among the betting favorites to land could be attainable this offseason. As mentioned earlier, Rodgers could be traded this offseason and there's certainly a mutual respect between him and Belichick. The two shared a long embrace following the Packers' Week 4 overtime win over the Patriots as Rodgers called Belichick "a legend" and Belichick said Rodgers "was just too good" to beat.
Both Brady and Jackson currently aren't under contract for next season. Brady's Buccaneers teammates reportedly believe that he'll leave Tampa in free agency this offseason while Jackson's future in Baltimore remains in question after he missed the Ravens' final six games of the season due to a knee injury, and didn't attend their playoff loss to the Bengals.
You obviously know the previous connection between Brady and the Patriots but there's also a bit of prior history between Jackson and the Patriots, too. New England hosted Jackson for a pre-draft meeting in 2018, which Jackson recalled prior to the Week 3 matchup this season.
"I've seen Belichick smile," Jackson said with a grin. "Usually, when I see him, he's puzzled face, a straight-faced guy. When I saw him smile, I was like, 'Damn, you've got humor.'"
Belichick also made a savvy mention of Jackson's contract situation when speaking about how good of a player he is ahead of that game.
"Without a doubt [Jackson's answered those questions about being able to throw in the pocket]," Belichick said. "It's the type of the player, the MVP type of candidate. I think he's more than answered them. But, we'll see what his contract is, that will answer them."
Sign up for Patriots updates🏈
Get breaking news and analysis delivered to your inbox during football season.