Patriots
Why Patriots legend Adam Vinatieri isn't taking sides in any Tom Brady vs. Bill Belichick debate
"Everybody wants to say, 'What's the reason? Is it this guy or this guy?'"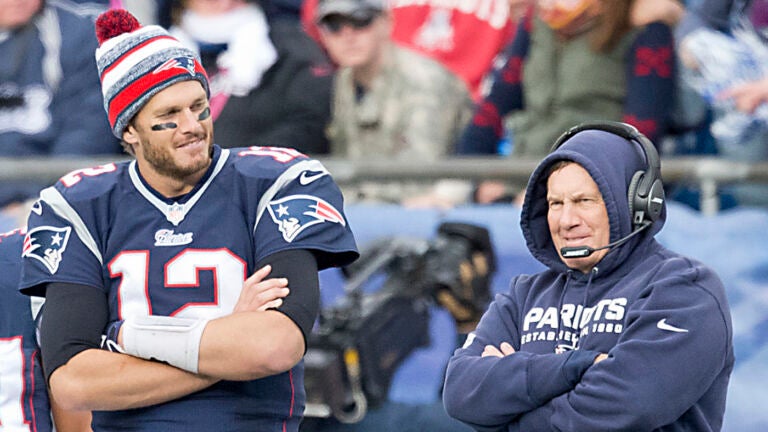 It's been three years since Tom Brady donned a Patriots jersey.
But the debate over the primary architect of New England's decades-long dynasty hasn't subsided in wake of Brady's departure.
For Patriots' great Adam Vinatieri, there isn't one definitive answer between Brady and Bill Belichick.
Radio discourse says otherwise, but Vinatieri believes that both quarterback and coach deserve equal credit for charting the Patriots' championship course.
"For me, I look at it this way: Everybody wants to say, 'What's the reason? Is it this guy or this guy?' I honestly think it's both guys," Vinatieri said on the Pat McAfee Show Monday afternoon. "Because Belichick can coach a lot of great quarterbacks. Will they turn into Tom? Probably not. Tom, he was a diamond in the rough and he developed into who he was.
"Now, would Tom have been as good as he is now without Belichick's tutelage and teachings and helping the team and developing him that way? I think they both deserve a decent amount of credit. And everybody wants to go, 'Yeah, but who? Which one is more important?'"
Belichick's coaching record without Brady is regularly referenced in debates involving the duo.
When Brady was conducting New England's offense, Belichick posted a record of 219-64. Without Brady, Belichick is just 79-88.
But Vinatieri isn't putting much stock into Belichick's early days with the Cleveland Browns, nor is he anointing Brady as the lone conduit behind the start of New England's improbable run.
Brady's ascension following Drew Bledsoe's injury altered the course of the franchise. But Vinatieri believes the roster that Belichick helped assemble in 2001 was just as important to the overall success of the team.
"I know Bellichick when he was in Cleveland, he wasn't as successful yet. But I also think that head coaches in particular, it takes some growing pains to figure it out," Vinatieri said. "Like very few head coaches at first get there — man, they take off and everything's great. … Belichick and his staff were really good at putting the puzzles together. The right guys onto the team that they could trust and believe in.
"That's the cool thing about that team. And when I was there, in particular, it wasn't any one guy. It was like, 'Hey, if this guy goes down, our next guy up is really ready to go, knowledgeable and he's a good player as well.' Some teams go, 'Hey, I want the best player at this position' and the number two guy is a significant [downgrade]. New England was never that way. All the guys were solid B+ or A-type of guys."
A rational take from a player known for hitting things right down the middle.
Newsletter Signup
Stay up to date on all the latest news from Boston.com