Patriots
Tom Brady gets testy with Jim Gray when asked about his NFL future
"I'm taking it a day at a time."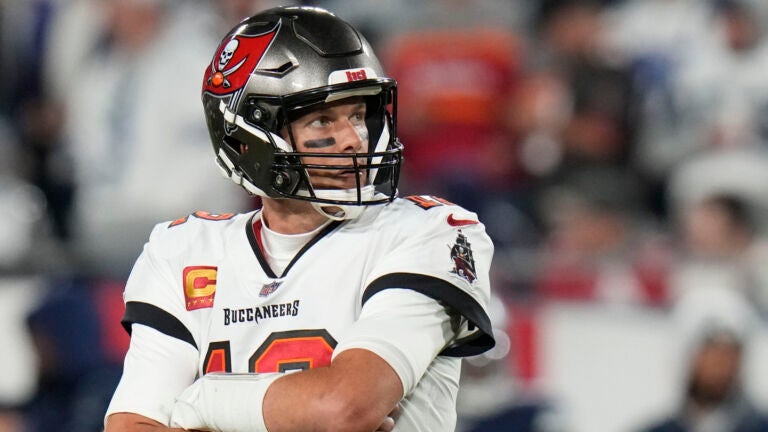 Tom Brady hasn't made a decision about his future in the NFL.
And based on the QB's latest comments, he's sick of people asking.
During his weekly appearance on the "Let's Go!" SiriusXM podcast, Brady was asked by Jim Gray about his plans in 2023.
Brady didn't tip his hand. And that might be putting it lightly.
"Jim, if I knew what I was going to f—ing do, I'd have already f—ing done it, ok? I'm taking it a day at a time," Brady answered.
"I sense you're antagonized by the question," Gray responded.
"You're scratching," Brady said.
"It's only the question that everybody wants to hear," Gray countered.
"You're scratching," Brady added. "I appreciate you asking. Thank you."
Given Gray and Brady's long relationship, Brady's fiery retort might be some scripted levity for their weekly podcast.
But Brady has remained mum about his next steps after the Buccaneers' saw their season end against Dallas in the NFC Wild Card round.
According to NFL Network's Ian Rapoport, multiple Buccaneers players feel that Brady will leave Tampa Bay this offseason based "on their final interactions" with the legendary quarterback.
Julian Edelman echoed those sentiments on "Inside the NFL" last week, while Rob Gronkowski shot down the notion that a Brady-Belichick reunion could be in the cards.
"If he has another season, it's not going to be in Tampa Bay," Edelman said. "Tom is a businessman. He's going to do exactly what he did when he left New England. He's going to go to the best situation that helps him win."
After entertaining a scenario where Brady returns to Foxborough, Devin McCourty tabbed Tennessee as a potential landing spot for the signal caller.
"I think a team like the Titans, he has [Mike] Vrabel down there that he played with," McCourty said. "It's not too far from his family being on the east coast, different than going all the way out to Vegas. I know Josh McDaniels is there, but you go to Tennessee and [they have a] great running back, good defense, they'll get some more weapons in there for him to throw the ball to. I can see Tom right there, continuing his great career."
Of course, Brady could opt to hang up his cleats, charting a course for Canton in short order.
But even with Tampa Bay's offensive ineptitude in 2022, Brady still ranked third in the NFL in passing yards (4,694) while tossing 25 touchdowns.
Newsletter Signup
Stay up to date on all the latest news from Boston.com