Patriots
Does Patriots reported Shrine Bowl coaching staff hint at Joe Judge's future in 2023?
"He's not going to be coaching the quarterbacks, but he does have a role carved out."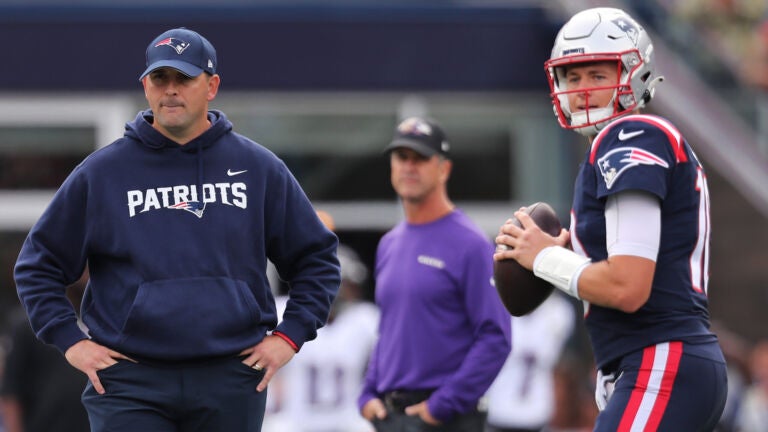 Matt Patricia's and Joe Judge's tenures as the Patriots' offensive authorities were nothing short of a disaster.
Those sentiments were further validated by a report from the Boston Herald, which centered around Patricia's and Judge's inability to both cultivate a detailed scheme and connect with players.
Judge, New England's quarterbacks coach, was singled out for his struggles to build a rapport with Mac Jones.
"Mac didn't like him. At all," an anonymous source told the Herald.
But despite that dysfunction, could Judge remain on Bill Belichick's staff in 2023?
Based on the coaching personnel that the Patriots are sending to the East-West Shrine Bowl in Las Vegas, Judge might still be in the picture, albeit in a different role moving forward.
NFL Network's Ian Rapoport tweeted Thursday morning that Belichick, Bill O'Brien, Jerod Mayo, Steve Belichick and Judge will all attend the Shrine Bowl, serving in a supervisory role for New England.
Plenty of other Patriots staffers will participate in the annual collegiate showcase.
Troy Brown (New England's wide receivers coach) will serve as head coach of the West Team, while other coaching contributors include Ross Douglas, Mike Pellegrino, Brian Belichick, Cam Achord, Vinnie Sunseri, and Billy Yates.
One notable omission is Matt Patricia, who reportedly "might be on his way out" of Foxborough entirely.
Given the number of other coaching mainstays taking part in the Shrine Bowl, Judge's addition to the staff might signal that the former Giants head coach remains in the picture for Belichick and Co.
Albert Breer of the MMQB echoed those thoughts Thursday night during a TV spot with NBC Sports Boston.
"My understanding is Joe Judge is going to be on the 2023 staff in a different role," Breer said. "He's not going to be coaching the quarterbacks, but he does have a role carved out. He'll be making the trip to Las Vegas tomorrow. I think the other supervisory people are going tomorrow.
"Bill went today, but Billy O'Brien and Jerod Mayo I believe will go tomorrow as well. And I think there's still value for Joe Judge on the staff. He's a good football coach. I think this was just a sort of different situation that he was put in — that maybe he should have had some self-awareness and not take the job. But I think he was doing the best he could. And Matt Patricia's status, I think it's a little bit more up in the air here. I don't think you'll see him in Vegas over the next few days."
Handing Judge his previous duties as New England's special-teams coordinator (2015-19) makes sense, especially after that unit's substandard play in 2022. But with current special-teams coordinator Cameron Achord also coaching in the Shrine Bowl, it remains to be seen how those coaching roles might be reshuffled.
Newsletter Signup
Stay up to date on all the latest news from Boston.com