Patriots
Julian Edelman 'pumped' by Patriots' hiring of Bill O'Brien, but closes the door on potential NFL return
"I think it's a great move for the Patriots because he understands the standard."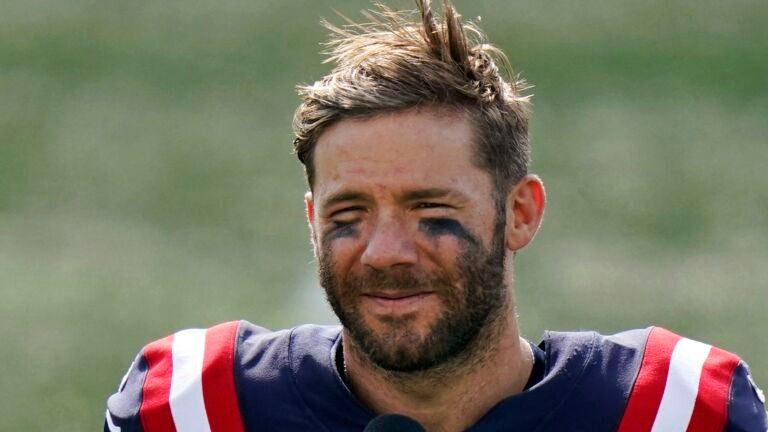 The Patriots' decision to rehire Bill O'Brien to be their offensive coordinator and quarterbacks coach has been praised by many, and you can count on at least one franchise icon that's also a fan of the move.
Former Patriots receiver Julian Edelman said he's "super pumped" to see O'Brien return to New England for a second time, believing that his past experience on the staff (which ran from 2007-11) gives him a bit of an advantage.
"I think it's a great move for the Patriots because he understands the standard," Edelman said in an interview on the "Pardon My Take" podcast. "He's been in the situation of being a coach in the organization of the New England Patriots, and he's also been a head coach, so now he's got a different level.
"He's not the same Billy O when he came from Duke, and then he's working his way up. He's got head-coaching experience, and I guarantee Bill [Belichick] is going to use that. He's going to bounce ideas off of him, because he was decently successful as a head coach."
It isn't just O'Brien's past experience with the Patriots though that has Edelman excited for the reunion. He believes that O'Brien's seven seasons as the head coach of the Texans, which saw Houston reach the playoffs four teams, is really valuable, particularly the way he helped develop Deshaun Watson.
"He brought the Houston Texans, who are, like, the most irrelevant organization right now since he left, to the playoffs four [times]," Edelman said. "For any other organization, that's really cool. That's good. And then they kick him out the door, and now look at them the last few years. It's been terrible. He singlehandedly developed Deshaun Watson. He made Deshaun Watson a $250 million quarterback."
O'Brien's and Edelman's time in New England actually overlapped for a few seasons when the receiver was drafted by the Patriots in 2009 until O'Brien left following the 2011 season to become the head coach of Penn State. Edelman didn't become the receiver that many Patriots fans came to know him for during that time, recording just 48 receptions for 479 yards and a touchdown over that stretch, but he saw O'Brien coordinate a New England offense that was one of the highest-scoring of all time in 2011.
While Edelman saw how good O'Brien's offenses could be firsthand, don't expect him to be a part of it. In fact, Edelman insisted that he's finished playing after kind of leaving the door open for a potential return with the Patriots following his retirement in April 2021.
"I'm done, boys," Edelman said. "You can't be two years out of the game coming in at 37 with knee braces and taped ankles thinking you're going to go out here and compete against these young bucks."
Edelman's comments about O'Brien came a couple days after his former teammate and future Hall of Fame tight end Rob Gronkowski praised the move.
"I love Bill O'Brien. I love playing for him. I love the energy that he brings to the table," Gronkowski said during an appearance on the "Up and Adams" show with Kay Adams.
"He has that niche to get you to go out and play your best football," Gronkowski added. "To get you fired up, to get you to want to go out on the field and get better every single day and make big plays. It was just a great time when he was here for the two seasons."
The Patriots made the hiring of O'Brien official on Thursday, and he made his first comments about rejoining the team in an interview with the team's website on Friday.
Sign up for Patriots updates🏈
Get breaking news and analysis delivered to your inbox during football season.