Patriots
Bill Belichick was reportedly 'moonlighting as play-caller at points' in Patriots' 2022 season
Belichick calling plays was "tacit acknowledgment of the mistake he'd made setting up the staff the way he did in the first place."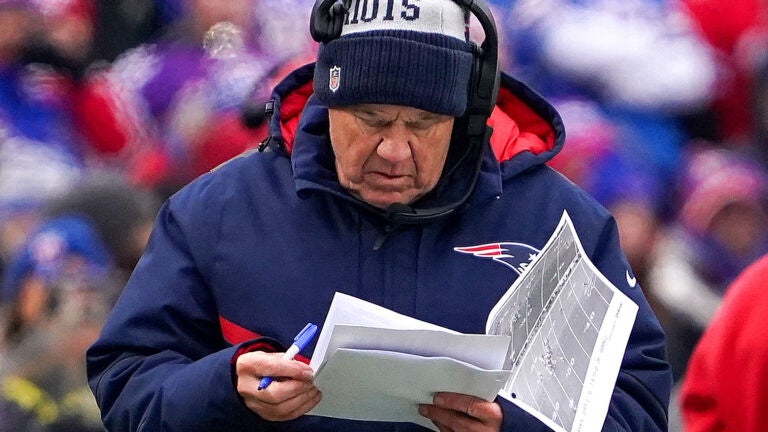 Weeks removed from the end of a disappointing season, additional details about the Patriots' underachieving offense are reportedly coming to light.
In 2022, Bill Belichick chose to replace former offensive coordinator Josh McDaniels with the unorthodox pairing of Matt Patricia and Joe Judge, two former head coaches who had far less experience coaching offense (and none as offensive play-callers).
The result was not only an offense that finished in the lower half of the league in points and yards, but a dysfunctional system that periodically had trouble getting calls to quarterback Mac Jones on time.
Sports Illustrated's Albert Breer offered some more on the subject in a recent column reacting to the team's decision to hire Bill O'Brien to be the new offensive coordinator. Breer cited recent reporting about the Patriots' offense from Karen Guregian and Andrew Callahan of the Boston Herald, noting that the Patriots' head coach may have also had a direct role in the sluggish play-calling.
"I'd add that Belichick himself is on the hook for all this, too," wrote Breer. "My understanding is Belichick was active on the headsets on game day, having the sort of oversight over the offense that he'd traditionally had over the defense, and moonlighting as play-caller at points (which is why, at times, calls were late going in, and the offense could look messy from an operational standpoint)."
Breer continued, explaining that Belichick's choice to insert himself into play-calling was "tacit acknowledgment of the mistake he'd made setting up the staff the way he did in the first place."
A more recent (and direct) acknowledgment that the 2022 system didn't work out was the team's uncharacteristically stated search for an offensive coordinator. The hiring of O'Brien, who led New England's offense in 2011 before leaving to become head coach at Penn State, represents a return to a more traditional offensive coaching setup.
But why didn't Belichick hire O'Brien a year ago as McDaniels's direct replacement?
"I'm told the reason he didn't even pursue it with (Nick) Saban was out of fear that O'Brien might do well enough in a year to land a head coaching job elsewhere," Breer explained, "leaving the Patriots to replace a coordinator two years in a row."
Sign up for Patriots updates🏈
Get breaking news and analysis delivered to your inbox during football season.