Patriots
Julian Edelman wasn't a fan of Mac Jones' on-field outbursts last season: 'There's a standard'
"Everyone is watching you when you're the quarterback."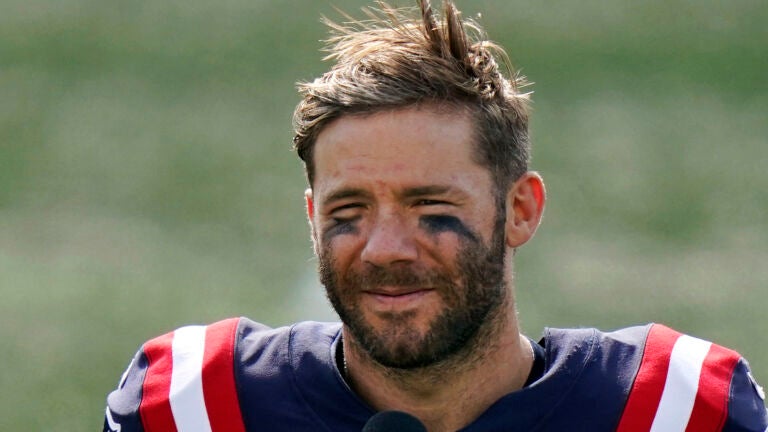 It's been a frustrating year for Mac Jones.
Whether it be his regression as an NFL quarterback or the turmoil brought upon by Matt Patricia and Joe Judge's reign as offensive authorities, Jones had few positives to draw from in 2022.
And when things went south for the signal caller, Jones often expressed it on the field through outbursts and waving off coaches.
Former Patriots wide receiver Julian Edelman can see why Jones' patience was tested during a tumultuous season. But that doesn't mean he was a fan of the quarterback's candid displays of emotion.
"He's a good kid, but you see people and who they really are when [expletive] is hitting the fan and you can't do that as a quarterback," Edelman said of Jones on Barstool Sports' "Pardon My Take" podcast. "He's a young guy and his situation that he was in — I'm not saying it was an easy situation, especially having Matty [Patricia] calling plays. But everyone is watching you when you're the quarterback. There's something to be said about that, and there's a standard. There's rules."
Of course, Edelman's former quarterback in New England was never one to hide his emotions following a stalled drive or miscommunication.
But Edelman's retort centers on the disparity between Jones' credentials and the resume that Tom Brady crafted for the last 23 years.
"Don't come at me saying, 'Oh, well Brady'… Brady had like three Super Bowls when [expletive] showed up a coach for one — for the first time," Edelman said. "Not showed up a coach, but he got into an argument with someone and showed emotion. You can't do that, especially when you're still trying to learn who you are."
Edelman is not the only Patriots legend who disapproved of Jones' antics last season.
Former defensive tackle Vince Wilfork was frank when asked earlier this season if Jones' outbursts were occurring too often.
"I'm tired of that, honestly. I'm tired of it," Wilfork said on NBC Sports Boston. "You're the leader of this team. You're a quarterback. So you can't be frustrated every single week, every single play. I don't care if you're getting the play called in late or whatever it may be. At the end of the day, you have to show some poise because you do operate the ship. You're the head of the ship when you're out there.
"Control what you can control," Wilfork added. "That's all you can do. But I'm tired of seeing him throwing a fit."
Newsletter Signup
Stay up to date on all the latest news from Boston.com