Patriots
Robert Kraft, Bill Belichick respond to Tom Brady's retirement announcement with special praise
"I don't believe in the 100-year-old history of the NFL, there's been a quarterback of Tom's ilk."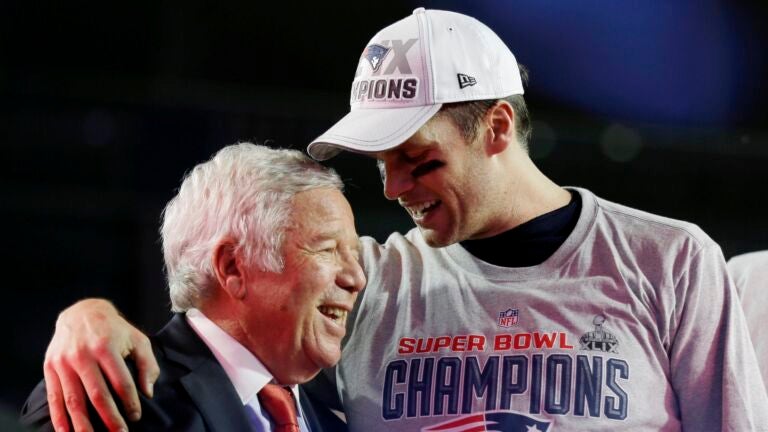 Robert Kraft had one of the best vantage points of anyone in the NFL to watch Tom Brady's decades-long run of dominance.
The Patriots' owner saw his team draft Brady as an unheralded sixth-round pick in 2000 and then emerge as the most successful quarterback in football history.
Because of that, it's unsurprising that Kraft's reaction to Brady's Wednesday morning retirement reveal was to characterize his accomplishments as one-of-a-kind.
"I don't believe in the 100-year-old history of the NFL, there's been a quarterback of Tom's ilk," Kraft told ESPN reporter Mike Reiss following Brady's announcement. "I would have trouble ever believing there would be another one."
Brady's longtime coach Bill Belichick also touched on the retired quartrback's competitive spirit.
"Tom Brady was the ultimate winner," Belichick said in a team statement. "He entered the NFL with little to no fanfare and leaves as the most successful player in league history. His relentless pursuit of excellence drove him on a daily basis.
"His work ethic and desire to win were both motivational and inspirational to teammates and coaches alike. Tom was a true professional who carried himself with class and integrity throughout his career. I thank Tom for the positive impact he had on me and on the Patriots and congratulate him on his amazing career."
During Brady and Belichick's 20 seasons together, the Patriots posted a record of 219-64 in games started by the future Hall of Famer. The Patriots went to nine Super Bowls, won six of them, punched their ticket to 13 AFC championship games, and posted 19 consecutive seasons.
Kraft also released a written statement following his comments to Reiss.
"I am so proud of Tommy," Kraft said. "He has accomplished everything there is to achieve in this game, and so much more. No player in NFL history has done it as well for as long as Tom Brady. He is the fiercest competitor I have ever known and the ultimate champion. He led the Patriots to two decades of unprecedented dominance.
"He is truly the greatest of all-time. Words cannot adequately express the gratitude my family, the New England Patriots and our fans have for everything he has done. It's been a blessing for me to watch him grow, first as a young professional on the field, but most importantly, as a person off it. He is one of the most loving, caring and passionate players I have ever known and I will always consider him a part of our family."
Kraft expanded on his praise for Brady in a heartfelt video statement released by the Patriots Wednesday evening.
"As fierce as he was a competitor and as tough as he could be, [he] had a great heart and was a great human being," Kraft said. "And I think that came from his family, where he had great parents and three wonderful sisters. And he always showed love. It allowed me in the 23 years I've known him to love him like a son and have a connection that's pretty special. …When he met me and told me he was the best decision this organization has ever made, I really felt he was right.
"I think how, when my beloved Myra was dying and how he helped me get through that and how supporting and loving he was to me. …It's hard to find those relationships in this world. And I truly cherish special relationships, and I'm so fortunate to have Tom Brady in my life."
Brady will move from the gridiron to the broadcast booth next year, with the 45-year-old set to serve as FOX's top NFL analyst.
With seven Super Bowl wins and a staggering number of individual records, Brady's resume certainly appears inimitable for the foreseeable future.
In a 2021 interview, Kraft told former New England linebacker Willie McGinest that he hoped Brady would "come back here and we'll give him his red jacket, and he'll retire a Patriot."
The possibility of that scenario remains to be seen, but it's clear there's no doubt in Kraft's mind about Brady's place in NFL history.
Sign up for Patriots updates🏈
Get breaking news and analysis delivered to your inbox during football season.