Patriots
Robert Kraft tells CNN he'd like Tom Brady to retire as a Patriot
The Patriots owner told the network he'd be open to Brady signing a one-day contract to retire as a member of the team.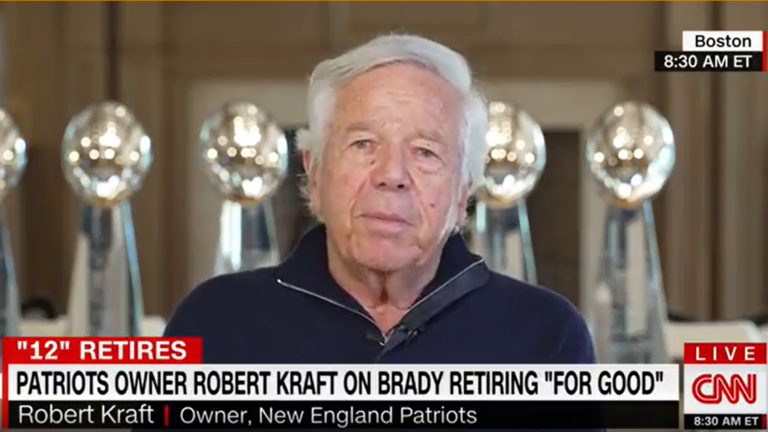 The day after Tom Brady retired, Patriots owner Robert Kraft went on CNN to talk about the quarterback's legacy and their relationship.
Kraft, who owned the team when Brady was drafted, became quite close to the quarterback over his career. Kraft says Brady FaceTimed him on Wednesday, not about retirement but just so Kraft could say hello to two of his children who he hasn't seen in some time.
To Kraft, that nurturing, loving side of Brady doesn't get as much credit as it should, and it's what was so crucial to him being a great teammate and leader.
"He brings love and a great warm feeling to everything he does," Kraft said. "As fierce a competitor as he is, he gets people to come in and be connected as part of the team and feel very special."
Later during the interview, CNN's Poppy Harlow and Don Lemon asked Kraft if Brady would sign a ceremonial one-day contract and retire a Patriot.
"Not only do I want it, our fans are clamoring for it," Kraft said. "To us, he is, always has been, and always will be a Patriot. I don't like to make a commitment for him, but we will do everything in our power to bring him back, have him sign off as a Patriot."
Throughout the interview Kraft also made sure to mention that there were no hard feelings between Brady and the Patriots over his decision to leave the team, and that he'll always be loved and respected by the team and the community.
To conclude the interview, Kraft was asked to share some parting words for Brady and his retirement, once again reiterating the familial bond the two share.
"Well, Tommy, I'm always here for you. You are a part of our family," Kraft said. "I just love the guy so much and there isn't anything I wouldn't do for him. And I think he can do a lot of good things for America and reach out to a lot of people. And thank you for the time you gave us. Everyone here in the New England region loves you and respects you and wants happiness for you in your life."
Sign up for Patriots updates🏈
Get breaking news and analysis delivered to your inbox during football season.