Patriots
Julian Edelman discusses Bill O'Brien, Mac Jones in Q&A
Edelman worked with O'Brien during his first three years as a Patriot.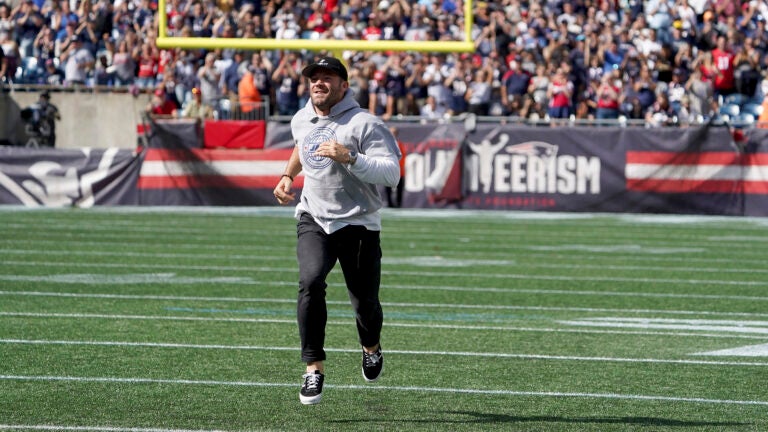 While Tom Brady made a big splash this week when he retired on Wednesday, his former teammate Julian Edelman has been keeping his name in the news as well recently.
On Tuesday, Edelman was one of the marquee names at the opening of the Encore Boston Harbor's sportsbook, and on Thursday he released a Q&A along with bookies.com.
During the conversation, Edelman talked about his relationship with Brady and how much support Brady has supplied as Edelman learns how to be a father.
"He's a great father, so he's been an unbelievable help," Edelman said. "Not just football, but in all life."
The majority of his words focused on new Patriots offensive coordinator Bill O'Brien and the team's third-year quarterback Mac Jones.
Edelman, a Patriots wide receiver for all 12 of his professional seasons, previously worked with O'Brien from 2009 to 2011. The former wideout mentioned that O'Brien could be hard on a player but it would always come from a place of love.
"They call him 'Tea Pot' for a reason. He used to yell at me a lot. In my rookie year, it was me that he would just get on," Edelman said. "But Billy O's the kind of guy that if he shows you attention, if he's yelling at you, that means he loves you. In the times that he's not talking to you, or if he's not yelling at you, that's when you've got to be worried."
Edelman did also include that despite his emotionally charged conversations with players, O'Brien brings a lot to the table as an offensive mind who can relieve stress from Bill Belichick.
"The thing that I like about Billy O. is, it's going to allow Bill Belichick to really focus on everything else and on the team. I felt like the little things slipped away this last year," Edelman said. "He's a former head coach, [Belichick] can bounce ideas off him. [Belichick] can think of the macro on offense. [Belichick] can focus on the macro. That's why [Belichick] is the best. He had his foot in everything last year. It's taken him away from looking at the full piece."
To conclude his Q&A, Edelman talked about Jones,who struggled in his second season in the league but who is expected to bounce back under O'Brien, who he first met when the two were at Alabama in 2021.
"It's going to be a comfortable relationship.," Edelman said. "I expect Mac to have a huge jump. Mac's a young guy. There's a couple guys that called him out, former Patriots, but that's a frustrating situation that he was in. I understand and he's learned from that. He got better as the year went on. I expect a big leap this year."
Sign up for Patriots updates🏈
Get breaking news and analysis delivered to your inbox during football season.