Patriots
Jonathan Jones hopes to remain with Patriots as he enters free agency for the first time
The veteran corner has brought solid play at multiple spots over his first seven seasons in New England.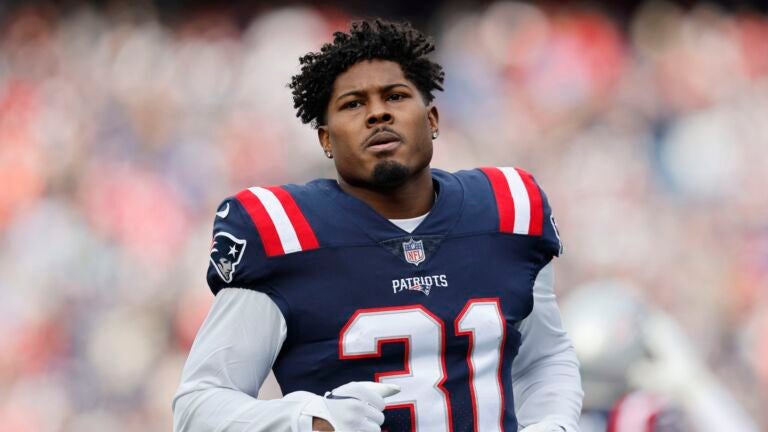 Patriots cornerback Jonathan Jones is set to be a free agent for the first time in his soon-to-be eight-year career, and he isn't sure how to feel about it.
Jones, who signed with the Patriots as an undrafted free agent in 2016, said he's enjoyed his time so far in New England over the years though he'll embrace the upcoming process.
"It's a lot of emotions," Jones told NBC Sports Boston's Phil Perry on the "Next Pats" podcast. "My adulthood's been spent in New England. The things I've been a part of, the things I've had the opportunity to be a part of in my career there, has been a blessing. Just going into free agency, taking everything in stride. One day at a time. Just enjoying the process, enjoying the journey. Something new for me."
While embracing the free agent process, Jones seems to want to remain a Patriot.
"I would hope so. I would hope so," Jones said when asked about possibly remaining in New England. "That's where I've spent my career. It's what I know, it's what I love. New England is home for me in that aspect. So, we'll see. We'll see how free agency turns out, and we'll take it from there."
Jones has become a vital part of the Patriots' secondary in recent seasons. He began his career playing slot corner and was viewed as one of the league's best at that spot over the first five years of his career. A shoulder injury ended Jones's season in 2021 after six games, and it hurt the Patriots as a result, as they had to change coverage schemes midway through that season to help accommodate the loss.
Another wrench was thrown Jones's way at the beginning of the 2022 season. Following the offseason departure of J.C. Jackson and Stephon Gilmore being traded during the 2021 season, New England lacked experience at the outside corner spots.
So, Jones moved from slot corner to outside corner in 2022. He mostly had success playing in the new spot. Opposing quarterbacks completed just 48 of 91 passes for 588 yards with five touchdowns and four interceptions when targeting Jones, giving them a 73.0 passer rating when throwing in Jones's direction. However, Jones struggled with the game's elite receivers as Justin Jefferson recorded 139 receiving yards and a touchdown in the Vikings' matchup against the Patriots, while Stefon Diggs had 196 receiving yards and two touchdowns over the Bills' two games against the Patriots in 2022.
Jones told Perry that he "enjoyed" and "embraced" the position change.
"I think a lot of people forget the Rams Super Bowl. I moved to safety. Had never played safety before that," Jones said. "I enjoy and embrace new challenges and just expanding my game. Knowing I have the tools to do those things and go out there and execute with my teammates … Being in the locker room with a good group of guys, it just makes it easy for me to go out there and do my job. Obviously being in Year 7, having a good understanding of the defense and everything like that, it makes it a lot easier."
Even though the Patriots drafted a pair of corners last offseason that both ended up having solid rookie campaigns, Jones might still be needed in New England in the immediate future. Marcus Jones didn't play outside corner much last season, while Jack Jones and Jalen Mills both missed time at the end of the season due to injuries, showing the importance of the depth at the position.
Jones's flexibility could also come in handy with the possible retirement of Devin McCourty. While the Patriots have a handful of quality safeties on the roster (Kyle Dugger, Adrian Phillips, and possibly Jabrill Peppers, who is a free agent), they don't really have many other players with much experience at free safety. Mills played at free safety for a bit over his five-year tenure with the Eagles.
As Jones mentioned though, he has some experience playing at free safety in a pretty high-level situation. His willingness to be flexible and change positions if needed is also a desirable trait. If Jones can make a possible switch to free safety look as seamless as he made his switch to outside corner, then the Patriots' decision whether to keep Jones or not should be an easy one.
The early projections for Jones's free-agent price tag aren't pricey, either. Pro Football Focus' Brad Spielberger projects that Jones will sign a two-year deal worth $11 million with $7 million guaranteed in free agency. That isn't much at all for a Patriots team that's currently expected to have roughly $35 million in cap space entering the offseason.
Sign up for Patriots updates🏈
Get breaking news and analysis delivered to your inbox during football season.