Patriots
Matthew Judon gives Mac Jones a vote of confidence following disappointing second season
"We're gonna see, because we know what type of player he can be."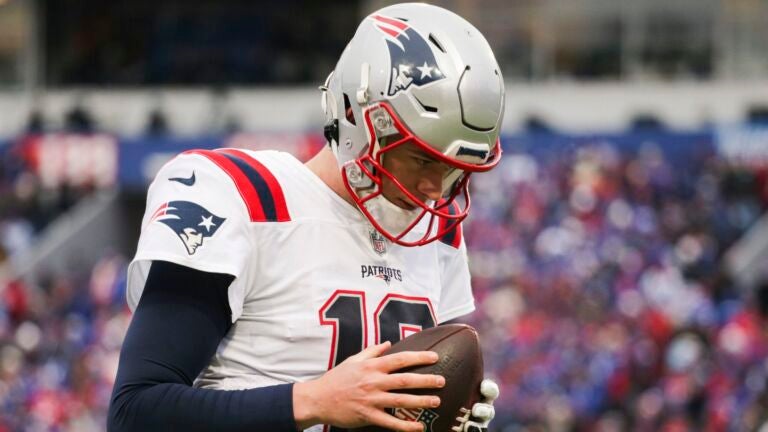 Mac Jones's second NFL season certainly didn't go the way he would've liked it to have gone, but he still has supporters in the Patriots' locker room after the team went 7-10 to miss the playoffs.
Matthew Judon, who is the Patriots' lone Pro Bowler for the 2022 season, gave a vote of confidence in Jones in an interview with NFL.com's Grant Gordon ahead of Sunday's Pro Bowl.
"I think we've got a great deal of confidence in Mac," Judon said. "And we're gonna see, because we know what type of player he can be. We saw it at the collegiate level, high school level, and we saw it at a pro level. And so that's what we need. He knows that. And we're going to be backin' him just as long as he's our quarterback, as long as he's on the team, we're gonna be backin' him. And I don't plan that he's going anywhere anytime soon."
Jones had to battle through some adversity in Year 2. He struggled in the first few games of the season before suffering an ankle injury that cost him three games. When he returned in Week 7, Jones played poorly in his first three drives of the game, leading Patriots fans at Gillette Stadium to cheer for his backup, Bailey Zappe, to enter the game.
When Jones regained the starting job for the remainder of the season in Week 8, it wasn't all too pretty as the Patriots' offense struggled to score, finishing last in the league in red zone efficiency. Jones threw for 2,997 yards, 14 touchdowns, and 11 interceptions with an 84.8 passer rating in 14 games.
Still, Judon has faith in Jones, who had a solid rookie campaign to help the Patriots make the playoffs with a 10-7 record in 2021. Judon even believes that the Patriots were a bit better in some areas in 2022 than they were in 2021.
"Yeah, we wanted to win a Super Bowl, but also we improved," Judon said. "We hit some strides, and we made some strides, but we took a step back in some other things. And once we can improve on those and the finer details, everybody can see we're gonna be a damn good team."
The Patriots' defense arguably improved in 2022, ranking No. 1 in weighted DVOA, as Judon's 15.5 sacks helped the team finish third in the league in sacks (54). But New England's offense held the team back, finishing 26th in total offense as it averaged just 18.2 offensive points per game.
New England has already made some changes to fix some of those "finer details" that Judon was talking about, hiring Bill O'Brien to be its offensive coordinator after Matt Patricia and Joe Judge ran the offense in 2022.
Sign up for Patriots updates🏈
Get breaking news and analysis delivered to your inbox during football season.