Patriots
A salary cap expert projected how much each top Patriots free agent will make on upcoming deals
Jakobi Meyers and a few other Patriots players might be in line to earn a nice payday this offseason.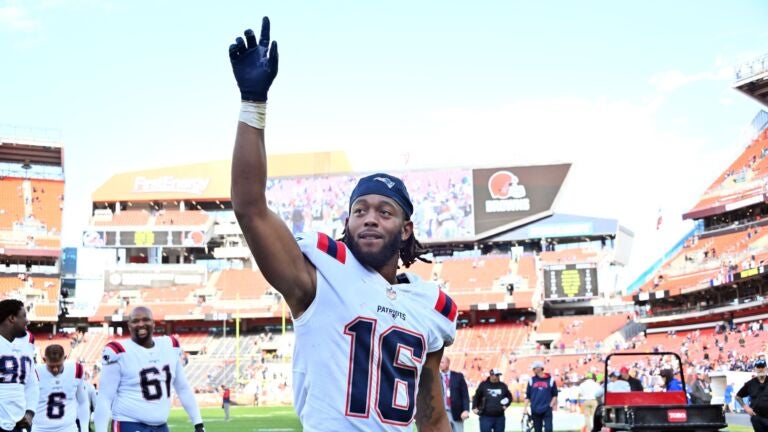 The start of free agency is over a month away, but the Patriots can still re-sign some of their top free agents prior to March 13 when teams are allowed to negotiate deals with free agents.
Jakobi Meyers, Jonathan Jones, and Devin McCourty are considered to be among the top free agents at their respective positions this offseason, while Isaiah Wynn will also hit the open market.
Pro Football Focus NFL salary cap analyst Brad Spielberger projected the contracts each of the top 100 upcoming free agents will receive this offseason. Here's how much he projected each of the four aforementioned Patriots will earn this offseason.
Jakboi Meyers: Four-year, $64 million deal with $40 million guaranteed
As many NFL analysts and fans of the team implore the Patriots to upgrade at receiver this offseason, the top receiver that's slated to hit the open market in 2023 might have been on their team this past season.
Many pundits, including Spielberger, rank Meyers as the top free-agent receiver available in 2023. Spielberger actually ranked Meyers as the seventh-best overall free agent.
After joining the Patriots as an undrafted free agent in 2019, Meyers has turned into the team's top receiver over the last three seasons. He had an 82-catch season in 2021 and in 2022, he recorded 67 receptions for 804 yards and six touchdowns, a career-high, in 14 games.
Meyers's continued progression coupled with the fact that there aren't any top receivers expected to be free agents is why Spielberger thinks the four-year vet will get a big payday this offseason.
"After every big-name wide receiver in the 2019 NFL Draft class who was set to hit free agency this offseason signed monster extensions before the year began, Meyers found himself as the top free agent at a position that is growing in importance (and value) every single week," Spielberger wrote.
As Spielberger mentioned, wide receiver has become a premier position in recent years. Christian Kirk received the richest deal among all receivers in free agency last offseason, receiving a four-year, $72 million (worth up to $82 million) contract with $37 million guaranteed from the Jaguars. That deal led to many other receivers getting contract extensions worth up to and even north of $100 million while a few other receivers were traded for first-round picks.
So, it seems Meyers is set up to get paid well this offseason.
Jonathan Jones: Two-year, $11 million deal with $7 million guaranteed
Cornerback is arguably one of the Patriots' top needs entering the 2023 offseason, and just like at receiver, they had a top free agent at the position on their roster in 2022.
Jones is listed as the fourth-best cornerback in free agency by Spielberger, who also ranked him No. 31 out of the top 100 free agents.
However, Jones is projected to have as costly of a contract as the other top corners for multiple reasons. Jones played slot corner for the Patriots for much of the first six seasons of his career until switching to outside corner ahead of the 2022 season. As Spielberger mentioned, Jones had a good start to the season before struggling in the second half as he failed to keep up with some of the league's best receivers, such as Justin Jefferson and Stefon Diggs. Jones will also turn 30 at the beginning of next season, which could dampen his contract value a bit.
Still, Jones has given the Patriots solid play since he joined the team as an undrafted free agent in 2016. He was viewed as one of the best slot corners in the league prior to making the move to outside corner in 2022. When he suffered a season-ending injury in 2021, the Patriots' pass defense suffered as they changed to playing more zone coverage in the latter half of that season.
Jones's stats for the 2022 season were still good too, even if he struggled against the top receivers. Opposing quarterbacks completed just 48 of 91 passes for 588 yards with five touchdowns and four interceptions when targeting Jones, giving them a 73.0 passer rating when throwing in Jones's direction.
Jones's versatility could also come in handy if another certain Patriots player leaves this offseason.
Devin McCourty: One-year, $8 million deal with $7 million guaranteed
It remains to be seen if the 35-year-old will play football or not in 2023, but if McCourty opts to play, he isn't under contract for the 2023 season.
McCourty wasn't shy about the 2022 season possibly being his last in the final weeks of the season, and he reportedly underwent shoulder surgery not long after the season ended. But he also seemed to contemplate retirement last offseason too before eventually returning to the Patriots on a one-year, $9 million deal.
Spielberger projects McCourty would receive a similar contract if he returned to play in 2023. That obviously makes sense considering that McCourty seems to be taking a year-by-year approach to if he wants to continue to play or not.
McCourty also provided some solid play for the Patriots in 2022. Opposing quarterbacks completed 19 of 37 passes for 273 yards, four touchdowns, and four interceptions when targeting McCourty, giving them a 72.1 passer rating when throwing to a receiver McCourty was covering.
Sure, there might have been moments where McCourty's aged showed this season, such as in Week 3 when Mark Andrews had a monster day against the Patriots or the two dropped interceptions he had, but New England would still likely be better with him staying than retiring. The Patriots don't really have a clear successor at the position, so maybe they feel a need to make him a sweet offer to return in order to help them buy time to find a free safety of the future.
Isaiah Wynn: Two-year, $21 million deal with $13.75 million guaranteed
Wynn's fifth season in New England didn't go the way anyone hoped. Switching from left tackle to right tackle, Wynn struggled in the first half of the season as he allowed four sacks and 17 pressures in nine games, getting benched multiple times before suffering a season-ending foot injury in Week 11.
Yet, Spielberger projects Wynn to sign a multi-year deal worth eight figures per season. He believes that the fact that Wynn was mostly solid over the 2019-2021 seasons and his age (26) will at least give him a decent market to fetch a multi-year deal. Ranking Wynn as the fifth-best free-agent offensive tackle in this upcoming offseason, Spielberger thinks that Wynn could stand to gain even more money if other pending free-agent offensive tackles end up getting franchise tagged.
The Patriots certainly have a need at offensive tackle this offseason, though that is in part due to Wynn's poor play in 2022 and the numerous injuries he's dealt with over his five-year career.
How do the Patriots stand to possibly re-sign those players entering the offseason?
The good news for New England is that if Spielberger's projections are accurate, it should be able to re-sign each of those four aforementioned players if it wants to.
Entering the 2023 offseason, the Patriots are projected to have the sixth-most cap space in the league with roughly $33 million in cap space, per OverTheCap. There are also a few ways for them to create even more cap space if they need to as well.
Of course, the big questions are if the Patriots want to re-sign Meyers, Jones, McCourty, and Wynn and if those players want to return to New England? Meyers and Jones have both stated a desire to remain with the Patriots already, and it'd be tough to see McCourty play anywhere else other than in New England if he holds off retirement for another season.
If McCourty decides to hang 'em up, the Patriots might feel more incentive to keep Jones considering his institutional knowledge and leadership along with his versatility as he actually played several snaps at free safety in their Super Bowl LIII win over the Rams.
Meyers is probably the toughest to guess where he'll end up playing next season. Bill Belichick has never really prioritized spending at wide receiver over his first 23 years running the Patriots, but that could change after what happened in 2022.
Wynn's probably the most likely to move on as he seemed to show dissatisfaction about switching from left tackle to right tackle ahead of the 2022 season and was involved in trade rumors ahead of the trade deadline in October.
Sign up for Patriots updates🏈
Get breaking news and analysis delivered to your inbox during football season.