Patriots
Peyton Manning explains why Tom Brady was 'a big part of the reason' he stayed in the AFC
"Even if you go to the [NFC] and you make the Super Bowl, you're probably going to have to play them."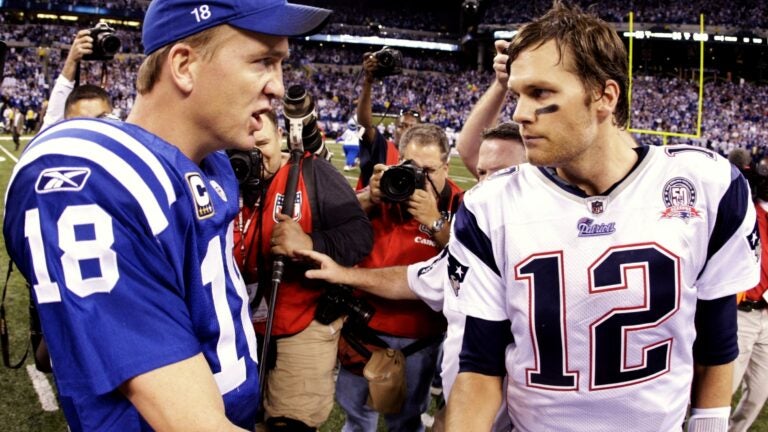 Peyton Manning spent the entirety of his 17-year NFL career in the AFC.
He also lost to Tom Brady 11 of the 17 times they went head to head during that span.
That easily could have been a reason for Manning to join an NFC team in hopes of an easier path to the Super Bowl. But it never happened. When Manning left the Indianapolis Colts after 13 seasons, he spent his final four in Denver.
"I've never told anybody this," Manning said this week on the Let's Go! Podcast with Brady and Jim Gray. "But Tom was a big reason why I decided to stay in the AFC after I left the Colts. I easily could have gone to a couple NFC teams, but I thought 'nope, I've played against Tom a bunch and the Patriots and eventually you're going to have to play them at some point.'
"Even if you go to the [NFC] and you make the Super Bowl, you're probably going to have to play them. I said, let me at least try to earn it in the AFC seeing them in the playoffs. I enjoyed those games. I enjoyed that rivalry. That was one of the reasons I decided to stay in chapter two for me."
Manning won three of the five head-to-head playoff matchups against Brady. The home team won each of those games, with both of Brady's wins coming in Foxborough and Manning's wins coming in either Indianapolis or Denver.
It was the regular-season battles that were more lopsided in Brady's favor.
"People forget that when Tom started out with the Patriots, I was still with the Colts. The Patriots and the Colts were in the same division. The old AFC East. Played against the Patriots twice a year. And then when realignment happened, the Texans came in and thank goodness realignment happened. We got out of the AFC East and went to the AFC South.
"It's almost like Tom and I stayed in the same division together. How many times did we play each other twice? Once in the regular-season and always in the playoffs?"
Manning joked that he wrote a letter for Brady's retirement last year and won't be writing one this time around. Brady said he's always appreciated the time they've gotten to talk and grow their friendship over the years.
"When you watch that level of performance for so many years," Brady said. "And Peyton's performance is unrivaled in so many ways, you just feel like you have a bond with someone … I just always loved my time.
"I feel like there are very few people in life who really know what you're going through, to be honest. Peyton had a brother, I didn't have a brother. When I got to talk to him I valued it a lot because of who he is."
Manning recalled their matchups as drawing the best of his abilities and focus.
"I would tell our rookies in the opening day of the season, 'we have to win this game, this is the most important game,'" Manning said. "They're like 'what does it matter? It's opening day. We've got 16 weeks.' It's like no, if we don't win this game, we're going to have to come back here in January
"And this is a tough place to play anytime, but it's really tough in the playoffs. That was the approach when you played these guys."
Sign up for Patriots updates🏈
Get breaking news and analysis delivered to your inbox during football season.