Patriots
While Fox was waiting for Tom Brady, a star developed in the booth: Greg Olsen
Olsen has an uncanny knack for explaining what's happening in real time concisely and accurately, while never falling too deep into football jargon.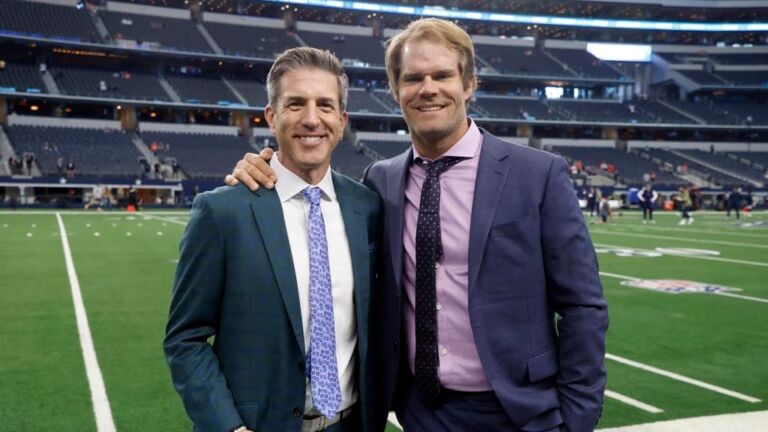 One of the reasons Greg Olsen has been such a hit as the color analyst on Fox's No. 1 NFL broadcast team is his situational awareness.
The former tight end, who will call the Super Bowl on Sunday with play-by-play voice Kevin Burkhardt, has an uncanny knack for explaining what's happening in real time concisely and accurately, while never falling too deep into football jargon.
And he's even better when he has the benefit of watching a replay and can isolate one thing that happened that caused a play to work or fail.
One example: During the NFC Championship game between the Eagles and 49ers, he explained how Philadelphia's tactical use of a run-pass option froze San Francisco All-Pro linebacker Fred Warner in his tracks. As Olsen put it, "That's what this offense does, it makes 4.4, 4.5 linebackers [in the 40-yard dash] play 4.7 or 4.8."
What was left unsaid was how important those fractions of a second are in a game. He made his point and trusted the viewer to understand it without overexplaining.
Olsen and Burkhardt might be the best ancillary underdog story of this season. They were Fox's No. 2 team last season, Olsen's first full year in the booth after retiring following a 14-year NFL career. (Fox executives identified him as a terrific broadcasting prospect well before his playing career ended; he first called a game for the network in 2017, during the bye week for his team, the Carolina Panthers.)
Olsen and Burkhardt were elevated to the No. 1 team when Troy Aikman and Joe Buck left for ESPN and "Monday Night Football" in March 2022. The perception was that the promotion was by default, but it has proven beyond a doubt to be merited, in part because Olsen has taken coaching all along and recognizes where he has needed to improve.
It's a different kind of situational awareness.
"I would hope from last year's first game to now, I've gotten better at being more concise and can formulate my thoughts and get them out without dumbing it down so much that it doesn't do the point justice," he told GQ magazine in an interview this past week.
He added something about his approach that jumped out to me as the opposite of what Tony Romo — an instant star in the booth upon his debut in 2017 who now faces deserved backlash for his puzzling lack of focus and coherence — does in CBS's No. 1 booth.
"This week," said Olsen to GQ, "the entire focus is on doing the game justice and making sure you're prepared and you have the story lines and all your thoughts are straight."
The appeal of the Olsen-Burkhardt pairing has led to an already well-documented conundrum for Fox. In May 2022, a couple of months after the Aikman and Buck departures, Fox dropped a bombshell, announcing it had reached a 10-year, $375 million deal with Tom Brady to be its lead NFL analyst after his retirement.
The initial plan, as Fox touted at the time, was for Brady to join Burkhardt in the top booth the season following his retirement. Brady, who announced his retirement Feb. 1 — his second retirement, technically, after a 40-day hiatus following the 2021 season — altered those plans, deciding that he would wait until the 2024 season before joining Fox's coverage.
"I want to be great at what I do, and that always takes some time, strategizing, learning, growing, and evolving," explained Brady on Colin Cowherd's show last Monday.
As much as Fox would have loved to shoehorn him into Sunday's broadcast (the network says there are no plans for an appearance), this actually makes me think Brady might be better at TV than I originally thought, presuming he's serious about putting in the work. (And when hasn't he been?)
In the meantime, Fox has a pleasant dilemma. Brady is the biggest name in the sport, and his TV deal is for more money than he made in salary during his 23-year NFL career. Every other network coveted him, and it's going to be a huge deal when he finally does join the booth.
But while Fox was waiting for Brady, a star developed in the booth, and Olsen's profile is only going to grow with the Super Bowl call. He's no placeholder. What he is is the first NFL analyst Brady should study if he really wants to know how to do the job well.
Sign up for Patriots updates🏈
Get breaking news and analysis delivered to your inbox during football season.