Patriots
Rob Gronkowski would be open to signing a one-day contract with the Patriots
"I love New England. I loved my time there. I learned so much," Gronkowski said in a recent interview.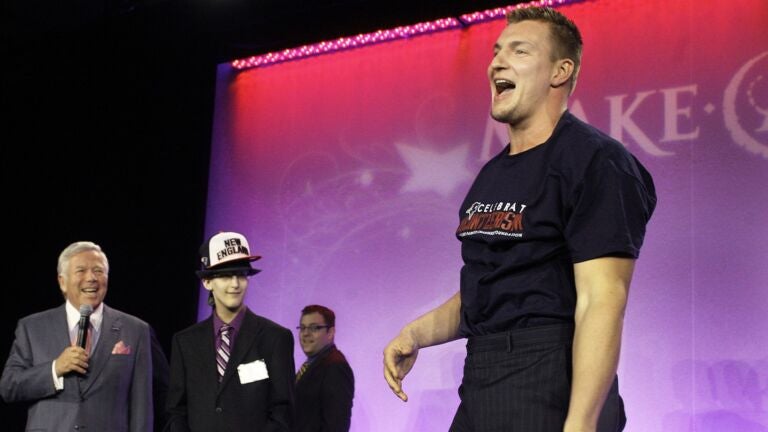 Patriots owner Robert Kraft has shown his willingness to sign Tom Brady to a one-day contract in order to make him retire with the Patriots. If he's handing out one-day contracts, another Patriots legend might want in on the action, too.
Rob Gronkowski said he would consider signing a one-day contract with the Patriots to officially cap his likely Hall of Fame career in an interview with The Athletic's Jeff Howe.
"If it was offered and presented, it would definitely be a possibility," Gronkowski told Howe. "I love New England. I loved my time there. I learned so much. I love Mr. Kraft. I love the whole organization, coach (Bill) Belichick, everyone. I've learned so much there over the nine years. If that was presented in my case, that would definitely be something to consider because of just how much that place means to me for the rest of my life."
Gronkowski announced his retirement from playing in the NFL for a second time in June 2022 after playing two seasons with the Buccaneers, joining Brady when he went to Tampa Bay in 2020. Unlike his last retirement though, Gronkowski has fully shut the door on a possible return.
"No, no. I'm done, man," Gronkowski told Howe. "Tom is not reopening that door. I don't know. Maybe he is. I don't know."
Gronkowski also shared with Howe that he was "definitely shocked a bit" that Brady retired, saying that Brady "still has some left in the tank."
Brady announced his retirement from football on Feb. 1 and it looks like it's for real this time. The former Patriots quarterback sent his paperwork to the NFL and the NFLPA to reconfirm his retirement, ESPN's Adam Schefter reported Friday.
Kraft has made a few public appearances sharing his desire for Brady to return to New England for some sort of ceremony to celebrate his Patriots' tenure.
The day after Brady announced his retirement, Kraft said in an interview with CNN that he hoped the quarterback would sign a one-day contract with the team. Kraft shared in separate interviews this week that he and Brady have been talking and that he hopes that the quarterback would return to celebrate his career.
Sign up for Patriots updates🏈
Get breaking news and analysis delivered to your inbox during football season.