Patriots
Travis Kelce vs. Rob Gronkowski debate continues after Patrick Mahomes calls Chiefs tight end the 'greatest ever'
"I would say [Kelce] deserves it to be up there with the debate."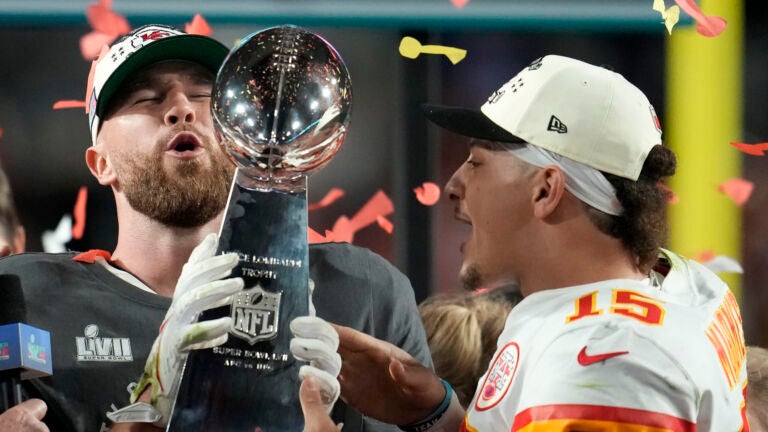 Patrick Mahomes didn't mince words after capturing his second Super Bowl title in four years.
The star quarterback wasn't ready to declare his team a dynasty following their 38-35 victory over the Eagles in Super Bowl LVII, but he did label his teammate Travis Kelce as the "greatest ever" among a crowded field of legendary tight ends.
Mahomes's comments, another Super Bowl championship, and a strong showing from Kelce against the Eagles (six catches, 81 yards, one touchdown) will only further spur the conversation over whether Kelce has leapfrogged Rob Gronkowski as the greatest ever at the position.
Given Mahomes's history with Kelce and the latter's propensity to get himself open down the field, it comes as no surprise that the Chiefs signal caller is quick to sing his praises.
Even earlier this season, Mahomes said that Kelce was the greatest to ever do it at tight end, noting that he routinely alters his reads if he sees his teammate in man-to-man coverage.
"Then I throw him the ball," Mahomes said following Kansas City's win over the Chargers back in November. "I'm not joking at all. If he's man-to-man, I'm going to give him a chance. He's going to win most of them. The Chargers have [safety] Derwin [James Jr.], so Derwin is going to win his battles because he's probably the best safety in the league. But I'm going to give my guy a chance because I know how special he is."
In terms of pure production offensively, Kelce makes a very compelling argument in his competition with Gronkowski. With his first-quarter touchdown catch against Philadelphia, Kelce passed Gronkowski for the second-most postseason touchdown catches at 16.
As far as regular-season totals, the 33-year-old Kelce has already surpassed Gronkowski in a number of categories.
Even though Gronkowski has more career touchdowns than Kelce (92 to 69), the Chiefs star holds the edge in career receptions (814 to 621) and receiving yards (10,344 to 9,286).
Even Gronkowski himself acknowledged that Kelce has a valid case in the ongoing debate over top tight ends.
"I would say [Kelce] deserves it to be up there with the debate," the 33-year-old said Wednesday during NBC Sports Boston's "Next Pats Podcast" episode. "I would say I deserve it, to be up in the debate. And we talked about it, and we said we don't know who's better, but we like to let everyone else decide and debate it."
Of course, the argument in favor of Gronkowski goes beyond just red-zone production and rings (four total between New England and Tampa Bay). While Kelce is arguably the best receiving tight end in NFL history, he doesn't hold a candle to Gronkowski in terms of his blocking ability.
The dirty work that comes with the tight end position tends to get overlooked at times as more and more TEs develop into lethal receiving options across the NFL. But Gronkowski's ability to aid in the running game, clear paths for teammates, and hold off defensive linemen made him an invaluable asset for many Patriots teams.
The Gronkowski vs. Kelce debate continues to heat up following Super Bowl LVII, but Mahomes's latest title isn't spurring any legitimate discourse about him usurping Tom Brady as the greatest quarterback ever.
There's no questioning Mahomes's credentials already. In just five seasons as an NFL starter, Mahomes has won two Super Bowls, captured two Super Bowl MVP trophies, secured two NFL MVP accolades, and earned five Pro Bowl nods.
You could make the argument that Mahomes has already entrenched himself into the tier of all-time QBs just below the former Patriots/Buccaneers great.
But Mahomes still has five more championships to win before he reaches Brady's absurd resume.
"I'm not going to say dynasty yet," Mahomes said while clutching the Lombardi Trophy. "We're not done."
Who's the best tight end of all time?
Sign up for Patriots updates🏈
Get breaking news and analysis delivered to your inbox during football season.