Patriots
NFL defensive coordinator: Patriots' offense 'wasn't a matchup we feared' last season
The Patriots ranked 26th in total yards and dead last in red-zone efficiency last season.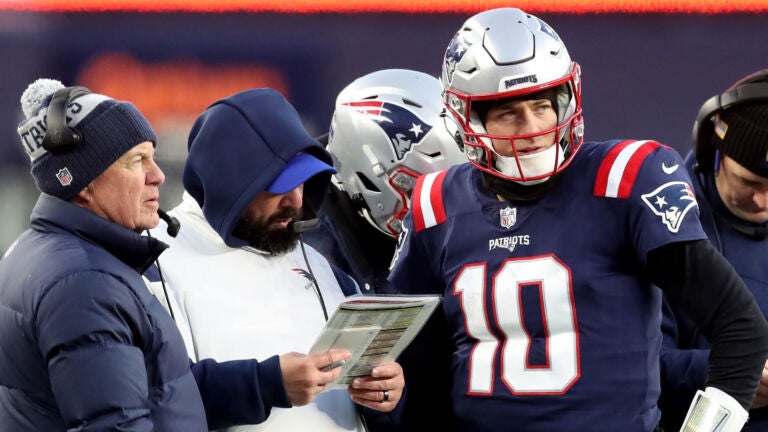 The Patriots' offense during the 2022 season was, by all accounts, an abject disaster.
With both Matt Patricia and Joe Judge out of their element at the helm of New England's offensive unit, the Patriots were routinely marred with dysfunction, poor strategy, and an uncharacteristic lack of execution.
And after years of having to prepare for Josh McDaniels' thorough playbook and complex schemes, New England's simplified systems in 2022 made things much easier for opposing coaches.
Speaking to NFL Network's Mike Giardi at the NFL Combine on Wednesday, one anonymous NFL defensive coordinator acknowledged that New England's meager offense didn't instill much fear with Patricia and Judge running the ship.
"He told me there 'wasn't a matchup we feared,'" Giardi tweeted of his conversation with the DC. "Asked him what that allowed his defense to do. 'Everything. There was nothing we had to take off the table. And while there are plenty of good players there … we felt like we could solve any problems they presented quickly.'"
Those comments are not surprising, especially accounting for New England's inability to adjust on the fly against a defensive unit. The Patriots were already just 26th in the league in total yards last season, but they were also dead last in red-zone efficiency at 42.2 percent.
With opposing teams able to adapt and counter whatever New England was orchestrating on offense, many promising drives stalled within the 20-yard line.
If there was one caveat, the anonymous DC did add in his conversation with Giardi that New England's offensive unit had "plenty of good players there", singling out Jakobi Meyers in particular.
It was a positive reflection on Meyers who has served as a dependable wideout for Mac Jones.
But with Meyers in line for a significant pay raise this spring as a free agent, the Patriots' already lackluster offense could be without one of their few bright spots once training camp opens in a few months.
The return of Bill O'Brien and the addition of Adrian Klemm as New England's offensive-line coach should help Mac Jones and Co. right the ship in some capacity.
Still, the Patriots need a major injection of talent on their roster if they really aim to rebound from such a woeful showing last season.
Newsletter Signup
Stay up to date on all the latest news from Boston.com