Patriots
There's reported 'chatter' that the Raiders could try to trade for Mac Jones this offseason
However, "it seems unlikely" that the Patriots would trade Jones this offseason, ESPN reported.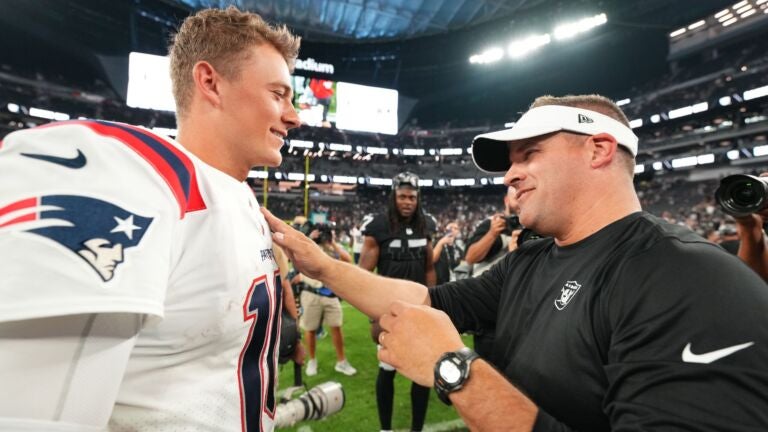 While it appears that Mac Jones will be the Patriots' starting quarterback in 2023, other teams are reportedly interested in him.
There's been "chatter" that the Raiders, led by former Patriots offensive coordinator Josh McDaniels, could try to trade for Jones if they fail to land Aaron Rodgers this offseason, ESPN's Dan Graziano reported Sunday based on conversations he reportedly had at the combine.
However, Graziano noted that "it seems unlikely" the Patriots will trade Jones this offseason.
There's been some speculation since the beginning of the offseason that the Patriots and Jones could be headed for divorce following a rocky 2022 season. But that idea has been met with some strong pushback by insiders in recent weeks.
"Absolutely, positively not," NBC Sports Boston's Tom Curran said when asked if Jones would be moved this offseason in an interview on the "Rich Eisen Show." "That would happen over Robert Kraft's dead body. We'll talk about that in 2024 if it's another mediocre season."
Curran also mentioned the praise that Bill Belichick gave for the improvement Jones made ahead of the 2022 season, his rookie salary, and owing themselves another opportunity to see what they have in their 2021 first-round pick as reasons why they'll keep Jones.
Even though Jones is likely to remain in New England for the 2023 season, that doesn't mean his job as the Patriots' starting quarterback is 100 percent safe. Jones is expected to be the team's starting quarterback, but Bailey Zappe will have a chance to "push" for the job, The Athletic's Jeff Howe reported Friday.
The Raiders' rumored interest in Jones makes sense though for numerous reasons.
McDaniels appeared to have a strong relationship with Jones in their lone season together in 2021, in which Jones threw for 3,801 yards, 22 touchdowns, and 13 touchdowns with a 92.5 passer rating to finish second in Offensive Rookie of the Year voting. During the Patriots' joint practices with the Raiders in August 2022, McDaniels said that Jones has a "bright future."
"Really competitive guy that wants to do it right — everything, wants to do everything right," McDaniels said of Jones. "Those are always things that are difficult, you know, when [coaches] leave and you go somewhere else, and there's gonna be people that you miss maybe more than others, but you're gonna miss them all."
In addition to their prior working relationship and Jones's success under McDaniels, the other big reason why the Raiders might want the quarterback is his salary. Jones has a $4.25 million cap hit for the 2023 season, a salary number that would allow the Raiders to fill numerous holes on their roster after going 6-11 in 2022. They also released Derek Carr before he was set to receive $40 million guaranteed, which would've made it tougher for them to fill out their roster.
If the Raiders can't land Rodgers or Jones, many people around the league expect them to go after Jimmy Garoppolo in free agency, Graziano reported. Garoppolo played under McDaniels for the first four seasons of his career (2014-17) before getting traded to San Francisco.
Sign up for Patriots updates🏈
Get breaking news and analysis delivered to your inbox during football season.