Patriots
Jakobi Meyers, Patriots reportedly haven't made much progress in negotiations
The receiver's contract reportedly might not be as pricey as originally expected.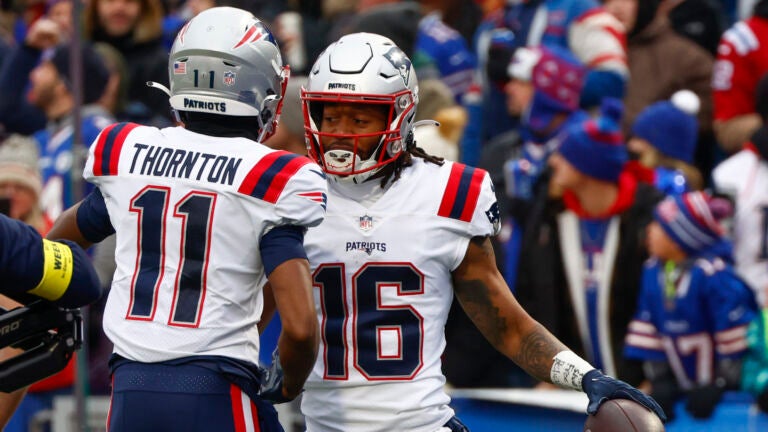 The clock is ticking on the Patriots to reach a deal with their leading receiver before he becomes a free agent.
Jakobi Meyers and the Patriots have been in talks for a new deal, however, they haven't made much progress and he's expected to hit free agency, ESPN's Dan Graziano reported Sunday.
Meyers has been commonly viewed as one of, if not the best, free-agent wide receivers this offseason. But he might not be paid like other top receivers have in free agency in recent years.
Meyers could be looking at a deal with an average annual salary between $12 million and $15 million, multiple teams reportedly told NBC Sports Boston's Phil Perry.
In recent years, the highest-paid receiver in free agency has received more than that on an annual basis. Christian Kirk signed a four-year, $72 million deal with the Jaguars, and Allen Robinson signed a three-year, $46.5 million deal with the Rams last year. Kenny Golladay also received a four-year, $72 million deal from the Giants in 2021 while Corey Davis (three years, $37.5 million), Curtis Samuel (three years, $34 million), and Nelson Agholor (two years, $22 million) all received contracts in a similar range of what Meyers is projected to get.
Of course, Meyers could receive more guaranteed money than the aforementioned players, which could help make up the difference in annual salary. But Perry's report should be welcomed news to the Patriots if they hope to retain Meyers. Pro Football Focus' Brad Spielberger recently projected that Meyers would receive a four-year, $64 million deal with $40 million guaranteed, which is obviously higher than what Perry heard on what Meyers can get.
In addition to Perry's report, Meyers's agent, Drew Rosenhaus, could be a beneficial negotiating party. Belichick has worked out several contracts with the famous agent over the years, including in 2021 when the Patriots acquired four of his clients in the opening days of the new league year.
Meyers, who joined the Patriots as an undrafted free agent in 2019, has made notable improvements in each of his four seasons in the league. He caught a career-high 83 passes for 866 yards and two touchdowns in 2021. In 2022, he had 67 receptions for 804 yards and six touchdowns while playing in three fewer games.
Following the Patriots' season-ending loss to the Bills, Meyers said multiple times that he'd like to remain in New England but also recognized the reality of the business in the NFL.
"When that time comes I'll cross that bridge," Meyers said of his free agency. "Whether I'm here or I'm not here, I'll tell all the guys that I appreciate them. Because the locker room changes regardless of whether I'm here or not. So tell everybody that I appreciate them and embrace these couple moments with the guys."
Sign up for Patriots updates🏈
Get breaking news and analysis delivered to your inbox during football season.