Patriots
Cardinals' reported asking price for DeAndre Hopkins could make him an appealing trade target for Patriots
DeAndre Hopkins was limited to nine games last season, but still reeled in 64 catches for 717 yards.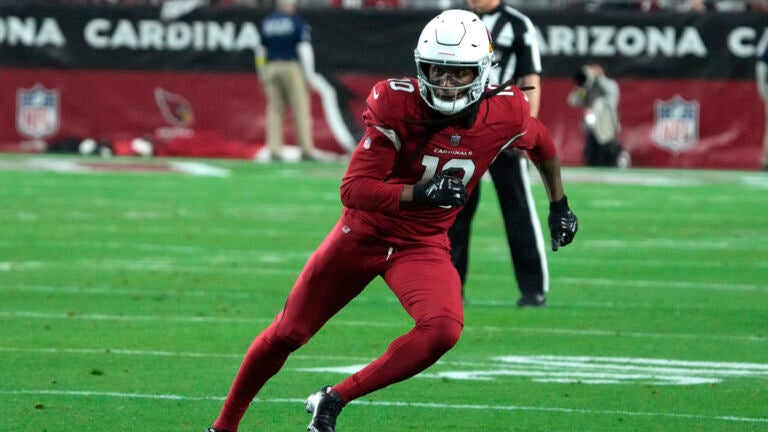 If the Patriots are interested in adding a No.1 wide receiver like DeAndre Hopkins this offseason, they may not have to surrender a ton of draft capital to pull it off.
Trade talks surrounding the Cardinals wideout are expected to intensify with NFL free agency right around the corner. According to NFL reporter Mike Jurecki, Arizona is reportedly seeking a second-round pick and a conditional pick/player in any deal for the five-time Pro Bowler.
Hopkins has been limited by injuries and a suspension over the last two seasons, playing just 19 of a possible 34 games. But when he's on the field, the 30-year-old receiver can still make an impact, especially on a Patriots offense in need of a big-play generator.
Despite being limited to nine games last season, Hopkins reeled in 64 catches for 717 yards and three touchdowns. His 79.7 yards per game ranked 10th among all NFL wide receivers in 2022.
And if the Patriots can add Hopkins to Mac Jones' arsenal of weapons without relinquishing the 14th overall pick in the 2023 NFL Draft, it will check off one of the top priorities on Bill Belichick's offseason to-do list.
Even though Hopkins and Patriots offensive coordinator Bill O'Brien had an icy relationship during the end of their tenure together with the Texans, Belichick has routinely praised Hopkins' talent and compete level over the years.
"He's got tremendous ball skills," Belichick said of Hopkins ahead of the Patriots' meeting with Arizona last season. "He catches everything. Has great hands. He's long so he's never covered, even if he's covered there's a place where the ball can be that he can get it and still make the catch. Great coordination on the sidelines. And he doesn't really look it, but he's a strong kid. You see him break tackles. He's a strong kid in terms of creating separation on routes, yards after contact, tough yards like around the goal line, or that extra yard for a first down type of thing.
"He's a smart football player. Very savvy. I'd say his ball skills are at the very elite level of guys that I've seen in this league. He's up there with whoever the top guys are. The Cris Carters of the world. Guys like that. I think he's every bit as good as anybody I've ever coached against."
Arizona's GM Monti Ossenfort also has plenty of ties to the Patriots already. He served in various scouting roles with the Patriots from 2006-19, including five seasons as New England's director of college scouting.
The Patriots have the financial flexibility to take on Hopkins' contract, with New England currently holding $27.7 million of effective cap space (per OverTheCap.com). Any team that trades for Hopkins would take on a salary-cap hit of $19.45 million in 2023 and $14.9 million in 2024.
Of course, Hopkins could demand a new contract in order to approve any deal from the Cardinals.
But NFL Network's Ian Rapoport tweeted on Tuesday that a hefty new deal isn't necessarily a requirement for Hopkins.
"DeAndre Hopkins admitted on (the "Pat McAfee Show") that he's 'been hearing a lot of trade talks,'" Rapoport said. "On that subject, my understanding is if a trade did happen, he'd be flexible on the last two years of his contract — rather than shoot for a top-of-the-market deal."
Newsletter Signup
Stay up to date on all the latest news from Boston.com