Patriots
Here's where the Patriots will pick in the 2023 NFL Draft
The Patriots will enter the 2023 NFL Draft with 11 total selections.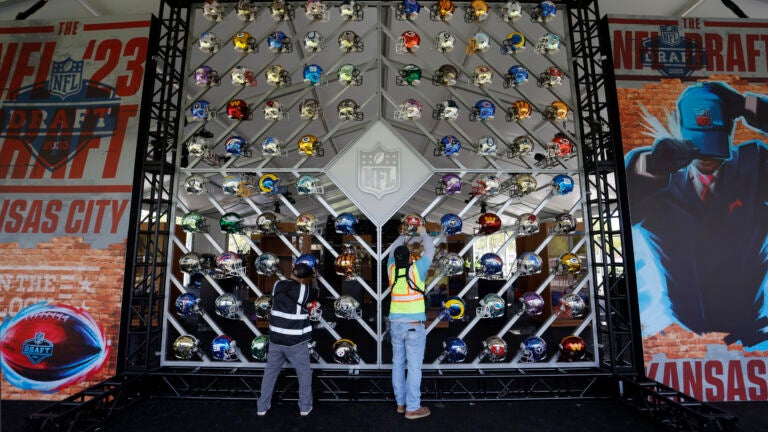 After a busy spring, the Patriots' full list of selections for the 2023 NFL Draft is now set.
Here are New England's available selections:
Round 1, No. 14 overall
Round 2, No. 46
Round 3, No. 76 (from Carolina)
Round 4, No. 107 (from Los Angeles Rams)
Round 4, No. 117
Round 4, No. 135 (compensatory)
Round 6, No. 184 (from Carolina)
Round 6, No. 187 (from Las Vegas)
Round 6, No. 192
Round 6, No. 210 (compensatory)
Round 7. No. 245 (from Buffalo via Atlanta)
The 2023 NFL Draft will begin on Thursday night in Kansas City. Here is a full schedule for the three-day event.
Round 1: Thursday, April 27 at 8 p.m. E.T.
Rounds 2-3: Friday, April 28 at 7 p.m. E.T.
Rounds 4-7: Saturday, April 29 at noon E.T
New England was awarded two compensatory picks earlier this year. Compensatory picks are doled out to teams who lost more qualified free agents than they signed during the previous offseason.
The Patriots earned another fourth-round pick after cornerback J.C. Jackson signed with the Chargers, while the added sixth-rounder was for Ted Karras, who joined the Bengals.
New England added their third-round pick (No. 76) in a draft-day trade with the Panthers last year, moving their 94th overall pick to Carolina for pick 137 and a future third.
The additional draft compensation was a direct result of trades involving Sony Michel (No. 107, Rams), Stephon Gilmore (No. 184, Carolina), Jarrett Stidham (No. 187, Las Vegas), and Jonnu Smith (Pick. No. 245, Falcons).
Bill Belichick and the Patriots will have no shortage of options when it comes to targeting areas of need with their first-round selection.
On DraftKings Sportsbook, offensive lineman (+225) and cornerback (+225) are the betting favorites to be the position of the first player drafted by New England. Wide receiver follows right behind at +240 odds.
Even though Trent Brown and Riley Reiff are already on the roster at tackle, New England could target a big body on the offensive line like Darnell Wright (Tennessee), Paris Johnson Jr. (Ohio State) or Broderick Jones (Georgia).
A physical cornerback like Devon Witherspoon (Illinois) or Christian Gonzalez (Oregon) will be tempting if they fall to No. 14 overall, while Joey Porter Jr. (Penn State) has also been linked to the Patriots.
And even though the Patriots added Juju Smith-Schuster in free agency, a top wideout target could provide a major lift for Mac Jones. Available receivers at No. 14 overall might include Zay Flowers (Boston College), Jaxson Smith-Njigba (Ohio State), Jordan Addison (USC) and Quentin Johnston (TCU).
Newsletter Signup
Stay up to date on all the latest news from Boston.com