Patriots
5 things to know about new Patriots running back James Robinson
Robinson set a record for most yards from scrimmage (1,414) for an undrafted rookie during the 2020 season.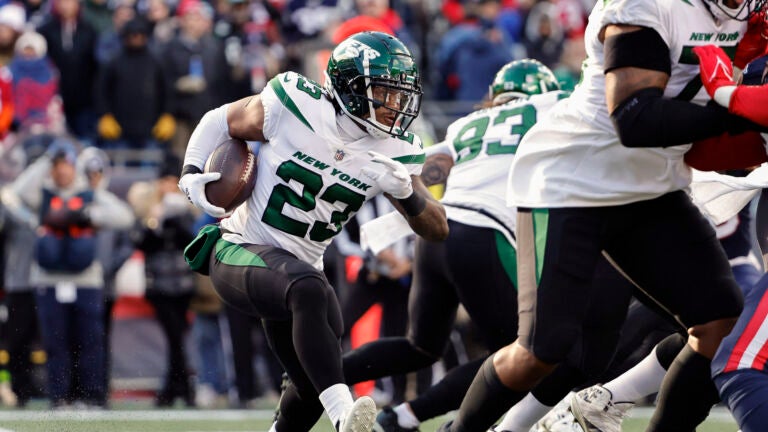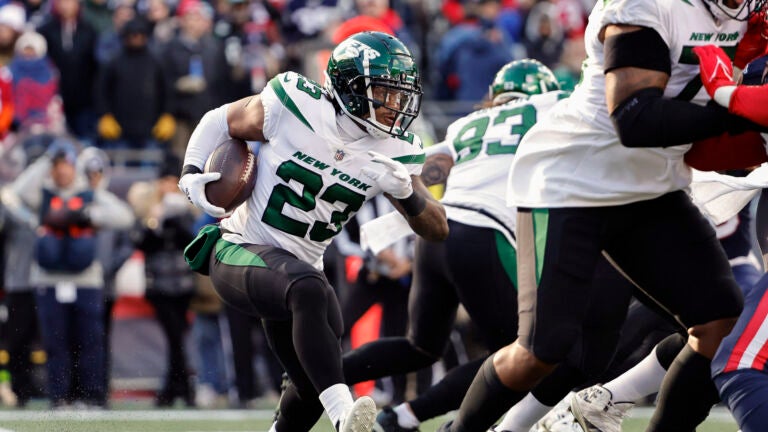 The Patriots reportedly added another intriguing option to their backfield in free agency on Wednesday.
According to ESPN's Jeremy Fowler, New England signed running back James Robinson to a two-year contract worth a maximum value of $8 million. He might have some injury concerns, but Robinson could be a potent weapon in New England, especially if paired with Rhamondre Stevenson.
Here are five things to know about the latest Patriots offseason pick-up:
Robinson was a record-setting rookie with the Jaguars.
Despite a productive collegiate career at Illinois State, Robinson went undrafted in 2020, eventually signing with Jacksonville as a free agent.
But the power back paid instant dividends in his rookie campaign. He rushed for 1,070 yards and seven touchdowns, while also catching 49 passes for 344 yards and three scores.
Robinson became just the fifth undrafted rookie since 1967 to record more than 1,000 yards from scrimmage — joining Phillip Lindsay (2018), LeGarrette Blount (2010), Dominic Rhodes (2001) and Clark Gaines (1976).
His 1,414 total scrimmage yards eventually set a new NFL record for an undrafted rookie, with Robinson ranked 100th on the NFL Top 100 Players of 2021 list.
Robinson continued to shred defenses both on the ground and through the air in 2021. Through 14 games, Robinson added another 989 scrimmage yards and scored eight more touchdowns for Jacksonville.
When he's healthy, Robinson has proven to be an effective dual-threat back capable of eating up plenty of yardage.
Unfortunately …
Robinson has been hampered by injuries as of late.
Robinson's promising 2021 season ended on an unfortunate note, as he tore his Achilles during a Week 16 matchup against the Jets in December.
Despite the late-season timing and the severity of such an ailment, Robinson somehow managed to get back on the gridiron just nine months later.
Robinson was active for the Jags' Week 1 matchup against the Commanders and ended up playing seven games with Jacksonville in 2022.
However, Robinson failed to gain much traction in his return from such a significant injury. He gained 340 yards on the ground and caught nine passes with the Jaguars before eventually getting traded to the Jets in October.
That switch to New York didn't yield better results for Robinson, who only played four more games with Gang Green the rest of the year.
Between the Jaguars and Jets, the 24-year-old totaled 425 rushing yards and 11 receptions in 2022, but was non-tendered by New York earlier this week.
New England is hoping that another year removed from that Achilles injury will lead to strong results for Robinson, who looked like a Pro-Bowl talent during his early years in Jacksonville.
Robinson adds a much-needed wrinkle to New England's offense.
Even though Robinson's frame (5-foot-9, 220 pounds) fits the profile of a traditional ground-and-pound back, he was a dependable receiving threat during his first few years with the Jags.
The Patriots tend to prioritize depth at the running-back position, and especially value options in the backfield that can gain yardage through the air.
Robinson fits the bill, with the versatile offensive cog reeling in 80 catches over his first two pro seasons.
Those numbers dipped significantly in 2022 (11 catches in 11 games). But if Robinson can regain some of that quick-burst ability two years removed from his injury, he can serve as another reliable target for Mac Jones next season.
He likely isn't a true pass-catching RB like James White, but a healthy Robinson does give New England more tools as it looks for a few more playmakers on its roster.
The Patriots need him to lighten the load for Rhamondre Stevenson.
The Patriots are not just hoping for a resurgent Robinson in 2023.
They're going to have to need him to eat up plenty of offensive snaps in order to spell their top rushing threat in Rhamondre Stevenson.
Stevenson emerged as a focal point of New England's offense in 2022, gaining 1,461 total scrimmage yards over 17 games. He was one of the few bright spots on the Patriots' regressing offensive personnel, but Stevenson was subsequently run into the ground by New England as the year carried on.
After gaining 914 rushing yards through New England's first 14 games, Stevenson posted just 126 yards on the ground in the Patriots' final three contests, getting knocked for three fumbles during that stretch.
Along with Ty Montgomery, Pierre Strong Jr., and Kevin Harris, the Patriots are going to need Robinson and the rest of their running-back depth to keep Stevenson fresh over the course of another grueling 17-game slate in 2023.
Robinson's arrival likely spells the end for Damien Harris in Foxborough.
With Robinson reportedly stepping in as New England's de-facto backup behind Stevenson, that likely means that Damien Harris will be playing elsewhere in 2023.
The 2019 third-round pick showcased flashes throughout his four seasons in New England, especially during a 2021 campaign where he recorded 1,061 yards from scrimmage. But Harris was limited to just 11 games (nine starts) last season due to a variety of injuries, with his total yardage dropping to 559.
You could make the case that Robinson holds the same injury concerns as Harris moving forward. But much like New England opting for JuJu Smith-Schuster over Jakobi Meyers, the Patriots might favor Robinson's higher upside and playmaking capabilities at the position.
Newsletter Signup
Stay up to date on all the latest news from Boston.com