Patriots
Rob Ninkovich said adding Lamar Jackson would put Patriots back in 'Super Bowl hunt'
"The Patriots instantly become the division favorites and, to me, get right back into that Super Bowl hunt."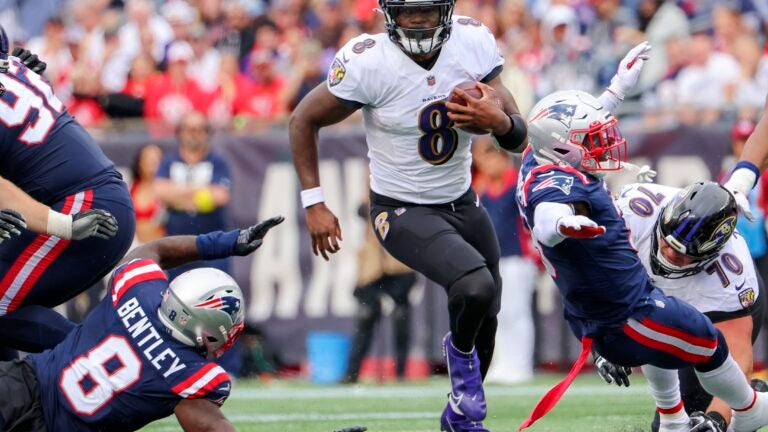 The free-agent market for quarterback Lamar Jackson has been relatively underwhelming for a player of his caliber so far.
Jackson didn't get the exclusive franchise tag — worth $45 million — from his team, the Baltimore Ravens.
Instead, Baltimore opted for the nonexclusive tag which would put Jackson's salary for next season around $32 million.
By going with the nonexclusive tag, the Ravens have allowed other teams to negotiate with Jackson. If Jackson agrees to a deal with another team, the team would have to surrender a pair of first-round picks to Baltimore.
No team has pulled the trigger on a deal for Jackson yet. Baltimore reportedly offered Jackson a 3-year, $133 million deal, which Jackson turned down.
Former Patriots linebacker Rob Ninkovich said New England should be the team to acquire Jackson. Ditching Mac Jones for Jackson would immediately catapult the Patriots back into title contention, he said.
"If you're the Patriots and you go and you make an attempt to get Lamar [Jackson], that changes everything. Absolutely everything," Ninkovich told ESPN. "I am a huge fan of Lamar's style and the stresses it puts on a defense … The Patriots instantly become the division favorites and, to me, get right back into that Super Bowl hunt."
Deshaun Watson signed a 5-year, $230 million deal with Cleveland last season. Kyler Murray got a similar deal in Arizona. Those numbers are much closer to Jared Goff's contract than what other MVP's such as Aaron Rodgers and Patrick Mahomes make.
For a 26-year-old MVP-caliber quarterback who is one of the most prolific dual threats at the position the league has ever seen, $32 million per year doesn't seem like a crazy price point to start negotiations.
The playing style that makes Jackson so unique is also why teams may view signing him to such a big contract as risky. He's dealt with knee injuries in the past. He's also attempting to negotiate deals without an agent.
It's just another way Jackson continues to bet on himself.
"I have been on Lamar's side basically since he was drafted," Ninkovich said. "When he was drafted I thought that he was going to be the best quarterback of the group. He hasn't let me down. The MVP season, his performance speaks for itself … if you're Lamar you're digging in. And the Ravens, if they're not going to give Lamar what he wants, then you've got to hold out."
Sign up for Patriots updates🏈
Get breaking news and analysis delivered to your inbox during football season.