Patriots
Patriots' decision to let Jakobi Meyers walk reportedly 'universally panned' by players
New England let Meyers sign with Las Vegas but gave JuJu Smith-Schuster a very similar contract.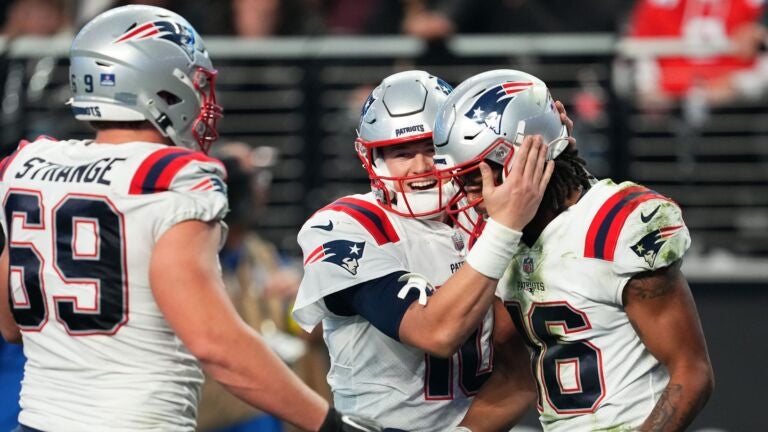 When the Patriots lost Jakobi Meyers to the Raiders in free agency on Tuesday, they acted relatively quickly by agreeing to a deal with JuJu Smith-Schuster on Wednesday.
Even though the Patriots might have acted swiftly to replace Meyers's production, players on the team don't appear to like the fact that Meyers wasn't retained.
The NFL Network's Mike Giardi that the Patriots' decision to not bring back Meyers was "universally panned" by every player he spoke to, adding that some players told him their disapproval while appearing on NBC Sports Boston.
"Is [Meyers's] ceiling as high as a healthy JuJu? No. I think we know what his ceiling is," Giardi said. "But his ceiling is that he's a pretty good football player and he's someone that the quarterback is fond of, I think the guys in the locker room are fond of.
"And we've talked to Devin McCourty, and he's been public about it, he thought Jakobi Meyers was one of the next leaders of the football team, and now that guy's gone because they weren't willing to pay him. The value they put on him versus the value that the Raiders – even though that's essentially a one-year deal – it wasn't close."
As Giardi mentioned, the contract Meyers ended up signing with the Raiders took many by surprise. While he agreed to a three-year, $33 million deal with $21 million guaranteed, Meyers's contract allows an easy out after Year 1 due to his $5.5 signing bonus and his $5 million salary being fully guaranteed in 2023.
Smith-Schuster got a very similar deal to Meyers, signing a three-year, $33 million deal that has $25 million in base salary and $16 million guaranteed.
When it was reported that Smith-Schuster got that deal from the Patriots, Meyers shared his thoughts on Twitter.
"Cold world lol," Meyers wrote.
As Giardi mentioned, McCourty stated that he was "shocked" to see the Patriots let Meyers walk, especially after seeing the contract the receiver got.
When I saw what he signed for, I was kind of like, 'Damn.'" McCourty said during an appearance on WEEI's Greg Hill Show. "Like, I thought that would have been an easy contract to bring him back here, and from talking to him, I think he wanted to be back here."
"To me," McCourty added. "If you get a guy that is going to be highly productive on your team at $11 [million], you've got to take it, or you've got to know what's next in the slot. And for me, being there last year, I don't know who the slot is. Like, I don't know."
Smith-Schuster has had a higher peak than Meyers over their respective careers, recording 111 receptions for 1,426 yards with the Steelers in 2018 and 78 receptions for 933 yards with the Chiefs last season.
But Meyers had familiarity with the team and was someone Mac Jones was fond of, as the quarterback stated multiple times he wanted to play with the receiver for the rest of his career. Meyers also improved each season after being an undrafted rookie in 2019, recording 67 receptions for 804 yards and six touchdowns in 2022.
Sign up for Patriots updates🏈
Get breaking news and analysis delivered to your inbox during football season.