Patriots
Why Bill Belichick had praise for Chris Board, whom the Patriots reportedly signed, in the past
Belichick said Board was "the best special teams player we'll play against all year" during the 2022 season.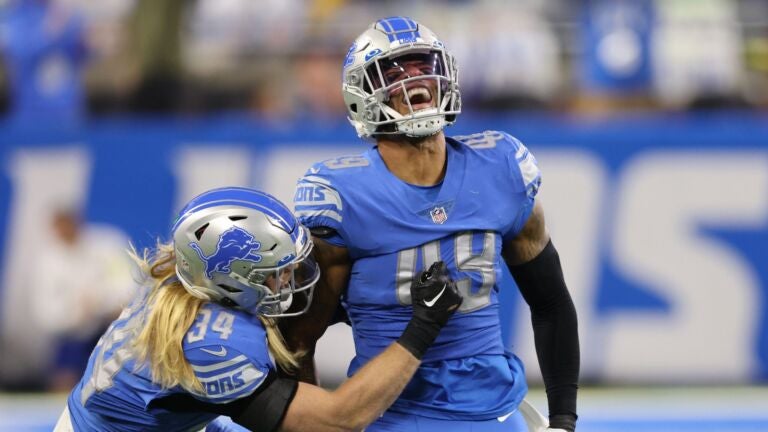 The Patriots made a very Patriot-like move Friday.
Former Ravens and Lions linebacker Chris Board agreed to a two-year, $6.7 million deal with the Patriots, the NFL Network's Tom Pelissero reported.
While being listed as a linebacker, Board's primarily played special teams over his five-year career, playing at least 80 percent of his team's special teams snaps in three years.
Not only has Board been a core special teamer on the teams he's played for, but he's also been one of the best in the league – at least according to Bill Belichick.
Ahead of the Patriots' Week 5 matchup against the Lions this past season, Belichick said that Board would be "the best special teams player we'll play against all year. He's a great player."
Two days after Belichick made that comment, he was asked how you game-plan for a player like Board and how he stacks up with other Patriots special teams standouts of the present (Matthew Slater) and the past (Larry Izzo).
Belichick said that Board presents a mismatch that many other players don't present in the special teams game.
"He's a very hard guy to matchup against," Belichick said. "He's bigger than the players you referenced. The size matchup is a problem for the faster lighter guys. The speed matchup is a hard matchup for the bigger guys who don't run as well as he does. He has a great combination of size and speed as well as experience, instincts, and techniques.
"It's all of the above. There are really no weaknesses in the player. You've got to figure out how to deal with him. He's seen everything. He's seen everything."
Board is listed at 6-foot-2, 229 pounds, which is noticeably bigger than Slater's current size (6 feet, 205 pounds) and what Izzo's size was during his playing days (5-foot-10, 225 pounds).
Belichick believes that Board looks and plays bigger than his size.
"He looks like he's more like 245 pounds out there, to tell you the truth, but I don't think he weighs that much. But he's a thumper," Belichick said. "He's a very physical player. He runs well. He's very instinctive. So it doesn't matter who's on him, it's a tough matchup.
"If you start double-teaming then everybody else is singled. You might solve one problem but you might create multiple other ones, too. You have to figure out how to handle it. He creates a lot of problems and then it all kind of rolls downhill from there."
Even though he is primarily a special teams player, Board has played a fair amount at linebacker too over his career. He played 25 percent of the Ravens' defensive snaps in 2020 and 33 percent of their defensive snaps in 2021. But he took a dip in the amount he played on defense when he joined the Lions in 2022, playing just 14 percent of their defensive snaps last season.
Board could have a role at linebacker too with the Patriots. Even though they agreed to deals to retain Raekwon McMillan and Mack Wilson Sr. earlier in the week, the Patriots could utilize Board in pass coverage. Both McMillan and Wilson were swapped snaps as coverage linebackers throughout much of last season, but both of them graded poorly (McMillan had a 41.9 pass coverage grade and Wilson had a 44.9 pass coverage grade, per Pro Football Focus).
Board, meanwhile, has played most of his defensive snaps at linebacker in pass coverage. He's graded out as an OK player in pass coverage, mostly receiving grades in the high 50s or low 60s over his career by PFF (he earned a 58.6 pass coverage grade last season).
Board recorded 21 combined tackles and a forced fumble last season.
Sign up for Patriots updates🏈
Get breaking news and analysis delivered to your inbox during football season.