Patriots
Former Patriots assistant on DeAndre Hopkins' trade market: 'There's not a lot of action out there on him'
Hopkins reeled in 64 catches for 717 yards and three touchdowns last season with the Cardinals.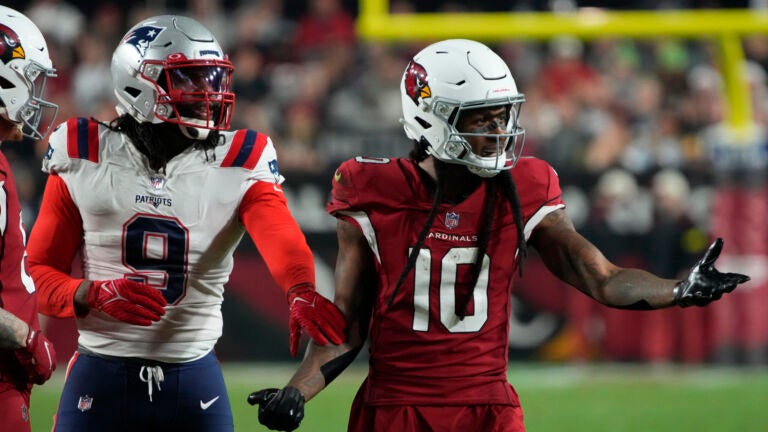 The waiting game continues between DeAndre Hopkins and the Arizona Cardinals.
Even though Hopkins, a five-time All-Pro receiver, has been tabbed as a likely trade candidate for the past month, the Cardinals have yet to find the right suitor for the 30-year-old wideout.
Whether it be Rob Gronkowski or Damien Woody, multiple former Patriots have advocated for New England to pursue the veteran receiver this spring.
But according to former NFL executive Mike Lombardi, Arizona hasn't been fielding many offers for Hopkins since putting his name out on the market.
"I think his market is really soft," Lombardi said of Hopkins on his "GM Shuffle" podcast. "I don't think anybody wants to get into the Hopkins business, and then have to redo his contract."
Lombardi, a confidant of Bill Belichick who assisted New England's coaching staff from 2014-15, added: "From what I'm told, it's soft. There's not a lot of action out there on him. He's a good player, he's always covered, but he always comes up with the football. But there are other things that go into this, that I'm not at liberty to discuss that's probably holding it all back."
Even though the Patriots replaced Jakobi Meyers with arguably a more dynamic slot option in JuJu Smith-Schuster last week, New England still stands to benefit from adding another big-play threat for Mac Jones in 2023.
Hopkins' resume and skillset fit the bill.
Despite being limited to just nine games last season with Arizona, Hopkins reeled in 64 catches for 717 yards and three touchdowns. Hopkins finished the year averaging 79.7 yards per game, the 10th-highest mark among all NFL wide receivers in 2022.
But as Lombardi noted, Hopkins' contract could give New England pause.
Hopkins has two more years left on his current contract, which accounts for a base salary of $19.5 million in 2023 and $14.9 million in 2024.
The Patriots will need to move some money around to accommodate a similar deal, considering they currently have just $8.9 million in effective cap space (per OverTheCap.com).
And even if New England did make the money work or restructured Hopkins' contract, the Pats still need to be cognizant of the financial commitments that await in 2024 when key cogs like Michael Onwenu, Josh Uche, Kyle Dugger, Hunter Henry, and others hit free agency.
ESPN's Dan Graziano echoed some of those thoughts on Monday morning when discussing the probability of Hopkins landing in New England.
"I think that they've made their strategic moves in free agency," Graziano said. "Also they've made some moves on the offensive line in free agency that they think will help.
"In terms of a big, splash move, no, I don't get the sense that one is coming from the Patriots. Now, you never do know with Belichick. He could be planning something, but it sounds like they're going to enter a little bit of a quiet phase, and look for the kind of bargains that he's built the franchise on in the past."
Newsletter Signup
Stay up to date on all the latest news from Boston.com