Patriots
Devin McCourty: Some Patriots players wanted Bailey Zappe to start over Mac Jones
"I think there were some guys in the locker room that were like, 'Let's go with Zappe.' "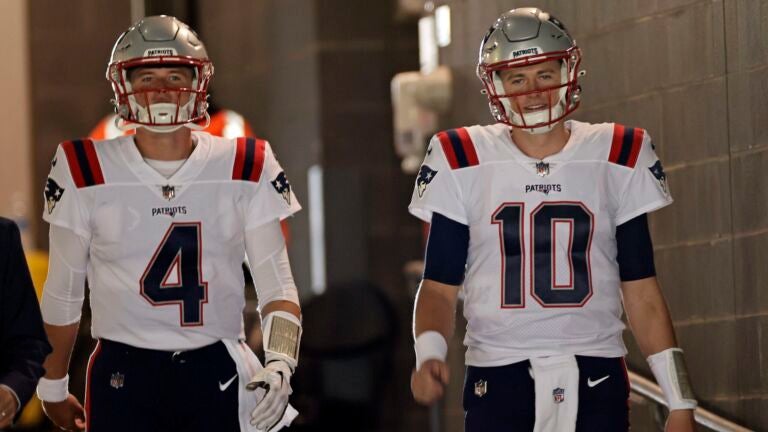 The Patriots struggled so badly on offense last season that some players lost confidence in Mac Jones, former Patriots safety Devin McCourty said during an appearance WEEI's The Greg Hill Show last week.
Some Patriots fans wanted Zappe to start over Jones. There were some Patriots players who felt the same way, according to McCourty.
"I think player-wise there was enough trust that we're going to put the best guy out there," McCourty said, as transcribed by ESPN's Mike Reiss. "But the struggles on offense, I think there were some guys in the locker room that were like, 'Let's go with Zappe.' Or, 'No, Mac looked good today.' It was just a back-and-forth, which to me, spoke more about what we had on offense than the quarterback. We never were solidified as an offensive group that guys had full confidence in anything we were doing. There was never true hope."
Zappe started a pair of games after finishing out New England's loss to Green Bay with Jones and Brian Hoyer sidelined with injuries. He went 2-0 as a starter against Detroit and Green Bay.
Belichick subbed Zappe in when Jones struggled in his Monday night football return. Zappe led a touchdown drive on his first series, but threw a pair of interceptions in a blowout loss to Chicago and didn't play for the rest of the season.
Earlier this month, the Athletic reported that Jones is expected to be the starter this season and that Zappe will have a chance to "push" him.
New England went 6-8 with Jones under center. He threw 14 touchdowns against 11 interceptions with 2,997 yards.
Reporters asked Bill Belichick at his end-of-the-year press conference if Jones will remain the starter in 2023. He said Jones has the ability to play the position, but the team will have to find a way to get more production. He didn't say how the Patriots will do so.
McCourty said Jones is the "future" of the Patriots and predicted his production will skyrocket in 2023. He said Jones got some undeserved criticism last season.
"I don't think he should be subjected to as much displeasure and scrutiny as he gets. We sat here his rookie year and said, 'Hey, I'm with this! I like this new era.' We go to the playoffs and it's like 'Here we go!' Then what happened this year from an offensive situation coaching-staff-wise … He needs to have some consistency [around him].
Sign up for Patriots updates🏈
Get breaking news and analysis delivered to your inbox during football season.