Patriots
A former Patriots linebacker says Jerod Mayo is Bill Belichick 2.0
"They definitely know they have something here and don't want to let him go."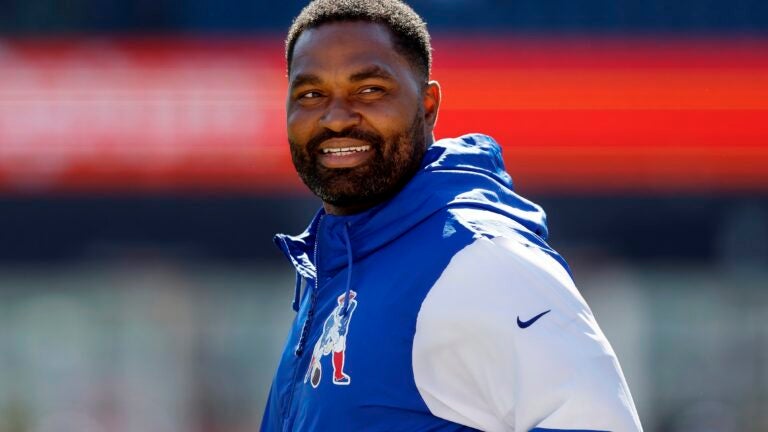 With Bill Belichick turning 71 next month, the Patriots could be in the market for a head coach within the next few years.
The team prioritized keeping Jerod Mayo this offseason, stating that they plan to keep him with New England "long-term."
Could Mayo be the next Patriots head coach? Several of his former New England teammates think so, according to The Athletic.
"He's Bill Belichick 2.0," former Patriots linebacker Brandon Spikes said. "They speak the same language."
This offseason, Mayo had an interview lined up for the Carolina Panthers head coaching job but informed the team that he would be staying with the Patriots. The Cleveland Browns also asked permission to interview Mayo for their defensive coordinator position.
"When he turned those guys down, I understood without even talking to him what went on," said longtime Patriots running back Kevin Faulk.
The Athletic reports that Mayo may have gotten an "implicit indication" of what role New England envisions for him in the future.
"They definitely know they have something here and don't want to let him go," said former Patriots linebacker Rob Ninkovich.
Mayo's return didn't come with an official title change. He still coaches linebackers, which he has since 2019.
But his coaching ability was evident even during his time as a player. A former first-round pick, Mayo won defensive rookie of the year and was a first-team All-Pro selection in 2010. Ninkovich said the way Mayo carried himself and understood the game made him seem much older and more experienced than he was when they were teammates.
"With his mind and the knowledge he has, it was just a given that he'd get into coaching because it's teaching," Ninkovich said. "As far as on-field quickness, he is the smartest guy that I had ever been around. His ability to decipher formations and bark out calls and get people lined up — he was by far the fastest and best that I've ever been around."
Mayo has evolved into a trusted assistant on Belichick's staff. He's been open about his ambitions of being a head coach one day.
The Patriots have yet to hire a Black head coach. Mayo's teammates think he may have a shot at making history.
"Some people, I don't know what it is, have that it factor. And he's got it," Spikes said. "He makes everyone around him better. He's a perfect human being. If I had a son, I'd want him to be just like Jerod Mayo."
Sign up for Patriots updates🏈
Get breaking news and analysis delivered to your inbox during football season.