Patriots
How a snub from Boston College fueled Devin McCourty's Patriots career
"For my whole career, I never felt like a first-rounder, never felt like a top guy. I always carried that mentality."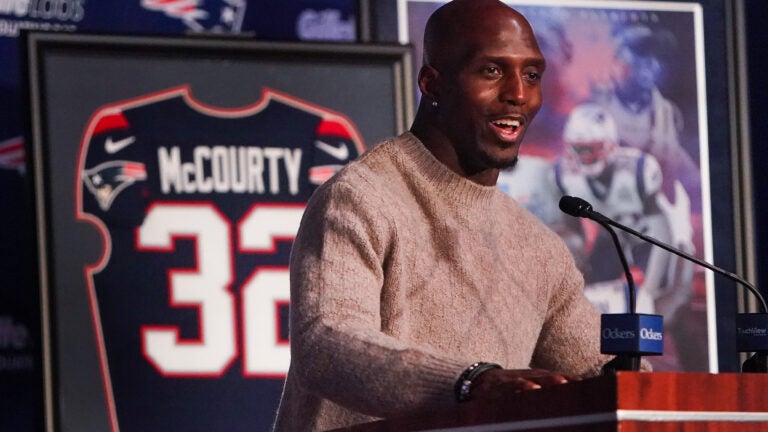 At one point, Devin McCourty's NFL dreams seemed so far off that he would joke about representing his twin brother Jason and their friends as an agent.
One moment that stuck out and gave McCourty an extra dose of motivation was when Boston College came to his house on a recruiting visit.
The Eagles offered Jason a scholarship. There wasn't one for Devin.
McCourty sat in his bedroom and listened through the paper-thin walls of his trailer home while headcoach Tom O'Brien recruited his brother in the living room.
"They're talking about how life is going to be at BC," McCourty said. "I remember just being in my room, steaming hot. Like, this dude has the audacity to come into my house and not even let me sit in this meeting? That fueled me. [Jason] knows. I still get a little energized and got a little animosity towards BC."
McCourty said his feelings towards BC have changed slightly since he's spent 13 years living in New England. But, that interaction put a chip on his shoulder long after he left the Big East as a first-round pick out of Rutgers.
"I thought me and [Jason] were always the same," McCourty said. "We always thought about ourselves as the same. That was one of the first times someone told us we were different, and then told me that I wasn't good enough or as good as him. For my whole career, I never felt like a first-rounder, never felt like a top guy. I always carried that mentality."
The McCourty twins ended up choosing to play together at Rutgers. Patriots coach Bill Belichick recalled hearing the reasoning behind the choice from former Rutgers coach Greg Schiano.
"She (McCourty's mother) said to Coach Schiano, 'So coach, you're recruiting both boys, right?" Belichick said. "'Because BC only recruited Jason, they didn't recruit Devin. I didn't like that. So, you're recruiting both of them, right?'"
Both McCourty twins made the NFL and each played more than a decade in the league.
Devin McCourty, who spend his entire career with the Patriots, won three Super Bowls. Devin and Jason won a Super Bowl together with the Patriots in 2018.
It was the only championship for his brother, who spent most of his career with the Tennesse Titans and also had stints with the Cleveland Browns and Miami Dolphins.
Jason used to joke with Devin, saying that Devin wasn't the better player, he just got drafted into a better situation playing with Bill Belichick and Tom Brady.
"It's the truth," Devin McCourty said. "The journey I got to experience here was one of a kind."
Sign up for Patriots updates🏈
Get breaking news and analysis delivered to your inbox during football season.