Patriots
Ranking Dont'a Hightower's top 5 plays with the Patriots
"I'll never get tired of inscribing 'The Strip Sack' on anything I sign."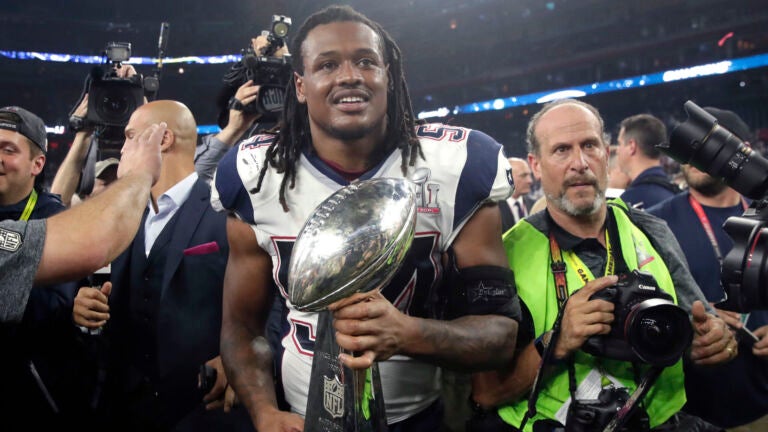 After nine standout seasons in New England, linebacker Dont'a Hightower officially called it a career on Tuesday morning.
And given the resume he compiled in Foxborough, the 33-year-old defensive stalwart will be in line for a red jacket at the Patriots Hall of Fame in due time.
Not only was Hightower a rock in the middle of New England's defensive unit, the University of Alabama product had a knack for delivering in the clutch.
After playing an instrumental role in various comeback wins and playoff triumphs, here's a look at the top 5 plays of Hightower's career with the Patriots.
5. Starting with a bang against the Titans (Sept. 9, 2012)
Talk about a great first impression.
After being drafted No. 25 overall by New England in the 2012 NFL Draft, Hightower secured a starting gig in the Patriots' defense.
The young linebacker made good on Bill Belichick's faith in him by teaming up with fellow rookie Chandler Jones for a defensive touchdown in their NFL debuts.
Early in the second quarter, the Patriots held a 7-3 lead over the Titans at Nissan Stadium. On a 3rd-and-13 situation, quarterback Jake Locker was brought down by Jones and coughed up the football.
Hightower scooped up the skittering pigskin and ran it back six yards into Tennessee's end zone for the score — giving New England an early 11-point cushion.
It was an impressive start for Hightower, who finished his rookie season with 60 tackles, four sacks, three pass deflections, and two fumble recoveries over 14 games played.
What they said:
"It's funny that that happened, because every time someone mentions me on Twitter, I read it. I read it all the time," Chandler Jones said postgame, per NBC Sports Boston. "And one of the fans had mentioned, 'I'm playing Madden, and you got a strip-sack fumble and Hightower picked it up for a touchdown.' That was right before the game, I was reading that. And for it to happen in real life, I thought it was great. I thought it was like a dream come true. It was pretty funny that that guy predicted it."
4. Grounding the Jets (Dec. 21, 2014)
Hightower had his fingerprints all over New England's Super Bowl title in 2014. But the veteran also played a key role in a nail-biting win over a division rival in the final weeks of the regular season.
The Patriots were clinging to a 17-16 lead in the closing minutes of the fourth quarter against the Jets at MetLife Stadium. But a stingy New York defense was poised to deliver an upset to New England in crunch time.
After Tom Brady was picked off on New England's own 30-yard line, Jets QB Geno Smith was handed a prime opportunity to march down the field and give New York a go-ahead score.
But on the third play of the drive, Smith dropped back to pass from the Pats' 24. Before he could read down the field, Hightower was in the backfield.
New England's dialed-up blitz thwarted New York's hopes of a rally, with Hightower's timely sack pushing the Jets back 10 yards.
New York was ultimately forced to settle for a 52-yard field goal attempt, with (now current Patriot) Nick Folk failing to connect after Vince Wilfork got his hand on the ball as it sailed over his head.
Brady and the Patriots took over and promptly ran out the rest of the clock to secure the road win. It was a crushing result for the Jets and Rex Ryan, who was fired as New York's head coach just a week later.
What they said:
"We needed something to surge," Hightower said after the game, per MassLive. "Our offense had a hiccup and we were able to lean on each other. They were leaning on us at that point in time, so we had to go out there and make a big stop."
3. Shutting down the Rams in Super Bowl LIII (Feb. 3, 2019)
There wasn't one pivotal play that Hightower and New England's defense pulled off to halt Jared Goff and the Rams in their tracks.
Rather, it was outright dominance all night at Mercedes-Benz Stadium in Atlanta.
The Rams entered Super Bowl LIII ranked second in the NFL in both points scored (527) and yards gained (6,738), but became just the second team to not score a touchdown in a Super Bowl (Dolphins, Super Bowl VI) due to a stout showing from the Pats.
Hightower was right in the middle of the Patriots' defensive masterpiece, recording two sacks, three total quarterback hits, two tackles for loss and one pass breakup en route to a 13-3 victory and his third Super Bowl ring.
Los Angeles' best chance to find the end zone came during the third quarter, with Goff taking his team down to New England's 26-yard line.
But on a 3rd-and-7 opportunity, Hightower drove up the gut and brought Goff down at New England's 35.
Greg Zuerlein did make the subsequent field goal to put the Rams on the board, but it was another squandered drive by a Rams team that couldn't muster much of anything against the likes of Hightower, Stephon Gilmore, Trey Flowers, and many others.
What they said:
"That third ring? Just as sweet, despite dealing with food poisoning in the days leading up to the game," Hightower said in his Players' Tribune retirement post. "All I can say is, when Sunday rolled around, you already know what it is…. Do your job. Simple as that. We kept our mouths shut that whole week. The only reply was up on that scoreboard. 13–3."
2. Sparking a legendary comeback in Super Bowl LI (Feb. 5, 2017)
Just about every Patriot had to contribute in order to orchestrate the greatest comeback in Super Bowl history.
There was Tom Brady's aerial assault in the second half. James White moving the chains time and time again. Julian Edelman's bobbling catch. Malcolm Mitchell's third-down heroics.
But it was a heads-up play by Hightower in the fourth quarter that began to plant the seeds of a storybook ending.
After Stephen Gostkowski connected on a 33-yard field goal to make it a 28-12 game, Matt Ryan and the Falcons opened the following drive on their 27 with under 10 minutes left on the clock.
On the third play of the drive, Hightower stormed off the edge on a blitz and easily slipped past Devonta Freeman. Before the Falcons running back could even attempt to impede the Pats linebacker, Hightower was right on Ryan's doorstep.
Just before Atlanta's quarterback could loft up the ball, he was strip-sacked by Hightower, with Alan Branch snagging the loose ball at the 25-yard-line to give New England possession.
Just five plays later, Brady hit Danny Amendola on a six-yard pass in the end zone. White's subsequent two-point conversion suddenly made it a 28-20 game with close to six minutes remaining in regulation.
The rest is history.
What they said:
"I'll never forget when we were in the locker room at half-time," Hightower said. "We're down 21–3, so some guys are quiet, and some guys are doing the rah-rah stuff. I sat there and for some reason thought, "Man, I don't even have a son yet. But one day, he's going to watch the tape of this game, and he's gonna know one thing for sure. His dad never f***ing quit. … You already know the rest. And I'll never get tired of inscribing 'The Strip Sack' on anything I sign."
1. Bringing down Lynch in Super Bowl XLIX (Feb. 1, 2015)
It's a testament to the number of clutch plays Hightower reeled off in January and February that a momentum-shifting strip-sack in a Super Bowl only lands at No. 2 on our list.
But in terms of the stakes, the competition (Freeman was snoozing on that blitz pick-up) and Hightower's own physical state, we're going with his goal-line takedown of Marshawn Lynch in Super Bowl XLIX.
Without Hightower's heroics at University of Phoenix Stadium, there would be no Malcolm Butler game-saving pick. No fourth ring for Brady and Belichick. No return to glory for New England.
Hightower already had the unenviable task of slowing down Lynch all night, arguably the best running back in the game.
To make things even more difficult, Hightower had to take on the bruising back with essentially one working shoulder — as he needed offseason surgery to correct a torn labrum.
But with the game on the line in the closing seconds of the fourth quarter, Hightower once again delivered.
With Russell Wilson and Seattle on New England's five-yard line, the Seahawks QB handed the ball off to Lynch.
As Lynch trudged his way toward the end zone and a game-winning score, Hightower and his shredded shoulder bench pressed 310-pound Russell Okung and took down Lynch right at the one-yard line.
One play later, Butler snagged Wilson's pass and sealed New England's 28-24 triumph.
What they said:
"When I saw Seattle line up in that I-form, I knew Beast Mode was getting it, and I knew they'd been gashing us with that strong-side lead all game," Hightower said. "I knew he was going to walk through a huge hole if I didn't take a risk. It's funny how things come full circle, because when I was at Alabama, Kirby Smart used to always tell us, "Never ever go behind a block unless you're sure you're going to make a play."
"Well, I wasn't sure. But I figured we had nothing to lose. So I ripped up under Okung and shot my shot. All I saw was Marshawn's two legs churning, and I just prayed to God that I could clip him up or something. I reached out … and you already know what happened next."
Newsletter Signup
Stay up to date on all the latest news from Boston.com