Patriots
Analysts and beat reporters weigh in on Lamar Jackson and the Patriots
"If he wouldn't pay Tom Brady, why would he pay Lamar Jackson?"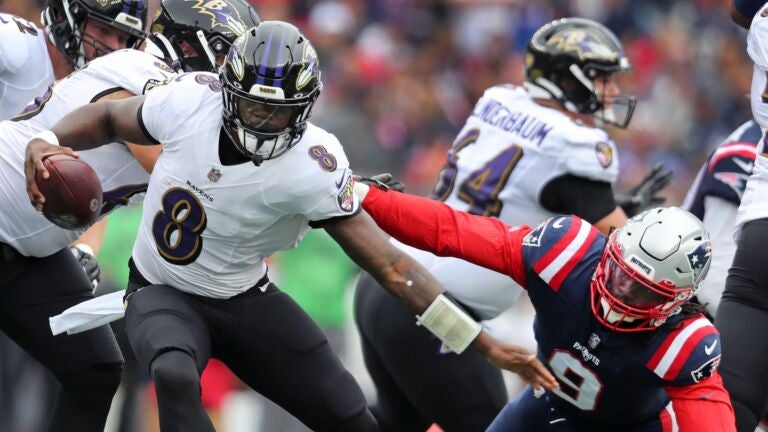 Ever since the Baltimore Ravens placed the non-exclusive franchise tag on Lamar Jackson, there has been rampant speculation as to who will give the quarterback an offer.
This type of tag allows any team in the league to offer a contract to Jackson, but Baltimore has the choice to match it or allow him to walk and get two first-round picks in return.
The New England Patriots are one team that has repeatedly been in the rumor mill regarding Jackson. There are varying reports on Bill Belichick's level of interest in the quarterback and willingness to pay the necessary price to get him.
There is also a disagreement among many about how much good Jackson can even do for this Patriots team.
Here are some of the things NFL analysts, Pats beat reporters, and former players said recently about Jackson to New England.
The Experts
Dan Orlovsky: The former quarterback was asked if Jackson will play for the Ravens next season while on the Pat McAfee Show Tuesday.
"I think he'll play for Baltimore, yes," Orlovsky said. "But, the longer this goes the more this becomes a realistic question of if he'll play this year."
If Jackson does not receive a long term deal, Orlovsky said the question of his playing at all gets greater, "I don't know if he'll play under the tag."
Rich Eisen: On Monday, Eisen had an extended segment on his show about where Jackson will end up.
"With the Ravens, it's going to have to be an unbelievably exorbitant offer sheet that they don't match, because if they don't they go into the season with Tyler Huntley," Eisen said. "I think the Ravens are not going to let Lamar go."
After discussing what Jackson would want in a long term deal, Eisen talked about the potential in a move to the Patriots. In the conversation, he brought up past contracts given to Tom Brady and questioned why Belichick would want to spend big on a quarterback now.
Eisen said he would be surprised if the Patriots would "flip their next two first round picks and pay more money to Lamar Jackson than they ever gave to Tom Brady."
Eisen then noted that if Jackson would be willing to take a lesser deal with New England, the Ravens would simply match it.
Karen Guregian: On Tuesday, Guregian, the Patriots beat reporter for the Boston Herald echoed Eisen when it came to whether New England would even want to offer Jackson a contract.
"This is beyond a long shot given how the Patriots work, not to mention the likelihood of Jackson cooling on his demands," Gerugian wrote. "One league source agreed, saying a move for Jackson 'makes no sense' if you understand how Belichick thinks and know his history. Belichick hasn't been a fan of blowing up the budget for a quarterback. If he wouldn't pay Tom Brady, why would he pay Lamar Jackson? That's simply not how he operates."
Ted Johnson: On NBC Sports Boston on Monday, Johnson focused more on the type of talent Jackson would bring to New England, rather than the likelihood of it.
"I think he makes this team instantly, very, very relevant," Johnson said. "I think if Lamar Jackson comes here there will be a lot of things that we worry about that we won't have to worry about. Who's going to be the left tackle? Who's going to be the third-down back? I just think a lot of those things that we worry about are not going to be as important if Lamar is here because he covers up so many things."
Tom Curran: In a response to Johnson on the show, Curran brought up the injury concerns and playoff history that Jackson would bring to any new team.
"I think we're still hooked on 2019 Lamar," Curran said. "If the Patriots are going to get in, they're going to give him $40 million a year. He hasn't finished either of the prior two seasons. He hasn't really had any season that compares to 2019 since then. I don't think he immediately turns your team into a Super Bowl contender any more than he did Baltimore."
Jeremy Fowler: On Sunday, Jeremy Fowler joined Sportscenter to discuss Jackson's future. He mentioned that team's that like to run the football like the Patriots and the Titans could be wild cards in the market.
Fowler also said that this process could could very likely continue until after the draft once teams have a better understanding of their roster needs.
Rob Ninkovich: Last week, the longtime Patriot joined ESPN's "Get Up!" to talk about the excitement of the quarterback potentially moving to New England.
"His performance speaks for itself," Ninkovich. "If you're the Patriots and you go and make an attempt to get Lamar, that changes everything, absolutely everything. If you see him out there, the Patriots instantly become division favorites and to me get right back in that Super Bowl hunt."
What do you think?
Now that you've gotten to see what the professionals are saying about Jackson and the Patriots, we want to know what you think about the potential move. Respond to the poll below.
Sorry. This form is no longer available.
Sign up for Patriots updates🏈
Get breaking news and analysis delivered to your inbox during football season.