Patriots
Sean Payton's comments about Jerry Jeudy's future with Broncos might be bad news for Patriots
"We like the current group that we're working with."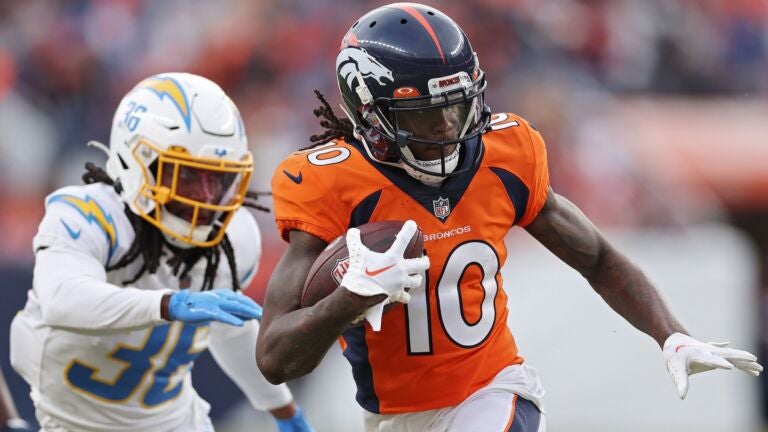 Broncos wide receiver Jerry Jeudy has been linked to the Patriots multiple times already this offseason.
But Denver head coach Sean Payton did his best to snuff out any trade rumors centered on both Jeudy and fellow wideout Courtland Sutton Sunday evening.
Payton, speaking to NFL Network's Tom Pelissero at the Annual NFL League Meeting in Phoenix, put cold water on the notion that both Jeudy and Sutton would be dealt this spring.
"I see and read just like everyone else does," Payton told Pelissero. "Then occasionally, when someone really crowds the plate, I throw a fastball right at their chin, and they back up, and they're like, 'Alright.' And so I haven't thrown any fastballs lately, but we're not trading those two players.
"When people call and the phone rings like it does this time of year, [general manager] George Paton's job is to pick it up and say, 'Hey. Tell you what, we're not.' And so, we've received calls, you bet," Payton added. "Those are two good football players.
"But we're in the business of gathering talent right now. Why do people call? Because they know we're void of draft picks and that we might, because there was some discussions a year ago, I think, regarding Courtland. But we like the current group that we're working with."
Both Jeudy and DeAndre Hopkins have been tossed out as potential trade targets for New England for months. Jeudy already has plenty of connections with Mac Jones, as the two played together at Alabama and were also roommates in Tuscaloosa.
On the field, Jeudy would be a dynamic playmaker if added to a receiving corps featuring JuJu Smith-Schuster, DeVante Parker, and Tyquan Thornton. Last season, Jeudy reeled in 67 receptions for 972 yards and six touchdowns over 15 games with the Broncos.
Despite Payton's adamant declaration, it's only natural to express some skepticism when it comes to coaches and GMs deeming players off-limits.
Back in January 2019, then-Giants GM Dave Gettleman stressed that New York wasn't going to trade Odell Beckham Jr. A little over two months later, they dealt him to the Browns for two players, along with both a first and third-round pick.
Even though the Broncos may not be inclined to move either Jeudy or Sutton, they could change their tune if a team actually meets their reported asking price.
ESPN Broncos reporter Jeff Legwold — who noted that New England is one of the teams "most interested" in trading for Jeudy — reported that the Broncos "have been resolute" in getting a first-round pick or a second-round pick for the 23-year-old wideout.
That'd be a steep cost for the Patriots, considering that the Patriots could add a key cog like their left tackle of the future with the 14th overall pick in the NFL Draft.
But it does seem like there's plenty of time for the trade market to set itself when it comes to Jeudy. NFL executives told Legwold that a trade involving Jeudy would be more likely to happen closer to the draft (April 27-29), especially if Denver holds firm on its asking price.
Newsletter Signup
Stay up to date on all the latest news from Boston.com