Patriots
Patriots reportedly among teams considered to be 'most interested' in Jerry Jeudy
The Patriots' reported interest in Jeudy comes as it appears that they're unlikely to pursue a DeAndre Hopkins trade.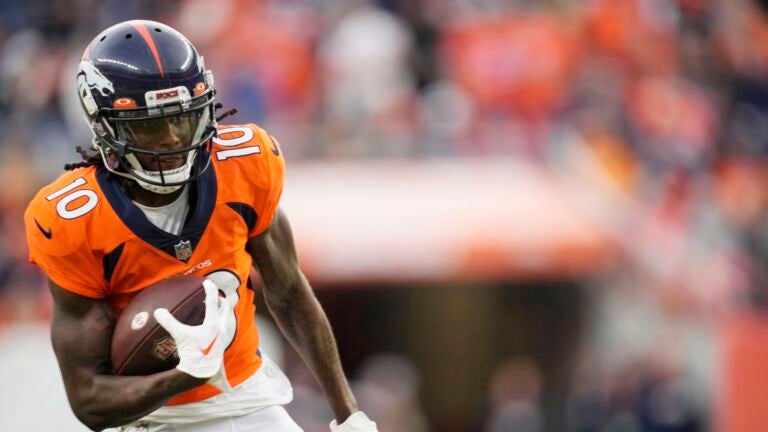 As rumors of the Patriots seeking to trade for DeAndre Hopkins have cooled down in recent days, it appears they might be looking to get the other big-name receiver on the trade market.
New England is considered to be one of the teams "most interested" in trading for wide receiver Jerry Jeudy, ESPN Broncos reporter Jeff Legwold reported.
Denver's asking price for Jeudy is high. The Broncos "have been resolute" in getting a first-round pick or a second-round pick for the 23-year-old receiver, Legwold reported citing league sources.
It was rumored in recent days that the Patriots made a trade offer for Jeudy that the Broncos considered. Following the Browns' trade for former Jets receiver Elijah Moore, Cleveland.com's Browns beat reporter Mary Kay Cabot wrote that the Broncos "supposedly at least pondered an offer for a second- and fourth-rounder" for Jeudy. Cabot wrote that the offer "possibly" came from the Patriots as the Browns are one of the other teams most interested in Jeudy, according to Legwold.
Jeudy would certainly be an ideal fit for the Patriots. The 2020 first-round pick struggled to put up numbers for much of the first three seasons of his career as he dealt with injuries and inconsistent quarterback play, among other things. But Jeudy showed some promise in the final weeks of the 2022 season, recording 37 receptions for 523 yards and three touchdowns in the last six games of the season. He ended the season with 67 receptions for 972 yards and six touchdowns in 15 games.
There's also the prior connection Jeudy had with Mac Jones. The two played together and were also roommates at Alabama. While they didn't spend much time on the field over their three seasons together, they played well in their limited shared time during the 2019 season with Jeudy receiving five touchdowns from Jones in a handful of games that season.
Even though he was a first-round pick just three years ago and had a strong finish to the 2022 season, Jeudy has been viewed as a trade candidate because the Broncos are seeking to get back into the first or second round of the 2023 NFL Draft. The Broncos traded their first- and second-round picks in the 2022 and 2023 drafts for Russel Wilson and they traded a first-round pick they acquired from the Dolphins to hire Sean Payton this offseason.
If the Broncos keep their asking price for Jeudy, personnel executives reportedly told Legwold that a trade would be more likely to happen closer to the draft, which begins on April 27.
So, it might be some time before we find out if the Patriots are able to land Jeudy or not. But it looks like they're out on Hopkins, according to a pair of insiders. The Athletic's Jeff Howe recently wrote why Hopkins currently isn't in the Patriots' plans.
"With a new Cardinals regime, headed by GM Monti Ossenfort and coach Jonathan Gannon, rival teams know Hopkins would be a salary dump, which significantly reduces his trade value," Howe wrote. "That's why teams like the Patriots, who had an early conversation with the Cardinals, don't plan to pursue him unless there's a substantial change in philosophy, according to a league source."
In addition, the Monday Morning Quarterback's Albert Breer also wrote that he "can't find anyone in that building who thinks DeAndre Hopkins will be a consideration for Bill Belichick, and at this point New England hasn't been in it." He also wrote that he could see the Patriots "taking a swing" on Jeudy.
The trade market for Hopkins reportedly changed following the Cowboys' recent trade for receiver Brandin Cooks, who they acquired from the Texans for a fifth-round pick and a sixth-round pick. The Cardinals are seeking a "Christian McCaffrey" type of package for Hopkins, ESPN's Jeremy Fowler reported. The Panthers received second-, third-, and fourth-round picks from the 49ers for McCaffrey, which leads teams to think that the Cardinals will have to come off their asking price in order for a deal to happen, according to Fowler.
Hopkins has been one of the game's best receivers over the last decade and had 64 receptions for 717 yards and three touchdowns in just nine games last season. However, he's turning 31 in June and has missed time in recent seasons due to injuries (plus a suspension), which might make teams hesitate at taking on the two years and $36.36 million that's left on his deal.
Sign up for Patriots updates🏈
Get breaking news and analysis delivered to your inbox during football season.