Patriots
Bill Belichick remains noncommittal when asked if Mac Jones will be Patriots' starting quarterback in 2023
"Everybody will get a chance to play."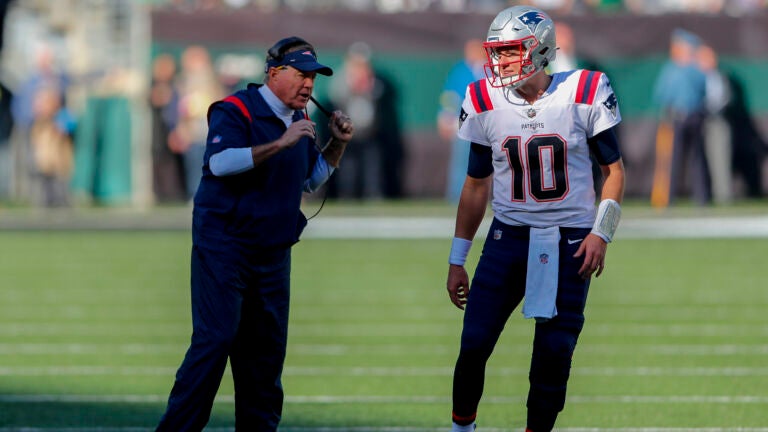 Bill Belichick didn't exactly give a ringing endorsement of Mac Jones and his standing as New England's franchise quarterback back in January.
"Mac has the ability to play quarterback in this league," Belichick said during his end-of-season press conference on January 9. "And we have to all work together to try to find the best way as a football team — which, obviously, quarterback's an important position — to be more productive than we were this year. And so, that's incumbent on all of this. We'll all work together on that. And, again, look for better results."
Close to three months later, New England's head coach isn't really changing his tune when it comes to Jones.
During the AFC Coaches Breakfast at the NFL's annual meeting in Phoenix, Belichick remained mum when asked if the starting QB spot belonged to Jones once camp opens in 2023.
"Well, everybody will get a chance to play. We'll play the best player," Belichick said.
Barring any offseason blockbusters involving star QBs like Lamar Jackson, the Patriots will likely commence camp this summer with both Jones and Bailey Zappe on the depth chart.
Even though Jones should be in line for a rebound season, especially with Bill O'Brien taking over on offense, Zappe did show some promise during his mid-season reps last year.
Pressed into service following injuries to Jones and Brian Hoyer, Zappe appeared in four games with the Patriots in 2022, completing 70.7 percent of his pass attempts and throwing for five touchdowns.
When asked for additional clarity regarding Jones and Zappe's status on the roster, Belichick acknowledged that his open-ended declaration covers far more than just the quarterback position.
"Every position," Belichick said. "Everybody will get a chance to play. Everybody that's on our roster, if they earn the opportunity to play, based on what they do in practice and all that then they'll get the opportunity to play. Certainly, veteran players who have been on our team before, if they're still on the team, will all get an opportunity to play."
Belichick's reserved comments regarding Jones could be interpreted as a head coach being dissatisfied with his signal caller's stalled development.
But earlier this month, former Patriots left tackle Matt Light told WEEI that Belichick is just trying to motivate Jones by way of a cold shoulder.
"Not [weird] from Bill," Light said on the "Greg Hill Show". "I think there are times that he realizes that certain guys, given who they are, that they need certain things. Then there are other guys that I think he knows he can push in ways that seem foreign to us. We know the mental gymnastics that he'll put guys through."
Even though Belichick isn't exactly heaping praise on his top quarterback these days, Patriots owner Robert Kraft is singing a different tune.
Jones' game took a step back last season, but Kraft acknowledged that the 24-year-old QB wasn't exactly put in the best position to succeed.
"I'm a big fan of Mac," Kraft said of Jones on Monday afternoon in Phoenix. "I think he came to us as a rookie. He quarterbacked his rookie season and did a very fine job, I thought. We made the playoffs.
"I think we experimented with some things last year that frankly didn't work when it came to him, in my opinion. I think we made changes that I think put him in a good position to excel."
Newsletter Signup
Stay up to date on all the latest news from Boston.com