Patriots
Robert Kraft: Lamar Jackson 'wants to come to the Patriots,' according to Meek Mill
"I said, 'That's Bill Belichick's decision.'"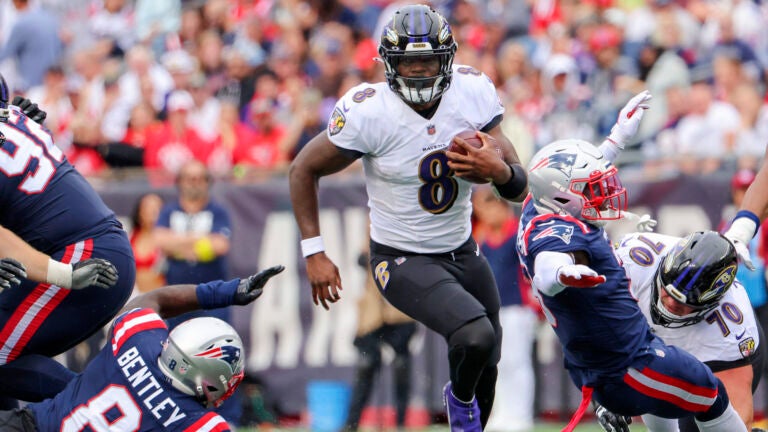 It took only one text from rapper Meek Mill to re-ignite trade rumors surrounding Lamar Jackson and the Patriots.
Speaking with reporters at the NFL Annual League Meeting in Phoenix, Patriots owner Robert Kraft tossed out an interesting nugget of information when asked about Jackson and his next stop after the quarterback requested a trade from the Baltimore Ravens.
"Meek Mill texted and said, 'Lamar Jackson wants to come to the Patriots,'" Kraft told reporters, including Mark Daniels of MassLive.com. "I said, 'That's Bill Belichick's decision.'"
Kraft's comments come shortly after he offered a ringing endorsement of quarterback Mac Jones after a lackluster 2022 season.
"I'm a big fan of Mac," Kraft said, via video from BostonSportsJournal.com. "He quarterbacked his rookie season and did a very fine job I thought. We made the playoffs. I think we experimented with some things last year that frankly didn't work when it came to him, in my opinion."
Jackson, who won the NFL's MVP Award during his second pro season in 2019, has been hampered by the injury bug as of late.
The former Heisman Trophy winner appeared in 12 games with Baltimore last season, throwing for 2,242 yards and 17 touchdowns to go along with seven interceptions. On the ground, Jackson rushed 112 times for 764 yards and three more scores.
The Ravens placed the non-exclusive franchise tag on Jackson earlier this offseason. As a result, any team that wants to pry Jackson out of Baltimore would have to give up two first-round picks if the Ravens opted to not match the offer.
If Baltimore does not match the offer, it likely signals that another team is offering a boatload of cash for Jackson.
If Jackson is looking to secure a mega-deal similar to the five-year, $230 million (fully guaranteed) contract that Deshaun Watson inked with the Browns last March, a team like the Patriots would be on the hook for more than $40 million per season for just one player.
"This is beyond a long shot given how the Patriots work, not to mention the likelihood of Jackson cooling on his demands," Karen Guregian of the Boston Herald wrote last week. "One league source agreed, saying a move for Jackson 'makes no sense' if you understand how Belichick thinks and know his history. Belichick hasn't been a fan of blowing up the budget for a quarterback. If he wouldn't pay Tom Brady, why would he pay Lamar Jackson? That's simply not how he operates."
Still, the oddsmakers have the Patriots in the mix for Jackson's services at this stage of the offseason.
On Monday, Bookies.com's Adam Thompson updated his projected odds for where Lamar Jackson will play in 2023, with New England tied for the third-best at +500.
Betting odds on Lamar Jackson's new team in 2023
Tennessee Titans: +400 (20.0% Implied Probability)
Minnesota Vikings: +450 (18.2% Implied Probability)
Baltimore Ravens: +500 (16.7% Implied Probability)
New England Patriots: +500 (16.7% Implied Probability)
Indianapolis Colts: +750 (11.8% Implied Probability)
Atlanta Falcons: +1000 (9.1% Implied Probability)
Detroit Lions: +1200 (7.7% Implied Probability)
The Field: +450 (18.2% Implied Probability)
Newsletter Signup
Stay up to date on all the latest news from Boston.com