Patriots
Here's what Patriots owner Robert Kraft had to say about Bill Belichick's future, the Matt Patricia 'experiment,' and more
"We're about winning and doing whatever we can to win. That's what our focus is now."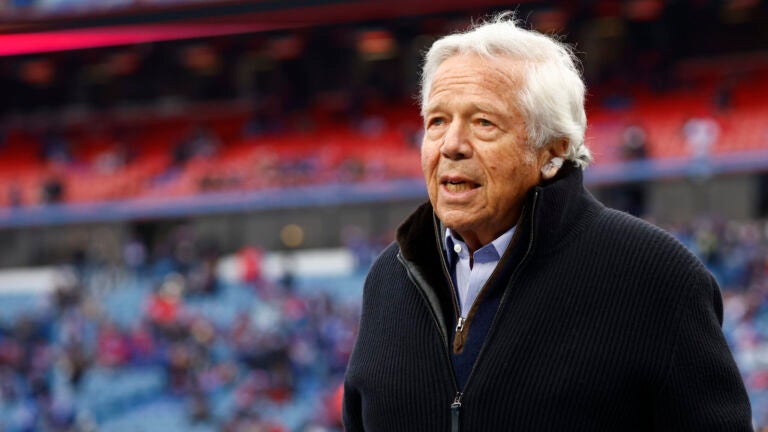 Patriots owner Robert Kraft spoke to reporters at the NFL Annual League Meeting in Phoenix on Monday, touching on topics such as Bill Belichick's future, Mac Jones standing as QB1, Jerod Mayo's coaching potential, and more.
Beyond Kraft's text conversations with Meek Mill on Lamar Jackson, here are a few additional highlights from Monday's presser.
Chasing the all-time coaching wins record will not guarantee Belichick's future in New England.
Bill Belichick was blunt when asked Monday morning why fans should be optimistic for the 2023 season.
"The last 25 years," Belichick replied.
It's hard to push back against the resume that Belichick has compiled during his reign in Foxborough.
But based on Kraft's comments, both Belichick and the rest of the organization can't just rest on their past laurels when recent results have fallen below expectations.
New England has now posted a losing record in two of the last three seasons. The 2022 season was marred with regression across the board and Belichick's reshuffled coaching staff ill-equipped to tackle daunting new assignments.
"I was very disappointed with the way our season went," Kraft said, per video by BostonSportsJournal.com. "I had the privilege of being a fan for decades before buying the team. I think in the end, l'm still a fan.
"My objective for our team is that we make the playoffs. …. I thought last year, we had gone three years without [a playoffs win], and I thought we had been in a position to do it. The season, we finished under .500 … so I thought changes had to be made."
Belichick might sit just 19 victories away from breaking Don Shula's all-time wins record for an NFL coach. But Kraft pushed back at the idea that New England will prioritize that record pursuit over the coming years, especially if it leads to more lackluster results in the standings.
"I'd like him to break Don Shula's record, but I'm not looking for any of our players to get great stats," Kraft said of Belichick. "We're about winning and doing whatever we can to win. That's what our focus is now. It's very important to me that we make the playoffs. That's what I hope happens next year."
Still, even though the last few years of the post-Brady era have not necessarily been kind to the Patriots, Kraft still gave his longtime head coach an endorsement when it came to his personnel decisions.
"I think Bill is exceptional at what he does and I've given him the freedom to make the choices and do the things that need to be done," Kraft said. "His football intellect and knowledge is unparalleled from what I've seen. Just when you talk to him, the small things analytically that he looks at.
"But in the end, this is a business. You either execute and win or you don't. That's where we're at. I think we're in a transition phase. I think we've made some moves this year that I personally am comfortable with and I still believe in Bill."
Kraft believes Jerod Mayo will be a 'head coach' in due time.
Even if Belichick remains on the sidelines at Gillette Stadium for the next few seasons, the odds are that the 70-year-old coach will likely not be entrenched in his current role many years down the line.
And when the time comes for the Patriots to appoint a successor for Belichick, Jerod Mayo continues to look like an appealing candidate.
Kraft validated those thoughts on Monday, noting that the Patriots linebackers coach will likely be running an NFL roster at some point in the future.
"There's no ceiling on his ability to be a head coach, and he'll be a head coach, I'm sure of that," Kraft said of Mayo. "I hope he's with us. We'll see what happens."
Despite lining himself for various coaching interviews (including Carolina's head-coaching gig) earlier this winter, Mayo opted to remain in New England after the Patriots noted that they were working on a contract extension with the former All-Pro linebacker.
Coaching turnover is an expected consequence of developing top assistants in the NFL ranks. But it was clear that the Patriots prioritized retraining Mayo as a key coaching building block for the future.
"Jerod is an individual who I think there is no ceiling on his ability to grow and how competent he is," Kraft said. "We had the privilege of having him as a player. I saw how intense he was, and his leadership skills he had on the field.
"And then saw him leave us and go into private industry and learn the Xs and Os of business – and then come back and be a coach, and do that with us. Good coaches get hired away, so I was happy we were able to sit with him and try to keep him here long-term. I'm going to do everything I can to make that happen."
Kraft on Matt Patricia: 'I feel bad for him'
When it comes to doling out blame for Mac Jones and the Patriots' offensive woes in 2022, Matt Patricia is a logical target.
The former defensive coordinator was tabbed as New England's offensive play-caller and offensive-line coach last season, an experiment that quickly unraveled for a toothless Patriots roster.
It was a head-scratching coaching switch by Belichick that failed quickly, with Belichick adding on Monday that he was "not sure" if Patricia will remain with the team next season.
Still, even though Mac Jones and the Patriots' offense took major steps back under Patricia's watch, Kraft offered some sympathy for the tough spot that the former coach was put into last season.
"I'm in no position to know whether going in, that's the right thing. He's a very good guy," Kraft said of Patricia. "Very smart. An engineer. Works hard. I think he got put in a difficult position and I think it was sort of an experiment. He worked very hard at it. In retrospect, I don't think it was the right thing. And I feel bad for him because he's such a hard worker. He got put in a difficult position."
Even though Patricia might be on the outs in Foxborough, Kraft did heap more praise on Jones and his ability to orchestrate a bounce-back season in 2023.
"I'm a big fan of Mac," Kraft said of New England's quarterback. "I think he came to us as a rookie. He quarterbacked his rookie season and did a very fine job, I thought. We made the playoffs. I think we experimented with some things last year that frankly didn't work when it came to him, in my opinion.
Kraft added: "I think we made changes that I think put him in a good position to excel. Look, in the end, Bill is in charge of my football team and makes the decisions of who should start and who should play, and he's done a pretty darn good job of it for the last – when you think about it – 24 years. I had peach fuzz when that started.
"But I don't know, for me, I see [Jones] as a very hard-working young man. He's in the stadium almost every day in the offseason. I think bringing in Bill O'Brien will work to his advantage. I'm very positive and hopeful about this upcoming year, and I personally am a big fan of Mac."
Newsletter Signup
Stay up to date on all the latest news from Boston.com