Patriots
Devin McCourty thinks the Patriots 'have to' check in about a potential Lamar Jackson trade
"When he gets out there, he can go change a franchise."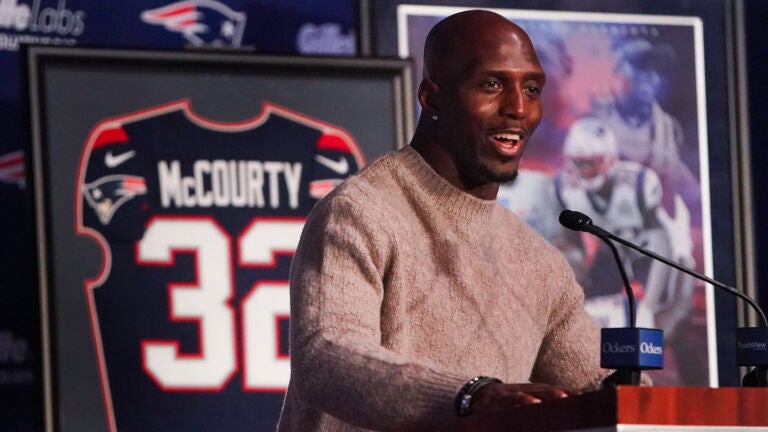 Now that he's no longer a member of the Patriots, Devin McCourty is free to speculate about his former team, even if it's discussion over potentially acquiring a new quarterback.
Speaking as a guest on ESPN Tuesday morning, McCourty was asked about Robert Kraft's claim a day earlier that Meek Mill texted him saying that quarterback Lamar Jackson "wants to come to the Patriots."
"You have to make a call and see," McCourty said of the potential trade. "If you hear Lamar Jackson is interested in playing on your team. This guy won MVP of the league. He's one of the rare quarterbacks that you say, 'He's a guy.' When he gets out there, he can go change a franchise. So you've got to at least call and say, 'Hey Baltimore, what's up? What are we talking about here? What is it going to take?'"
Jackson, 26, announced in a tweet on Monday that he had requested a trade away from the Ravens (who he has played for since being drafted in 2018). Earlier in the offseason, Baltimore placed a non-exclusive franchise tag on Jackson, meaning that another NFL team could technically sign him if the Ravens don't match the team's offer. In that scenario, the team signing the 2019 MVP would have to give Baltimore two first-round picks as compensation.
Still, the Ravens could simply match any offer made to Jackson in order to retain him. And while another option — a trade — is also technically possible, Baltimore would probably require an equally high price to part with such a talented player.
"I think Bill could craft an offense with Bill O'Brien, with Lamar Jackson. I think it's possible," admitted fellow former Patriot Tedy Bruschi during the same segment. "I think this would be a move that's bigger than Bill has ever made and I don't think that's something that I would anticipate. I don't think this is something that would be realistic for New England."
Bruschi did ultimately concur with McCourty, however, that the Patriots can't rule out a possible Jackson trade if he actually is interested in coming to New England.
"You have to see what's up," said Bruschi. "You have to see if they'll offer that."
Get the latest Boston sports news
Receive updates on your favorite Boston teams, straight from our newsroom to your inbox.