Patriots
If Lamar Jackson brings the Patriots back into the spotlight, it's worth whatever it takes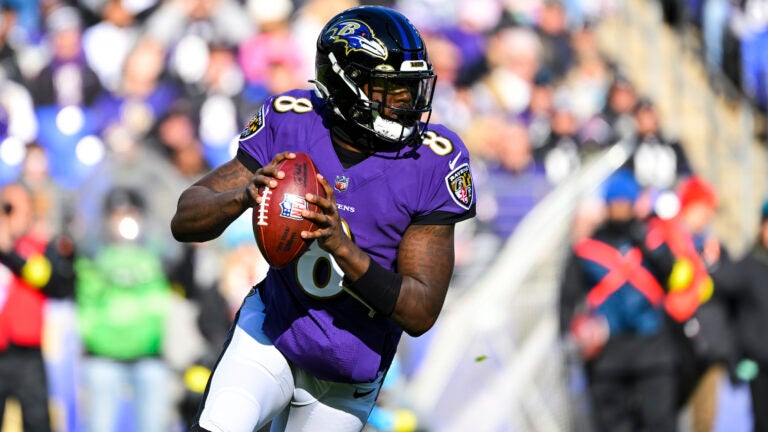 COMMENTARY
There are two ways I can see a potential marriage between Lamar Jackson and the New England Patriots working.
On one hand, perhaps the former MVP quarterback is the answer for the future in New England; a dynamic athlete who would cement the Patriots as a global phenomenon and Super Bowl contenders for years to come.
The other scenario is Carl Crawford.
I'm rooting for the former. Frankly, I'll take either. Anything, really, to resurrect the gasping relevancy of this offseason.
Jackson announced Monday morning that he had requested a trade from the Baltimore Ravens after failing to come to a long-term extension with a team that once gave Joe Flacco $120 million. Baltimore is the only team the 26-year-old has played for over his five-year NFL career, setting the stage for a massive transition for one team.
There are two that make the most sense. Lamar Jackson could become the 2023 catastrophe de l'année at quarterback in Indianapolis, a rudderless franchise running out of duct tape at the position.
Or, he could help revive the six-time Super Bowl champion Patriots, a team lately fueled solely on the goodwill it helped create over the last 25 years. That was, in fact, a matter that Patriots head coach Bill Belichick was so gracious to remind us of Monday morning at the AFC coaches breakfast during the annual league meeting in Phoenix. The Pro Shop should start selling the T-shirts any day now; "25 Years of Optimism. The Patriot Way."
In between snorts of his long-tired disdain for common decency, Belichick said he wouldn't be talking about players on another team. But he did talk about Jackson last fall, prior to the Baltimore quarterback running for 107 yards and passing for 218 more in a 37-26 victory at Gillette Stadium.
"Without a doubt. He's the type of player that's an MVP type of candidate," Belichick said. "I think he's more than answered it. Wait and see what his contract is. That'll answer it."
Compare that with his recent take on incumbent Patriots quarterback Mac Jones, who the head coach would only refer to as a talent who "has the ability to play quarterback in this league." Keep in mind, the man probably once also said something similar of Todd Philcox while he was in Cleveland.
Which is why it makes total sense for the Patriots to get in on the Jackson discussion. At least, from an on-field perspective. From the business side of things…it's admittedly tricky.
Jackson reportedly turned down a five-year extension offer worth over $250 million from the Ravens last fall that only included $133 million guaranteed at signing. Jackson, working without an official agent, is seemingly looking for something closer to Deshaun Watson's controversial $230 million contract, one fully guaranteed at signing. This, despite the fact that the quarterback hadn't played in two-plus seasons due to trade demands and multiple sexual-misconduct lawsuits. Shocker; he wasn't very good last season in Cleveland.
So if Jackson is looking for something similar, in addition to the draft capital it would take to pry him away from the Ravens, this whole conversation is moot. The last time the Patriots made one of their own the highest-paid in the league was 13 years ago, when Kraft gave Tom Brady a four-year, $72 million deal before underpaying the guy for the remainder of the decade. Of that, $48 million was guaranteed, for a guy had already won three Super Bowls with three more to come (in New England).
You really think Bob Kraft is looking to make a landmark decision like that, one that might create civil war in future owners meetings? The rest of the owners already despise the Haslams' decision on a contract that has made the Browns the contempt of the NFL. What might Jerry say if Kraft goes even further?
That's not how the owner wants to portray the game, of course, slickly telling a handful of reporters in Phoenix that he received a text from rapper Meek Mill, who told Kraft that Jackson wants to play for the Patriots. Kraft said he told Mill that such a move would be "Bill Belichick's decision."
That's encouraging. After all, the last time it was Bill's decision about a quarterback's contractual future, the guy in question wound up in Tampa Bay and led to 942 consecutive days of Matt Patricia ranting on sports talk radio.
"I do remember we always made fun of the teams that spent a lot in the offseason," the Patriots owner said in 2021 after promising $155 in guaranteed money to guys like Jonnu Smith and Nelson Agholor. "So we know nothing is guaranteed, and I'm very cognizant of that."
That out-of-character spending spree, which also landed valuable assets like Hunter Henry and Matt Judon, has led to zero playoff victories.
That's only one fewer than Lamar Jackson has managed to produce.
Despite his fascinating talent, the playoffs have been dreadful for Jackson. He's 1-3 with a 68.3 QB rating. Injuries have derailed him. Jackson has only started 12 games each of the last two seasons, and reservations about his arm still remain valid. But to suggest he isn't an upgrade over the Alabama question mark is ludicrous.
To land him though, Kraft would have to make him the highest-paid player in NFL history while infuriating fellow NFL owners. The flip side is that the Patriots, as we've known them the last two decades, can make their true return to the scene. More Al Michaels and Mike Tirico, less of the 1 p.m. Beasley Reeces of the football world. Lamar Jackson makes it more likely that the high chairs come back. How better for national TV cameras to catch the owner in his box, seated with the likes of Meek Mill and whatever local is Tik Tokker of the month?
It's a hefty cost. But if it gets Kraft back in the spotlight he so misses…
Just don't rule out Carl Crawford either.
Sign up for Patriots updates🏈
Get breaking news and analysis delivered to your inbox during football season.