Patriots
2 top receiver prospects share how meetings with Patriots went
USC's Jordan Addison said he'll have a pre-draft meeting with the Patriots in Foxborough next week.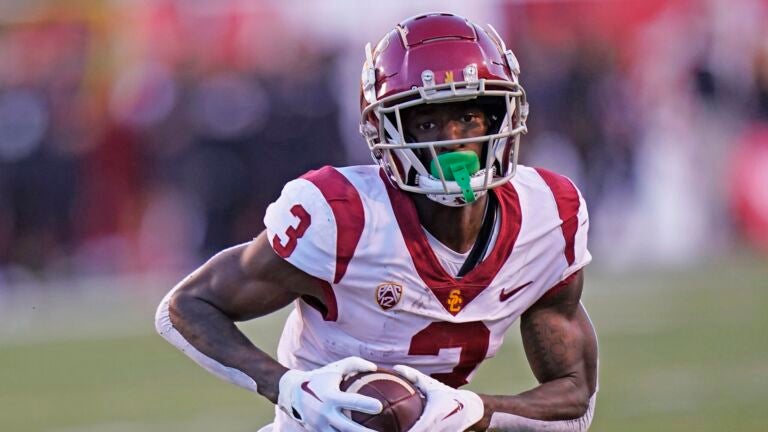 The Patriots might be forming a strong connection with a couple of the top receiving prospects in the 2023 NFL Draft.
USC's Jordan Addison revealed on "The Rich Eisen Show" that he has a pre-draft visit with the Patriots coming up. It'll actually be Addison's second meeting with the Patriots. He met with the team at the NFL Scouting Combine in March.
Addison said that the meeting with the Patriots at the combine "went well," though he didn't get a chance to meet with some of the team's most important people.
"I wasn't in a room with Bill Belichick," Addison said. "I think my first encounter with New England was different from everybody else's because I only had a couple [of scouts] in there. It wasn't a full room. So it was just a little bit different. The vibe was a little bit different."
Addison said he's looking forward to meeting Belichick at his upcoming visit, but he didn't want to say how he anticipates it going.
Some NFL Draft experts have pointed at Addison as being a strong fit for the Patriots. Ahead of the combine, NFL Network's Daniel Jeremiah said that Addison would be the Patriots' best option at receiver to select with the No. 14 overall pick, calling him "the best overall guy."
"I think he gives you bursts and explosiveness to make plays over the top, and I think he has outstanding hands. That to me would be the place that I would go," Jeremiah said. "Yeah, you know, it's one thing if you've got a premiere A-1 level player and you are, like, OK, we've got to find the complement to this. It's like, I don't know. Substitute is OK there as well. You just need to find the best guy."
Addison had a strong college career. He was arguably the best receiver in college during the 2021 season, when he played at Pittsburgh. He had 100 receptions for 1,593 yards and 17 touchdowns that season before transferring to USC in 2022, where he had 59 receptions for 875 yards and eight touchdowns. He played in three fewer games in 2022 than he did in 2021.
But Addison didn't impress too much at the combine. He measured with a smaller frame than expected as he's listed with 5-foot-11 height and weighed just 173 pounds. His 4.49 40-yard dash was around average for the receivers that took part in the drill at the combine, too.
Addison isn't the only receiver that's viewed as a first-round talent that New England has spoken with or scouted so far in the draft process. They coached Boston College's Zay Flowers at the Shrine Bowl and had multiple scouts at his pro day in March. They also met with TCU wide receiver Quentin Johnston at the combine and Belichick was in attendance for his pro day.
Johnston told NBC Sports Boston's Phil Perry that his meeting with the Patriots at the combine was "fun and exciting."
"To an extent initially, but then as the meeting went on, it kind of got more chill," Johnston told Perry when asked if he was given tough questions by the Patriots while appearing on the "Next Pats Podcast." "We just got into some football talk, which obviously I'm very familiar with. So it was all good after that."
Johnston also seemed excited at the possibility of joining the Patriots.
"It would mean a lot, obviously – nothing short of a blessing," Johnston told Perry. "Like you said, they've been winning games and championships since before I could walk. And one head coach, obviously he has a great idea of what he's doing. So, just to be under him and the rest of this coaching staff would be amazing to me."
Johnston was a revelation for TCU this past season, recording 60 receptions for 1,069 yards and six touchdowns over 13 games, helping the Horned Frogs reach the title game.
Johnston is a much bigger receiver than Addison. He measured at 6-foot-3 and 208 pounds at the combine. He ran a 4.46 40-yard dash during his pro day earlier this week.
Sign up for Patriots updates🏈
Get breaking news and analysis delivered to your inbox during football season.