Patriots
Rob Gronkowski said report of Patriots shopping Mac Jones is 'fake news'
"That's just too much turnover to have in the NFL in one season and be able to compete the following year."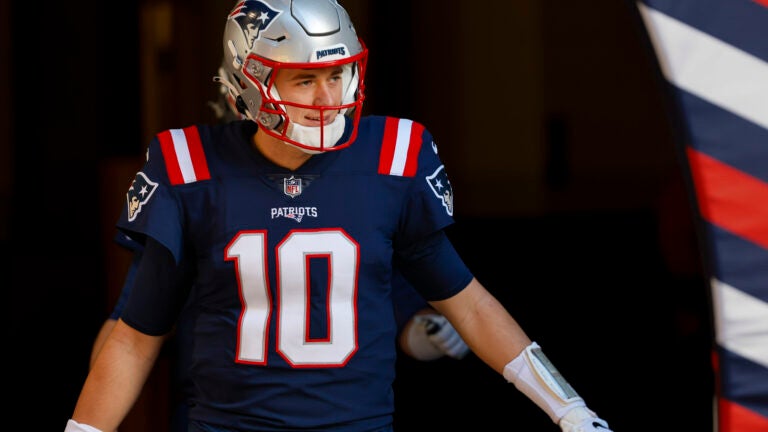 Consider Rob Gronkowski skeptical of the Pro Football Focus report from Mike Florio that said the Patriots were shopping Mac Jones to various teams around the league in search of a trade.
"I think that was fake news," Gronkowski said during an appearance on the Up and Adams Show. "There was just too much turnover this year. He's already got a new offensive coordinator that they've brought into place.
"The whole offensive staff was basically turned over this year. And then, if you're shipping your quarterback, That's just too much turnover to have in the NFL in one season and be able to compete the following year."
Multiple reporters refuted the Florio's report, including Andrew Callahan of the Boston Herald, who said a source told him it was "nonsense" and Jeff Howe of the Athletic who wrote that Belichick did not call teams about trading Mac Jones.
During an appearance on WEEI's The Greg Hill Show on Wednesday, Florio said exploring trade options for Jones is "the next logical step in a dysfunctional relationship."
"I don't know what [Jones'] mindset is right now," Florio said. "But I know there's been enough that's percolated over the past several months that hasn't been thrilled with the way things have been handled," Florio said. "He can't be happy that he's got to go compete with Bailey Zappe for the starting job that he believes he earned as a rookie, and last year wasn't his fault."
Gronkowski said he could see the Patriots considering a trade involving Jones after next season if Jones doesn't improve.
"In the future, if Mac Jones doesn't put it together this year with Billy O'Brien and all that, I could see that as a possibility after this season," Gronkowski said. "But, I don't think that was true over this offseason this far. I've just got to stamp that as fake news."
The five-time Pro Bowl tight-end also said he doesn't see the Patriots adding Lamar Jackson at Jones' expense.
"[Belichick] is not paying 50-plus million dollars for a quarterback," Gronkowski said. "So, therefore it's not a good fit right off the bat for that reason. So I don't think it's going to go down at all."
Sign up for Patriots updates🏈
Get breaking news and analysis delivered to your inbox during football season.