Patriots
Mac Jones reportedly one of a 'handful' of Patriots players that has been a daily presence at the team's facilities this offseason
There have been some questions about Jones's future with the team, but it appears that hasn't stopped him from showing up at Foxborough this offseason.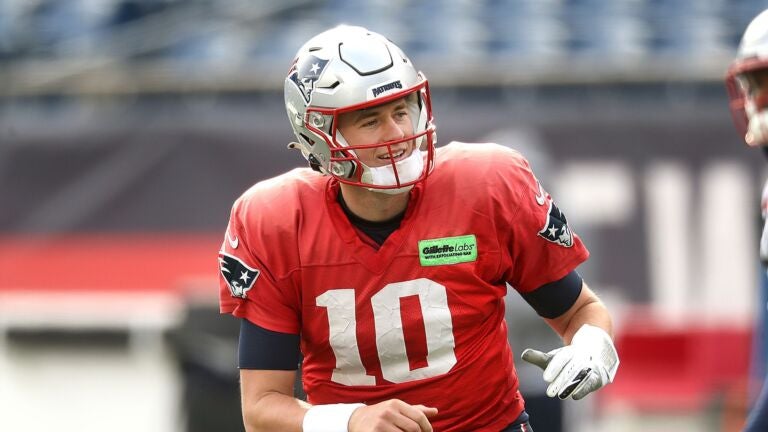 While questions about Mac Jones's future in New England have swirled this offseason, the quarterback appears to be making himself a fixture in Foxborough.
Jones has been "one of a small handful of players" at Gillette Stadium and working out at the Patriots' facilities daily this offseason, ESPN's Mike Reiss reported in his Sunday notes column.
In addition to being one of the handful of players to reportedly use the Patriots' facilities for much of the offseason, Jones was also among the contingent of players that appeared at Devin McCourty's retirement press conference in March. McCourty praised Jones for not just showing up, but for also growing as a leader.
"I know I'm going to miss relationships more than football," McCourty said. "But what I am excited about is watching this team grow. Like I look at my guy Mac here — first row, right here to be here to support me. I look at the team, and I know the team has great leadership because of a guy like him. See my guy Bent in the back, who was a young vet as soon as he got here. We looked at him to be a leader as a rookie. I've seen the growth that he's had.
"So, I know — I know — this team is in great hands."
Sunday's report followed a week of coverage about whether Jones was on the trade market or not at one point this offseason. Pro Football Talk reported Tuesday that Bill Belichick shopped Jones in trades earlier in the offseason. However, multiple other reports disputed some of the details of that report and questioned whether Jones was involved in any actual trade talks.
But questions about Jones's future with the team existed prior to Pro Football Talk's report. Jones had a disappointing second season, throwing for 2,997 yards, 14 touchdowns, and 11 interceptions with an 84.8 passer rating over 14 games as the Patriots missed the playoffs.
Much of Jones's shortcomings in Year 2 were blamed on the coaching setup, which had Matt Patricia calling offensive plays and Joe Judge coaching the quarterbacks. The entire unit regressed as a result, ranking 26th in total offense and dead last in red zone efficiency.
Jones might not have done himself many favors, though, by how he handled the situation. He had multiple profane-laden outbursts during games in December and reportedly sought help from coaches outside the organization, which upset Belichick.
Following the rocky 2022 season, Belichick hasn't publicly committed to Jones being the Patriots' starting quarterback in 2023. When asked if he envisioned Jones being the starter in 2023 during his press conference after the final game of the season, Belichick replied, "Mac has the ability to play quarterback in this league," but didn't expand much further.
When asked again if Jones would be the Patriots' starting quarterback at the NFL owners' meeting in March, Belichick said, "Everybody will get a chance to play. We'll play the best players."
Belichick noted that's the case for every position. It's a change in tune, though, on how he spoke about Jones less than a year ago. On the eve of training camp in 2022, Belichick said that Jones had "done a great job" and had "worked extremely hard" that showed "dramatic improvement."
Sign up for Patriots updates🏈
Get breaking news and analysis delivered to your inbox during football season.