Patriots
Patriots' Jerod Mayo details his growing role within Bill Belichick's coaching ranks
"The whole role thing, that's not important as long as I'm growing."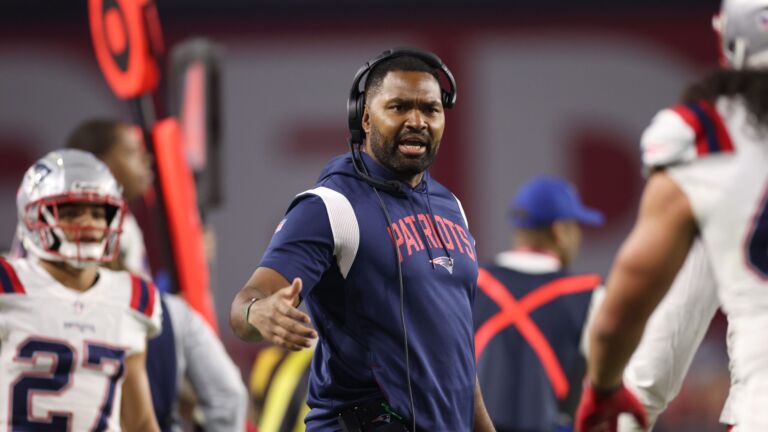 It's been an interesting offseason for Jerod Mayo.
A rising star in NFL coaching ranks thanks to his work with the Patriots' defense, Mayo was set to interview for the Carolina Panthers' vacant head-coaching position back in early January.
But after the Patriots released a transparent statement mapping out their offseason priorities — including keeping Mayo in Foxborough — the former All-Pro linebacker pulled his name out of the running for other coaching positions around the league.
In the months that followed, New England remained mum on what exactly Mayo's new role within the organization is.
Speaking to reporters on Tuesday at Gillette Stadium, Mayo did note that he plans to remain with the Patriots "for the next few years".
But when asked if he still envisions himself as an NFL head coach down the line, Mayo responded: "Absolutely, 100%."
As such, could Mayo's new role have him set as Bill Belichick's eventual successor in Foxborough?
Taking a page from his head coach's playbook, Mayo didn't offer concrete details about his new role within the team's coaching ranks.
"New England never has roles. I mean, honestly, that's what it is," Mayo said. "The whole role thing, that's not important as long as I'm growing. For me, it's about growth. It's about personal development. And that's what I'm focused on. So look, I'll be working with the defense again. I'll be working with the linebackers again. But honestly, it's pretty fluid as long as the classes, the management stuff."
Mayo added that he won't be calling defensive plays this season (a role that Steve Belichick has carried out for the last four seasons), even though he will continue to oversee that side of the ball alongside Belichick and other staff members.
But New England is clearly giving Mayo far more responsibility in its day-to-day operations, with the 37-year-old coach sitting in on interviews for the team's search for both an offensive coordinator and offensive-line coach earlier this year.
Last month, Robert Kraft offered high praise for Mayo and his potential as a head coach in the NFL ranks.
"Jerod is an individual who I think there is no ceiling on his ability to grow and how competent he is," Kraft said at the NFL's annual meeting in Phoenix. "We had the privilege of having him as a player. I saw how intense he was, and his leadership skills he had on the field.
"And then saw him leave us and go into private industry and learn the Xs and Os of business – and then come back and be a coach, and do that with us. Good coaches get hired away, so I was happy we were able to sit with him and try to keep him here long-term. I'm going to do everything I can to make that happen."
Sign up for Patriots updates🏈
Get breaking news and analysis delivered to your inbox during football season.